Most visitors that come to Maui or any of the islands come primarily to chill out on the beach, play in the waves or do some serious thrill-seeking like surfing. 
Two weeks ago, the ocean activities we talked about were stand-up paddling, outrigger canoeing, and whale watching.  These three popular and fun ocean activities are worth considering for visitors to the islands.  They are super rewarding, and Maui is one of the best places to do all three.
Naturally, we can't consider Maui's smorgasbord of popular ocean activities without diving into (no pun intended) surfing. 
Surfing!
Surfing goes back to the 4th century. When Polynesians made their way to the Hawaiian Islands, they brought many of their customs. One of them was playing in the waves on a belly board, called a Paipo.
The first record of surfing upright was made by Commander James King. He took over the Discovery after the death in Hawai'i of Captain James Cook and his successor. He recorded his sightings in the ship's logs in 1779.
It seems that it was right here in Hawai'i that the art of standing up and riding the waves on long-boards was discovered and possibly invented. 
Truthfully, we could write a whole blog on surfing.  Perhaps we will do that down the road.
Surfing is one of Hawaii's most famous ocean activities for residents and visitors alike. Surfing lessons and great instructors abound!  
People are drawn to the waves that surround these islands.  If we aren't surfers ourselves, sitting on the beach or cliffs and watching surfers cruising along a perfect 6-8' glassy wave is beautiful and mesmerizing.
Each island has its own unique surf opportunities depending on your ability.
Watch some Hawaiian surfers here: Surfs UP!
If you are new to surfing or want to hone your skills, Maui offers the best surf year-round. You can have your pick of a large variety of wave sizes and conditions every day on different parts of the island. 
The waves rarely get too big due to the layout of Maui, Lana'i, and Moloka'i. It is a perfect place for any level of surfer.
So, if you have surfing on your bucket list, come spend a couple of weeks developing your ability to Hang Ten. 
There is important surfing etiquette on each island. Be sure to learn the rules before going out to be safe and not endanger anyone else.
Snorkeling!
One of the most magical things in life is to visit the world under the sea.  Floating in the silence, observing beautiful sea creatures is a rare experience. No description will ever bring this feeling to life for someone who has never done it.
Maui has an ace up its snorkeling sleeve, which goes by the name of Molokini.
Molokini is a partially submerged volcanic crescent-shaped crater. Its shape protects divers and snorkelers from the waves and the powerful currents of the ʻAlalākeiki Channel.  You must be inside the crater or behind the back wall, or the current will whisk you off before you know it.
This crescent-shaped islet is home to approximately 250 to 260 marine species.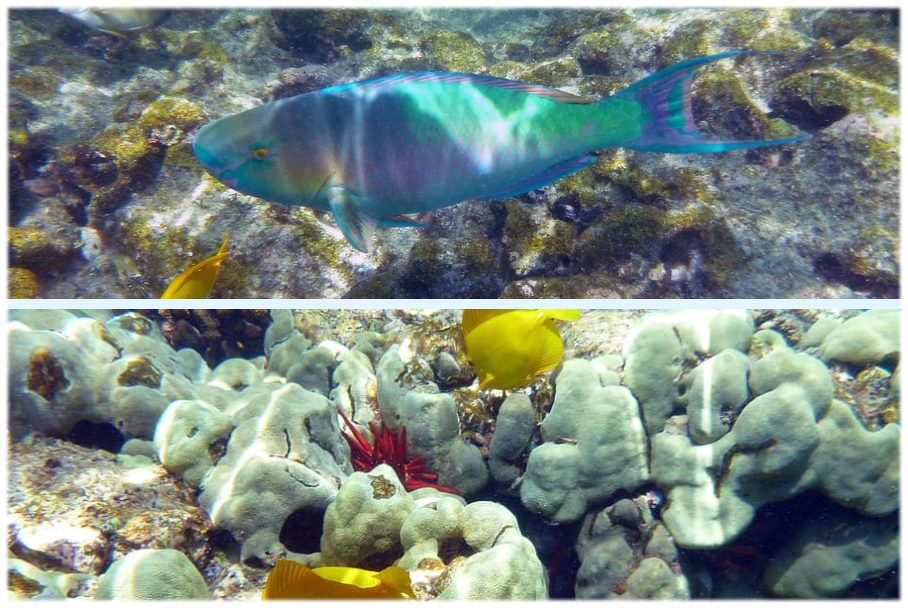 It is also a State of Hawai'i  Seabird Sanctuary that is home to 22 species of seabirds. Don't worry.  We will introduce you to some of Hawaii's beautiful bird population in the not too distant future.
Molokini aside, Maui is well known to snorkelers for good reason
The Valley Isle (Maui's nickname) has more miles of swimmable beach than any of the other islands
The average coastal ocean temperature is 78 degrees (F), with air temperature a bit lower for the last 20 years
It's good to plan to spend a whole day with a mask, snorkel, and fins in the crystal clear ocean.  Watch the Hawaiian Green Sea turtles bustling around the coral reefs.  Witness luminescent schools of tropical fish and a variety of endemic reef animals. 
Make sure you get an underwater case for your phone or camera. You can also buy a disposable underwater camera.  You will be glad you did. Guaranteed, these will be some of your most memorable photos! 
Next:  Scuba vs. Snuba:  We all want to know!
S.C.U.B.A.  –
Self-Contained Underwater Breathing Apparatus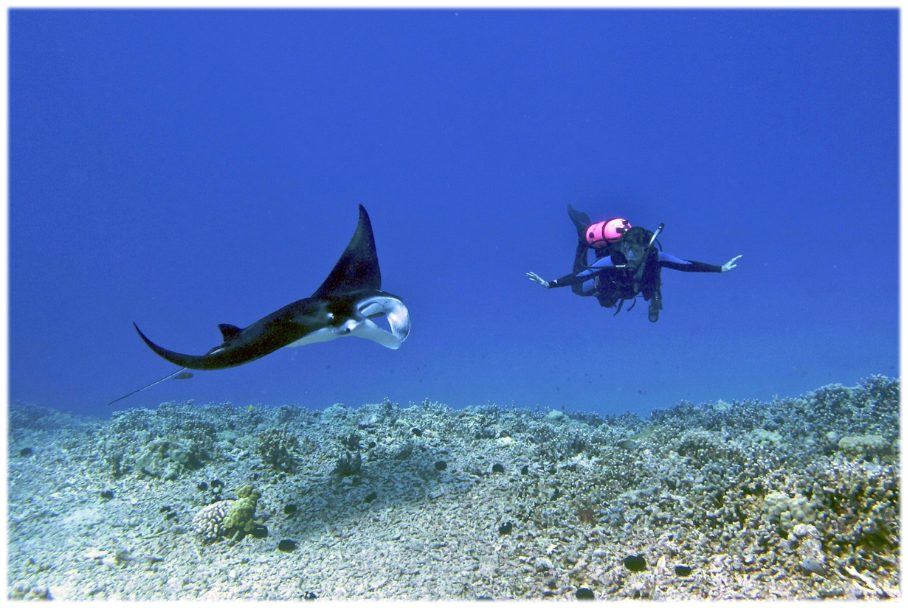 All the benefits you see above for snorkeling are the same for Scuba Divers, plus a few big bonuses:  Scuba Divers have the benefit of staying under longer, going deeper, and stopping as long as they want to observe the sea life. 
You can stop and observe animals such as an eel in its cave or an octopus scuttling along in its graceful way.
You can find yourself eye-to-eye with a marine mammal or a large sea creature!
As you can see,  Hawai'i offers an astonishing variety of marine life.  Diving deeper and staying down longer will only enhance the already incredibly beautiful experience.
The chance to enjoy the sea's captivating underworld from down deep is greatly enhanced by Hawaii's isolation. The isolation, combined with a cold current from the Bering Strait, has created a perfect environment for many marine organisms.
Hawaii has much to offer to divers of all experience levels.
S.N.U.B.A. –
Surface Nexus Underwater Breathing Apparatus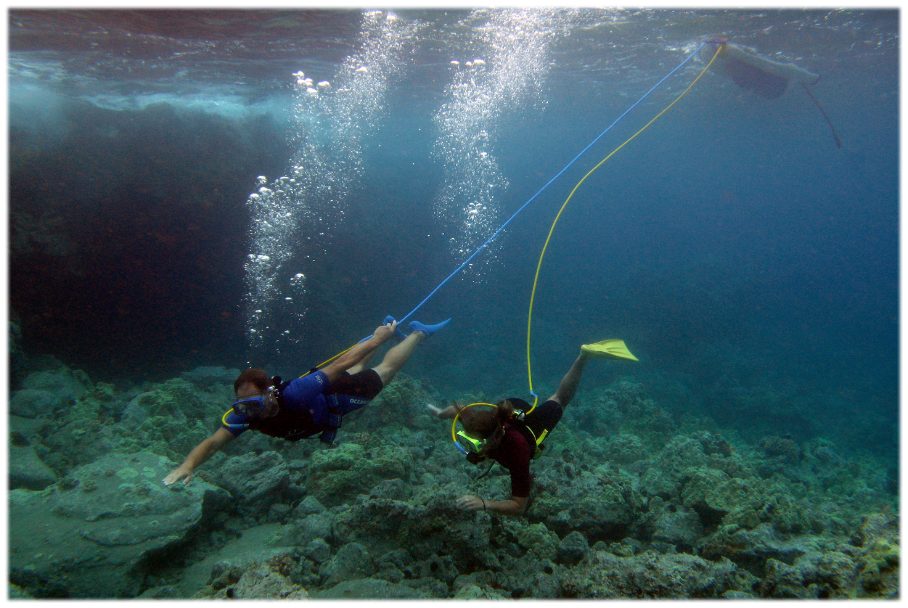 Snuba, on the other hand, is a blend; a unique hybrid of scuba and snorkeling. 
It has a surface-supplied underwater breathing system developed by Snuba International. Participants wear masks, fins, and a lightweight, quick release-harness that the airline is attached to from the surface.  
Snuba can be more dependent on wind and sea activity, so generally, you can only go early in the morning. No certification is required except you cannot be under 8 years old.
Overall, there is something on or in the water here for everyone. When you come to Maui, you may choose to go underwater and possibly be face to face with an eel, manta ray, or octopus.
Or, you might want to stay on the surface of the ocean, flying down a glassy wave face on a surfboard, or body surfing, boogie-boarding, or even watching the marine life from your SUP (Stand Up Paddle-board).
You may also prefer the civilized version, sipping a Mai Tai at sunset, onboard a whale watch cruise as you stay nice and dry. 
One thing is for sure – you will be making the vast, crystal clear water of the Pacific Ocean a centerpiece of your time here in the islands. 
Whether it's standing on a boat or SUP and looking across the water at Maui's emerald green mountains or going underwater and seeing that giant green sea turtle, you will always remember these moments. And, like many of us, you will be planning your return trip before you even get out of the water! 

Writing and Graphic Design by Sugandha Ferro Black

Photos courtesy of Wiki Commons and other paid for or free sources unless otherwise noted.