Most ocean activities in Hawai'i are steeped in history and tradition.  Because of this, our Ocean Activities Blog will be in 2 parts. We enjoy sharing the comprehensive and detailed history that brings us meaning.  This connects us to our ancestors in our island home.
It is always a richer experience to recognize that the things we do today were started generations ago. So many things have evolved for hundreds of years.
Most times, the activities we do came with the early settlers to Hawai'i or other faraway places.  Although they have evolved with time and ofttimes have become something more modern, the essence remains.
First: Stand-Up Paddleboarding – AKA: SUP
Paddleboarding has roots in ancient Polynesian culture.  Wooden paddleboards were used long ago for transportation.  Naturally, they were used for fun as well. Who could resist playing in the waves of Hawai'i? Or, perhaps paddling down to the next bay where a certain girl lived?
Old Hawaiian paddleboards, made of wood,  were restored starting in the 1920s. This spurred on the resurgence of Stand-Up Paddleboards in more recent times. 
Nowadays, they are made lighter and more hollow, changing the face of stand up paddleboarding. 
Before the 1990s, paddleboards stood in the shadow of surfboards.  After winning some successful long-distance races, paddleboards came of age. They began to move to the forefront in certain water sports circles.
Stand-Up Paddleboarding, or SUP –  An offshoot of traditional paddleboarding. 
The older style included kneeling or lying down and using your arms on a longer and narrower board. This is also called Prone Paddleboarding. The board is called a misery stick by those who love and compete in this crazy sport!  
Another style is to use a paddle and stand on your knees.  This method is used today to help people learn to SUP. 
There is speculation that boogie boarding spawned from a combination of paddleboards and surfing.
There is a history of paddleboarding that comes from Africa and South America as well.
Stand-up paddleboarding became very popular for several reasons. Retired surfers and people over 50 realized it was a great exercise out on the water which they could do for many years. And, if you were not a swimmer, you could still have a great time learning to stand-up paddleboard in shallow waters.
Aside from being a great exercise and a core builder,  the views are exceptional.  Seeing the shoreline from the sea to the mountain top is unparalleled.
Second: Outrigger Canoe Paddling
In 200 AD, the first Outrigger Canoes arrived in Hawai'i. Some could hold up to 80 people. They were packed with all the essentials to start a new life in a new land.
The Hawaiians, following the migration patterns of birds, the night sky, and their natural ability to navigate, soon discovered the          Hawaiian Islands.
There is some speculation that Hawaiians were capable of Remote Viewing – the way some gifted people can see places far away even though they may be physically present somewhere else, thousands of miles away. 
The Hawaiian outrigger canoes have evolved these past 2000 years. The jagged lava rock shorelines, large waves, and strong winds made outrigger canoes a necessity for fishing and transportation of supplies and people.  The Hawaiian canoes are extremely recognizable for their design, unique shape, and pure beauty, made from fine Koa wood logs and containing no elaborate ornamentation.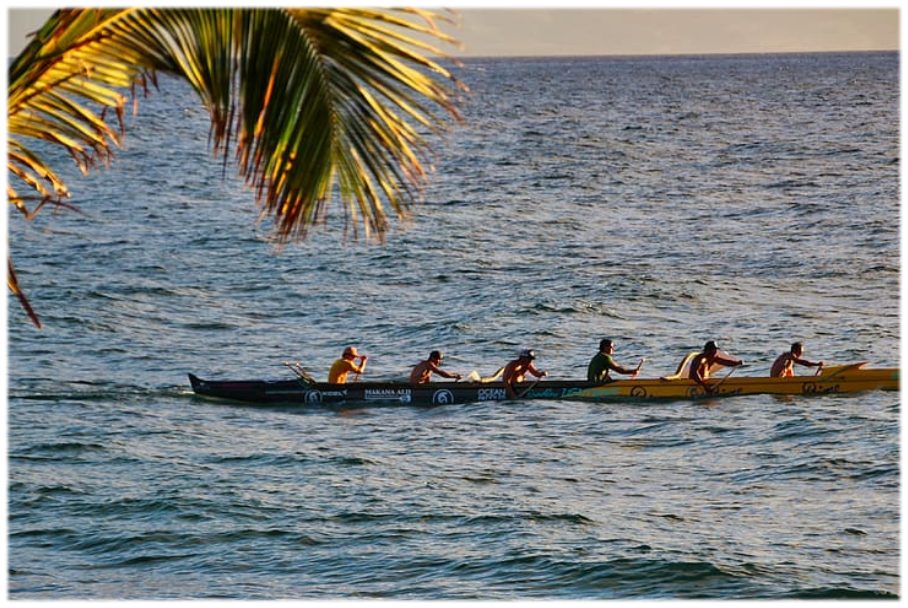 To get into an Outrigger Canoe is a journey back in time.  You can imagine what it might be like to be back in the days of old and have this canoe as your only mode of transportation. 
You are in the canoe, paddle in hand, your hand skimming across the surface, and you feel like you are flying across the waves.  
Third: Plan Your Visit to Come During Whale Season
Graceful and awe-inspiring, the magnificent North Pacific Humpback Whales return to the tranquil waters of Hawai'i every year as they have done since 100/400 AD. A time before the first Hawaiians arrived. 
North Pacific Humpback Whales and their connection to Hawaiian culture is deeply interwoven in Hawaiian legends and folklore. Some people still feel a powerful connection to the Whales and get out on the water as much as possible to be with them during whale season.
Although watching whales from the shoreline may not seem like a water activity, it is!  You will you know this when you see all the whales' fun and playful activity.
Whale watching is considered one of the top ocean activities on Maui. For a good reason! By many accounts, Maui is regarded as the best place in the world for whale watching.
You choose – either see the whales from an outrigger canoe, a stand-up paddleboard, a boat or from the shore: or do them all!  Most importantly, be sure to make time to at least do one of these options.
Give yourself a gift by observing these graceful creatures during their annual migration to Hawai'i.
Next week we will cover the awe-inspiring surf culture of Hawai'i;  from the pros riding 70' mountains of water to the beginners riding the ripples.  
Naturally, we must also explore snorkeling and Scuba Diving.   And, perhaps a few words about the recently evolved hybrid of Scuba and Snorkeling, called Snuba. 
As this blog goes to press, I long to get down to the sea and dip in my toes.  I want to take a breath and dive under a wave. To swim underwater in the silent, crystal clear waters.  And, marvel at the beauty of this incredible planet we find ourselves alive on!
Some days, just feeling the sand in your toes and dipping in the water can be ocean activity enough.
We hope you take full advantage of the joy and renewal Hawai'i ocean waters have to offer.  
Take the sweet smell of the sea and the tradewinds home so that you can always remember why you sometimes feel that longing to return.
Until next week …

Writing and Graphic Design by Sugandha Ferro Black

Photos courtesy of Wiki Commons and other paid for or free sources unless otherwise noted.