Today, we continue our Kūpuna Series, bringing you stories of the elders who convey the heart and soul of Hawai'i.
As I begin writing this, I am reflecting on the many unique opportunities I have had during my 30-plus years of studying Hawaiiana*, to be in the presence of the remarkable Kūpuna. 
One of my most memorable Kūpuna is today's guest, Aunty Nona, who has been referred to as The Essence of Aloha. The time spent with these Kūpuna was a gift I have never taken for granted.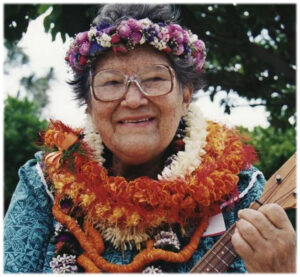 With each new addition to our Kūpuna Series blogs, I am reminded to practice Hawaiian Values.
Since there are 28 of these values, it is not always an easily attainable goal.  
Today, ha'aha'a is the Hawaiian Value that first comes to mind. It translates as humility or to be humble. But, like all the Hawaiian Values, it has much more meaning than that. 
The Hawaiians believe that when we live the value of ha'aha'a, we learn to:
Come from a place of love and understanding
Accept that things won't always work out, and it will still be ok
Learn to trust
It is the attitude of being unpretentious, modest, and open in your thoughts; taking into account that we do not have control over each outcome in our life. But, we can take responsibility as to how we react and respond to each situation.
With the Hawaiian people, to be ha'aha'a is highly praised and respected.
In the presence of Kūpuna, ha'aha'a was a state of mind I naturally found myself in. It was the way I could be modest and open in my thoughts and receive what the Kūpuna were bestowing upon me. Even the slightest twinkle in their eye directed towards me was a gift. 
Aunty Nona Beamer was the epitome of ha'aha'a. She exuded love and humility through every cell of her being, and it poured into those around her. 
Born in 1923, her full name was Winona Kapuailohiamanonokalani Desha Beamer. She was called Winona as a child and then Aunty Nona for the rest of her life.
Her middle name was Kapuailohiamanonokalani, which means Precious Flower of Chiefess Manono.
Manono was the wife of Chief Kekuaokalani of the Big Island where Aunty Nona was raised. He and his Chiefess wife recruited and led warriors and priests in a civil war throughout the Hawaiian Islands in a last concerted effort to save the old Hawaiian religion and ways. That was in the early 1800s.
Similar to her namesake, Manono,  Aunty Nona spent 70 years of her life, from the age of 12, as a champion of authentic and ancient Hawaiian culture. A culture that was nearly lost during that time of Chief Kekuaokalani and his wife, Chiefess Manono.
Let's start at the very beginning of Aunty Nona's life: 
Aunty Nona was born into a lineage of Royal Hawaiian descendants, her ancestors, who were accomplished, talented musical artists. Her life's mission was deeply rooted and grew out of her brilliant and creative Hawaiian forebears. 
Her early life was spent under the tutelage of her grandmother, who was called Sweetheart Grandma. Sweetheart Grandma (pictured below) was a musician, hula dancer, and a coloratura soprano singer. She composed many songs in the Hawaiian language and taught her granddaughter hula at the age of three.
Once the culture of the United States' began to creep into Hawai'i, Aunty Nona got more involved in her cultural heritage. As a pre-teen, she was already composing mele (Hawaiian songs) by adding melodies to ancient chants written by her ancestors. 
Aunty Nona's life of preserving and reviving her cultural heritage began when she was 12. Her mother was ill, and her father told her she needed to go fill in as a teacher in her mother's hula school. She had never taught hula before and had no idea what she would do. So, she began by telling her small students stories. It was quickly evident that Winona was a gifted storyteller.  
People began to gather around her as she would tell her stories of Hawaii's heritage.
This is what started her 70-year journey perpetuating the rich culture, history, and knowledge of hula and hula practitioners.
Aunty Nona is considered to be a primary visionary behind the Second Hawaiian Renaissance which saw the resurfacing of the Hawaiian Culture and many ancient practices, including the recreation of the deep ocean going, double-hulled canoe, the HōkŪle'a.
She is also credited with coining the word Hawaiiana* in 1949. Her description of this word is:
Hawaiiana is the absolute best of all things Hawaiian: the people, their knowledge, culture, wisdom, and aloha.
1949 was also the year she became an instructor at Kamehameha Schools. She taught Hawaiiana there for 40 years. She never stopped fighting to keep Hawaiian Studies in the curriculum when there was danger of it being cut.  
Aunty Nona's great-grandmother taught hula underground during the time it was declared illegal, between 1830 and 1874. Like her great-grandmother, Aunty Nona made sure that her people's culture would thrive once more and never be ripped away from Hawaiians again!
Once Aunty Nona retired from the classroom, she founded and operated the Aloha Music Camp with her son and his wife.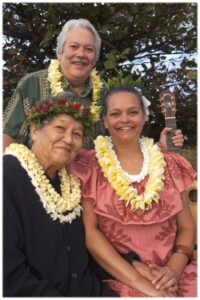 At the camp, she was able to continue to share her extensive knowledge of Hawaiian culture. She shared the meaning of Hawaiiana and told stories of growing up as a Native Hawaiian. She shared stories of Hawaiian history, culture, and the arts to groups who hung on her every word, savoring the rare glimpses into the very best of Hawaii's culture. 
There are many reasons Aunty Nona was referred to as The Essence of Aloha.
The word Aloha can be translated as the outpouring and receiving of the spirit, a way of life, an attitude of expressing one's happiness, joy, unconditional love, and gratitude for life.
Aloha is understandably one of the 28 Hawaiian Values. 
Aunty Nona was the personification of all things Aloha. She constantly reminded us that there is beauty in all things, and it was up to us to see it.
She would say:
Aloha – if you don't share it, it won't spread.
Aunty Nona was a glowing presence in my life, and I treasure all the time I got to spend with her. Each one of those times made me feel connected to something rare and beautiful.
Yes, she was an author, chanter, dancer, educator, musician, songwriter, recording artist, and epic storyteller. But she was so much more. She brought so much to everyone she met. She would light up the room and everyone in it!
Her aloha for people lives on. You can see it in her family and you can see it in the thousands of people who came to her gatherings or performances worldwide. Whether they were her students or just folks who cherished her, they all had big smiling faces when she was there. 
These people are a testament to her life of service to Hawai'i.
Because of her deep sense of place, she dedicated her life to the education of the Hawaiian people. Those people who simply had the desire to learn more about Hawaiian culture and hula were always welcome as well.
Whether we are fortunate enough to meet Hawaii's Kūpuna or not, we all, locals and visitors alike, benefit from these beacons of love and light, which pass on the Aloha Spirit to us. But, as we have said before, if one does not slow down, breathe, and look around, you will miss the Aloha Spirit.
It lives on in the ordinary folks all around you – at the restaurant, the hotel, the shops – it's all around you.
All you have to do is look. And smile.
Click on the Album cover to hear this beautiful song from Aunty Nona's sons, Keola and Kapono


Writing and Graphic Design by Sugandha Ferro Black

Photos courtesy of Wiki Commons and other paid for or free sources unless otherwise noted.
Beamers | © Rikki Cooke, LP Cover | © Joshua Heller/Flickr, With 'Ukulele | © Heidi Chang, Manini Beach | © Matt Roberts/Flickr