One of the great things about living in the sub-tropics, particularly Hawai'i, is that you can get leafy greens, fruits, and vegetables year-round at farmers markets and roadside stands. 
Many fruit and vegetable varieties actually produce fresh food all year in Hawai'i. However, a few types are seasonal. For example, there are over 100 varieties of mango, yet the fruit is only available to be picked in the summer season. The good news is that you can get Meyers lemons, coconuts, papayas, and apple bananas almost anytime.
The local markets and roadside farm stands have increased in numbers and variety of offerings in the past 5 years. You can pick up a large variety of fresh food, island-wide, every day at the many fruit and veggie stands without going into a store.
Many local farms have day tours, have their own farm stand, and sell their produce at farmers markets. 
There is a co-op on Maui which picks up food weekly from local growers and then takes it to be sold at the farmers markets island-wide.   
You will often find special homemade treats or unusual produce that you won't find in stores at the local farmers markets. But, of course, one of the best parts of visiting the farmers is the great talk-story time with the people of the land.
The local vendors are as curious about you as you are about them! So you will often find them more than willing to engage in a fun, lively discussion about anything! Especially plants and farming! Or, literally, anything else!
Let's start our exploration of Maui's Farmers Markets Upcountry.
Operating for 40 years, the Upcountry Farmers Market is in its 3rd location on Maui and is still on everyone's want to visit list these days. Whether you are a visitor or a local, this is one of the most popular weekly markets. In addition, it is the longest-running community market on Maui. 
It boasts over 40 farmers and many other vendors, from homemade, probiotic-rich coconut milk kefir, to Indian food to fresh lilikoi butter. 
Garden starts, fresh bread, flowers, and honey are all waiting for you. But, be warned, the fresh fish vendor, with fish caught within 24 hours, is often sold out by 8 am – so get there early on Saturday if you want fresh fish. It is so worth it!
Since we are Upcountry, don't miss Maui Bees.
At Upcountry's famous Maui Bees, you can find a variety of honey and foods to-go, from cheeses and fresh eggs to other culinary delights. Their bee classes and tours are also very popular. They have a pick-your-own delightful organic vegetable garden too. On the slopes of Haleakalā, it is a lovely way to spend some time in a beautiful setting and take home some healthy food items for later. They also sell some of their different kinds of honey at the Upcountry Farmers Market.
Farmers Markets in the central valley, Kihei, and the West Side.
In the central valley, Tuesday through Thursday, you can go to Maui's Fresh Produce Farmers Market, selling fresh produce at Queen Ka'ahumanu Shopping Center. PLUS, you can see the beautiful statue of the Queen herself.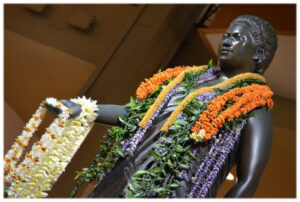 On the west side, there is Hononkowai Farmers Market on Monday, Wednesday, and Friday.
And, in Kihei, Monday through Friday, you can find a farmers market in the parking lot of Suda Store on South Kihei Road.
Hana and the east side is another story.
Of course, lovely farm stands are all along the Road to Hana. They are numerous and eclectic, with various things you will want. For example, you can drink fresh coconut milk with a straw right out of a newly opened coconut or, pick up some delicious dried papaya or mango candy! There are even a few pick-your-own farms that also have farm tours.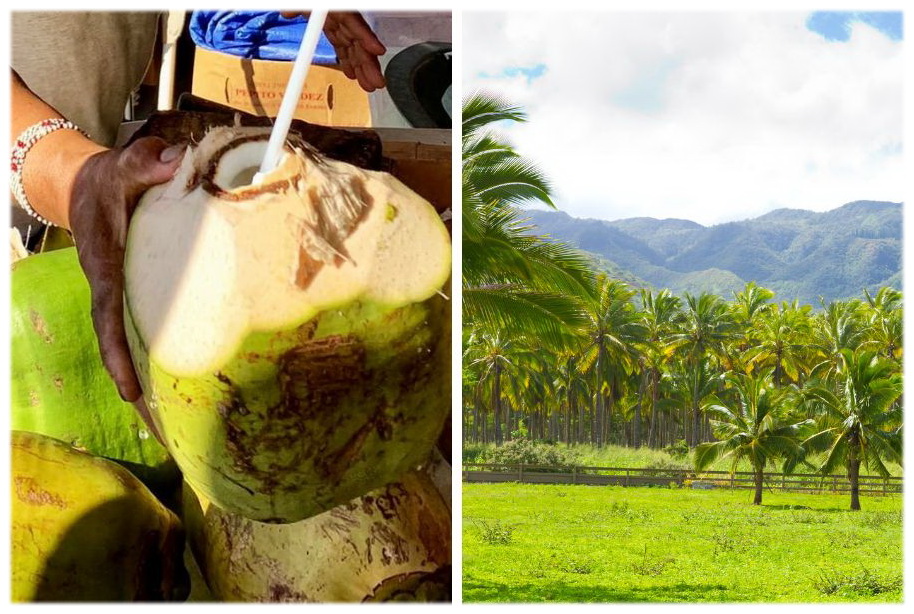 If you take a trip on The Road to Hana with us in our custom Luxury Limo-Vans, we will make sure to stop at the best roadside stands. Particularly for some famous, warm, banana bread.  
Hana Farms has a roadside stand, a bakery, a farm, and a restaurant!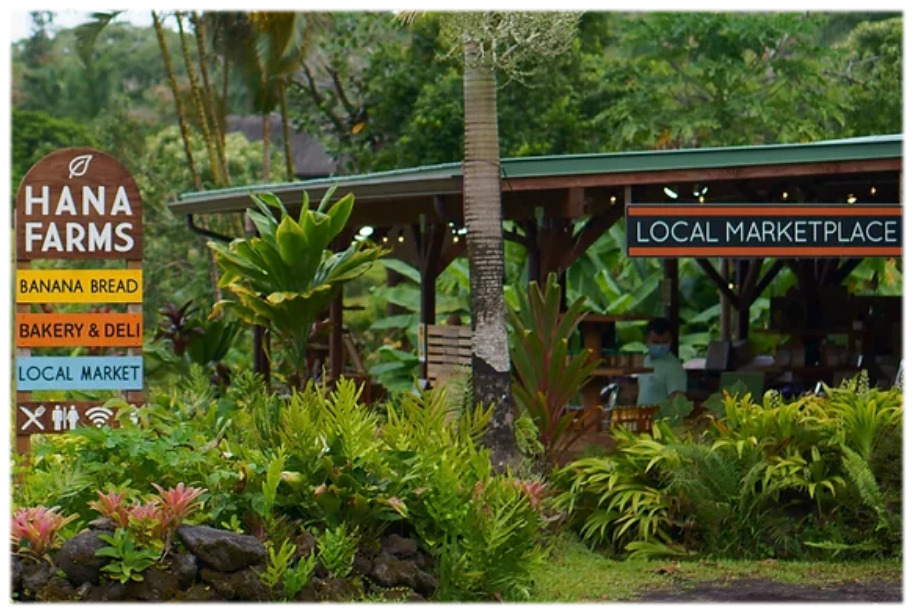 Ono Farms has been growing organically since its inception, 60 years ago. Three generations have worked these 50 acres, and Chuck, the elder now, has been working this land since he was 6 years old.
Naturally, there is a farmers market in Hana as well. You can find it on Mondays, Thursdays, and Saturdays at Hana Medical Center.
As good as it sounds to grow fresh food year-round, there are some downsides and challenges to year-round growing as well. For example, you also have to weed and mow the grass year-round! If not, it gets out of control quickly.
We want to give well-deserved kudos to the farmers of Hawai'i. 
Farmers, consider themselves stewards of the land. They are ready to take on whatever challenges they face and do a fabulous job as they persevere in providing fresh, healthy, delicious produce.
The lack of 4 seasons and year-round mild weather leads to an abundance of unusual issues. Maintaining healthy, rich soil can be one of the problems if you plant year-round.
For example, when you have a winter season, you can cut kale plants down to the ground for the winter when it's freezing, and they will just settle in for winter and grow back in the spring. When you cut kale back in Hawai'i, it grows back right away. The plant never has a rest. In Hawai'i, you cut it back because it is getting weak. Usually from mildew or aphids and other insects. So, cutting it back gives it a small break, but it generally will not be as vibrant as when first planted.  
There is also an issue with root-knot nematodes. They are not easy to get rid of. Years ago, before we knew about nematodes, we watched cucumbers, tomatoes, and other vegetables come to bear fruit, only to die back and whither. 
Fortunately, Hawai'i is blessed with rich volcanic soil in the areas where it is not all lava. Other areas have little or no soil and are made up of lava rock often mixed with cinders.
Years of mistreatment and neglect from former sugar cane and pineapple farms have left many of our soils depleted of nutrients and microorganisms. There is now a significant move forward to revitalize, rehabilitate and plant these areas that have been sitting fallow for some years.
No matter the challenges, Hawai'i farmers, large and small, are a unique group of people who bring beautifully grown food to the people of the islands. 
In addition, they provide for their family, friends, and community, whether they have 4 ruby-red grapefruit trees that produce 1000 pounds annually or a full-fledged garden of greens, herbs, and squash.
Do you love avocados? Quite often, during the prime harvest months, you will see a box of avocados on the side of the road. Make sure to check out the sign. It may say 4/$1.00 or FREE. So, keep your eyes open.
At the farmers markets, you will find food available in many different shapes, colors, and stages of development. You'll find veggie starts for the beginning phase of your garden, the freshly harvested fruits and veggies, beautiful flowers, and already prepared gourmet delicacies of all styles and cultures. 
The beauty of a farmers market in Hawai'i is that you can visit people who come from all over the island you're visiting. You can engage with the farmers, vendors, shoppers, and other visitors by being there. There is always lots of storytelling and laughter!
For most of us, the socializing aspect is as important or even more important than the actual shopping for food.
We are positive you will love it!
Writing and Graphic Design by Sugandha Ferro Black
Photos courtesy of paid-for or free sources unless otherwise noted.
Queen Ka'ahumanu | © Cammy Clark, Coconut with Straw | © Faith Cloud/Hilo