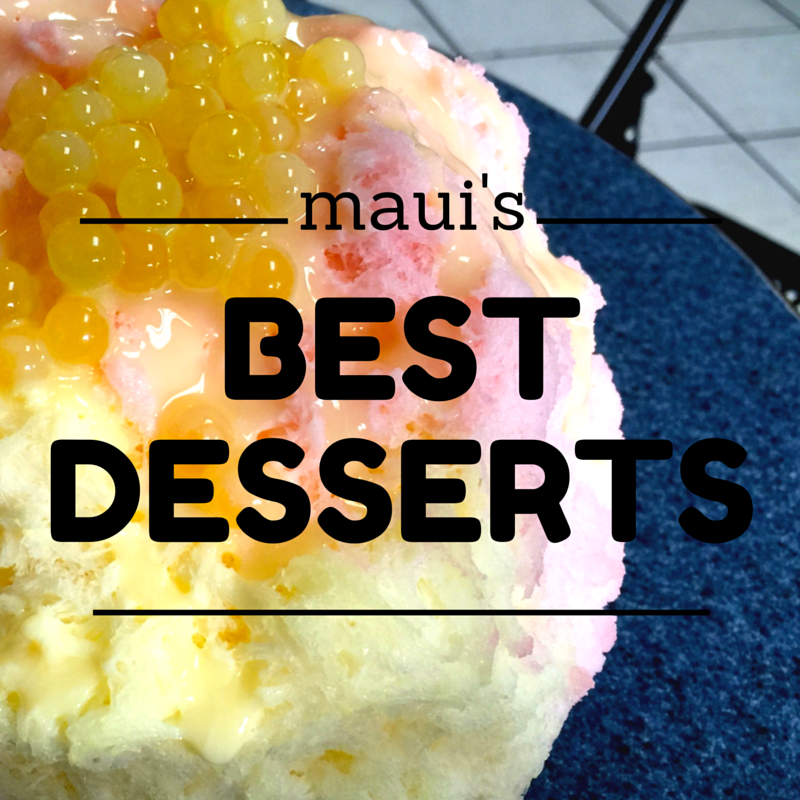 Last week, we talked breakfast. This week, let's skip ahead to dessert—because why not? We're on Maui!
You never know where you'll be on the island when you suddenly get a craving for something sweet. Whether it's a cold scoop of creamy gelato, a piping hot malasada, or even a vegan, gluten-free cupcake, you'll be able to find whatever your sweet tooth is hankering for on the Valley Isle! Here are some of the best desserts around:
Ono Gelato Company – Lahaina
I love to go shopping on Front Street, but on a sunny Lahaina afternoon, it can get a little hot! That's why I always make a stop at Ono Gelato Company. They offer some wonderful, creative, locally-made gelati, and even if you're skipping on dairy, you'll find a delicious, tropical sorbetto you'll love! As far as gelato, I personally can't pass up the cookies & cream flavor (PERFECT ratio in this one!), but plenty of folks swear by the "Sandy Beach," which is a mixture of peanut butter, sea salt, and graham cracker. You gotta try it!
Snow Factory – Kihei
Continuing with the frozen desserts theme, I absolutely have to mention Snow Factory. Not shave ice, not ice cream, this is completely different. Others have described the texture of this treat as "frozen cotton candy," and I'd have to agree—it's creamy, flaky, light, airy, and absolutely delicious! It's an interesting hybrid of shave ice and ice cream, and it comes in more flavors than you can imagine, and can be topped with sweetened condensed milk, mochi, crumbled cookies, and my favorite—fruity poppers! If you're up for a completely different dessert, find this place tucked away in a shopping center on South Kihei Road, and experience this indescribable delight!
Stillwell's Bakery & Cafe – Wailuku
Got brain-freeze yet? Let's switch it up, and visit this charming little Wailuku spot. It's a favorite among locals for breakfast and lunch (get the crab cake sandwich!), but a big draw is the pastry case. It's brightly lit, and chock full of beautiful, traditional pastries, many with a Maui-style twist. You'll want to try everything (and, really, who can blame you), but I'll point you in the direction of the lilikoi cheesecake, crème brulee, and (my favorite) cream horns. Most items are under five bucks, so you can take a variety of goodies back to your hotel or condo to enjoy at your leisure—provided you don't devour them all on the drive home!
Maui Sugar Shop – Lahaina
Can't indulge in gluten, wheat, or have another specific dietary consideration? Still craving something sweet? Maui Sugar Shop should be your next stop! This totally gluten-free bakery offers an incredible selection of different cupcakes, cream puffs, cannoli, doughnuts, cookies… all gluten-free, and many also vegan! They're committed to using only the highest quality, organic ingredients in their homemade delights, and their enthusiasm for their work shows in each and every muffin, pie, and cinnamon roll. And for those here for a magical destination wedding, look no further than Maui Sugar Shop for your beautiful, gluten-free wedding cake! They do amazing work!
T Komoda Store & Bakery – Makawao
You can't write about sweets on Maui without mentioning Komoda's. It's an institution that has been serving Maui since 1916—yep, coming up on 100 years! Like everyone else will tell you, get there early—they tend to sell out! Everything's extremely reasonably priced, so you can indulge in guava malasadas, stick doughnuts, and cream puffs to your heart's content. There's nothing fancy here; just good, family recipes that are freshly made from simple ingredients and have been delighting Maui residents and visitors for a century. If you're looking for a true "local" treat, try a chantilly cupcake—this chocolate cake with a sweet-and-salty frosting is a Hawaii favorite!
As always, I couldn't cover everything! In addition to these spots, there are also plenty of restaurants that offer incredible desserts on their menu—I love the strawberry cream pie from Monkeypod, Star Noodle's ever-changing selection of "Star Screams" ice cream, and the absolutely insane lilikoi crème brulee from Mama's Fish House. However you choose to indulge your sweet tooth on Maui, I'm sure you'll find a new favorite that you'll be missing once you're back home!