For those who love fishing, Maui will seem like an angler's paradise! So many beautiful fish and fabulous fishing spots to experience! And then, the joy of cooking up some of the freshest and most tender fish you have ever eaten. 
This is the stuff lifelong memories are made of!
The adrenaline rush of landing a fish in Maui is something that cannot be described! Whether you're looking for a good battle in the fighting chair of a deep-sea vessel or a calm day along the shore, Maui has many memorable fishing moments waiting for you!
When you first begin to explore all the different fishing options on Maui, the variety can be overwhelming. So we are here to help to break it down a bit for you. So you can focus on the fun and not get tired out before you begin your Maui fishing experience!
Deep-Sea Fishing, Bottom Fishing, Shore Fishing, Spearfishing – What's the difference?
How to choose? Each style of fishing has its Pros and Cons:
Deep-Sea/Sport – The most exciting and most time on the water, far from shore, you pay more and catch the BIG fish. 
Bottom fishing – Closer to shore, shorter time on the water, better for families, great fish which are often smaller.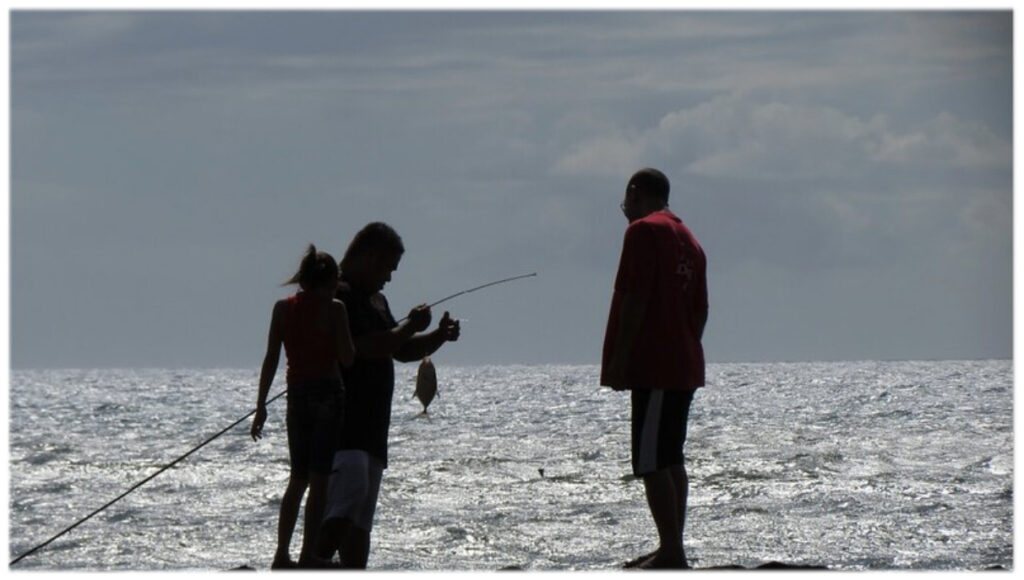 Shore fishing – Your feet are on the ground, the time required is less, and you still catch great fish.
Spearfishing – a spear, mask, and snorkel are all you need. And someone to show you where and how!
Kayak Fishing – best for those with LOTS of experience! A big fish will take you on a wild ride!
Hawaiian Net Throwing – You may find some classes in this style, especially if you stay at the hotel in Hana. You will need upper body strength to throw a net with vigor.  Make sure to check out the form of the net thrower in the title image of this blog at the top.
When is the best time to come?
Of course, fishing has Seasons, even in Hawai'i. So what does each season offer?
Summer Season (June, July, August) – This is the best time of the year to reel in a big one! Maybe a 500 lb. Marlin or a 100 lb. Yellowfin Tuna will come your way. And, remember, the summers can be a little hotter and muggier because the trade-winds can be variable. 
Fall Season (September, October, November) – This is when the bigeye tuna are more plentiful, the marlin and mahi-mahi are less abundant, and shore fishing and bottom fishing are great fun! Weather systems like cold fronts can begin to bring some rainy days the deeper you go into fall. 
Winter Season (December, January, February) – Spearfishing, shore fishing, and Bottom fishing are usually quite good when the smaller fish are plentiful. Deep-Sea Fishing is much less productive, though you might still catch a big eye tuna early in the morning. January usually brings back the big marlins and mahi-mahi once again. The Winter season can have rain more often than the other seasons, with cold fronts bringing rain for a few days. 
Spring Season (March, April, May) – Much great fishing to be had, both onshore and offshore. This is a great time to try and land a striped marlin, mahi-mahi, and even the prized wahoo (aka: ono) fish. The weather is much more conducive to being comfortable, with less rain, steady breezes. Pretty close to perfect! 
9 Fish Frequently Caught in Maui
Pacific Blue Marlin 
Striped Marlin 
Short Billed Marlin 
Skipjack Tuna 
Yellowfin Tuna 
Mahi-mahi 
Wahoo (also called Ono) 
Trevally 
Hawaiian Salmon 
Two Rules to keep in mind when fishing anywhere in Hawai'i
First, remember, Fishers are territorial! It is Important to Use a Guide.
In 2021 we started to use the gender-neutral term Fishers, not Fishermen. And Fishers are territorial no matter their gender. That is the main reason you may find yourself having the most fun and fewer worries if you go fishing with a guide or on a tour. 
The guides will know the open public territories and may also have their own environments which they prefer. They will know the other fishers, the other boat captains, and, best of all, they will know what to do with any type of fish you catch. For example, they will be able to warn you about the dangers of eating Reef Fish, which often contain Ciguatera, a toxin harmless to fish yet makes humans ill. This is rare, but still best to know in advance. 
Second, be conscientious and respect the local cultural practices.
Hawaiians have been fishing the same waters you will be fishing in for centuries. They often started off fishing with their grandparents, who showed them the right way to fish in Hawaiian waters. More importantly, the young ones would learn the cultural practices which have been handed down for generations. They were taught to love and respect the land and the sea, and always follow the Hawaiian practice of sustainability. 
In other cases, you may see someone fishing and not know that they are in a protected area, where only those fishers who are indigenous to the island are allowed to fish. So always ask permission if you sense this is someone's family fishing grounds. Respect will get you help and Aloha from those you will share the ocean and the fish with. 
Before you get started, do some research. You can find a lot of help and get your questions answered by chatting with some fishing experts such as those at FishMaui. 
Also, it's essential to follow the guidelines set out by the State of Hawaii's Department of Land and Natural Resources.
We hope this blog has helped you choose to add a bit of fishing to your next Maui trip. Or bring your favorite uncle, who loves fishing, for a beautiful fishing experience. As long as you do your homework, choose the right type of fishing style, guide, and boat, you will be set! 
There are few moments in life more special than bringing home fresh fish from the sea, cleaning them and cooking them up for dinner! Many of the Deep Sea fishing boats will send everyone home with a generous portion of fish for their dinner that night. 
Most of the captains of these boats will even clean and filet the portions for you. But don't be surprised when they keep the rest so they can sell it to local restaurants and markets. This is how they can keep your entry fee down. 
And, of course, if you decide that fishing is not in the cards for your next trip, at least make sure you go to a restaurant  known for preparing these fresh fish to perfection! You can also pick some up at a local market and prepare it in the comfort of your vacation rental!  Eating fresh fish is truly one of the  best parts of being on Maui. It is some of the freshest, most tender and flavorful fish anywhere!

Written by Peter D. Black

Graphic Design by Sugandha Ferro Black

Photos courtesy of Wiki Commons and other paid for or free sources unless otherwise noted.
Family Fishing | © Sue Salisbury/Flickr, Girl throwing net | © Jeremy from Sidney/wiki, Off Makapuu | © Keleokuokanalu Chock/Flickr, Sand island casting | © Keleokuokanalu Chock /Flickr,  Wahoo | © phuketphoto/Flickr