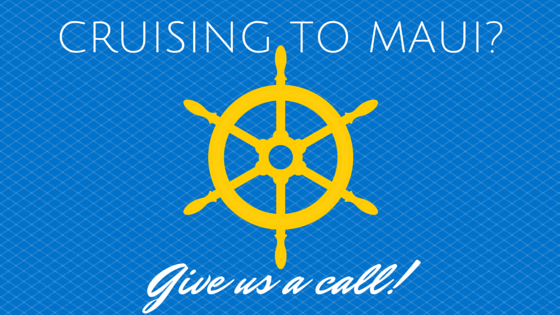 Last year, Hawaii welcomed 243,390 cruise-ship guests to the islands, whether they arrived by ship, or boarded one upon their arrival. Compared with other visitors, that is a very small number, but it's still quite a few people who are here to enjoy everything that out unique state has to offer. If you'll be part of that group soon, we're sure you'll want to experience the very best of Maui, and we'd love to be a part of your trip!
We host cruise ship guests on a weekly basis, thanks to the ever-present Pride of America ship that docks in Kahului Harbor every Sunday, and leaves each Monday evening. Popular tours with Pride of America guests are our Hana Sky-Trek, Summit Lavender Sojourn, and Crater & Rainforest tour. Because of the Pride of America's consistent schedule, and the fact that we welcome hundreds of its passengers on our tours monthly, we're absolute pros! We'll pick you up in a timely manner, and our Tour Guides are the absolute best at getting folks back well before the "all-aboard"—without missing a single moment of our luxury tours!
The other cruise line that frequents our island most often is Princess Cruises. Docking (usually) in Lahaina Harbor, this upscale cruise line's schedule can vary a bit—but not to worry! We stay on top of the latest schedules, and, again, host numerous guests on our tours virtually every time a Princess vessel sails our way.
Of course, Princess and Pride of America are not the only ships that visit the Valley Isle. From Carnival Cruise Lines to Disney, we see plenty of ships in our harbors throughout the year. Looking to book a tour from your cruise ship? Don't know where to start? Give us a call at 1-800-817-1234, and we'll help you with everything from choosing your perfect tour to where to meet us on the day of! If you'll be tendering in Lahaina, we'll be right there at the pier once you disembark your tender. For ships docking in Kahului, you'll meet us right across the street from the harbor at Maui Mall. Once you book your tour, we'll provide you with detailed instructions on exactly where to go. Don't worry—we make it easy for you to get to your tour and get on your way as smoothly as possible.
If you're planning to take to the seas for your Hawaii vacation, call or drop us a line soon to plan your perfect day in paradise! We love nothing more than helping people realize their idea of true Maui bliss, whether they're at a hotel, condo, resort, or ship! See you soon, cruisers!