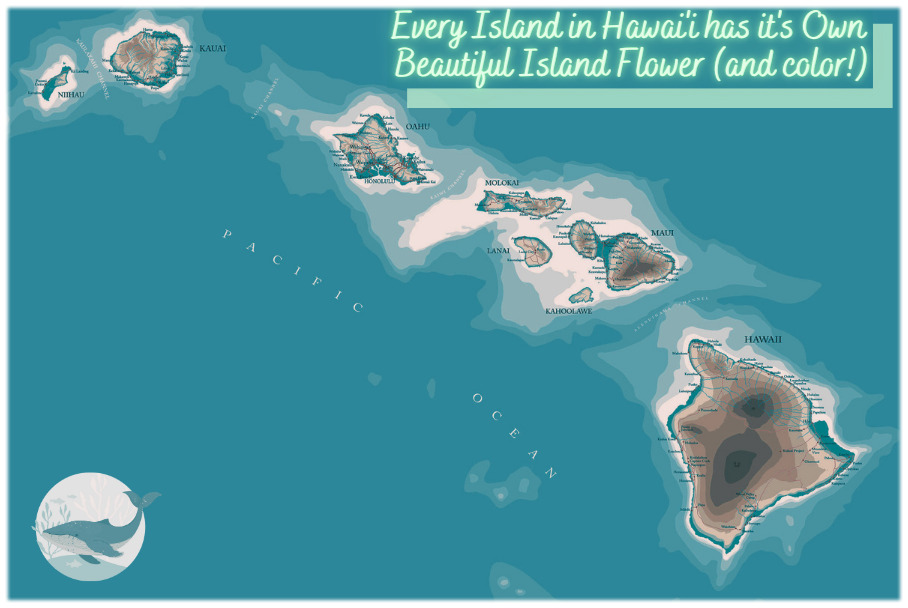 "The Earth laughs in flowers". – Ralph Waldo Emerson
Like all the other 49 states in the U.S, Hawai'i has a state flower.  It is the yellow hibiscus that is called Pua Aloaloa.
The hibiscus flower was adopted by Hawaiians as their official Territorial flower in the early 1920s. That flower remained the Territory's Flower until 1988 when the Pua Aloaloa was selected as Hawaii's state flower.
The red hibiscus had already established herself as a symbol of Hawai'i long before the Pua Aloaloa became the official state flower. Because of that tradition, the red hibiscus still remains very popular to this day.  
Unique to Hawai'i, each island also has its own Island Flower. Eight islands mean eight flowers, plus one for the state makes 9 flowers for Hawai'i. 
Plus, each island has its own Island Color particular to them.
If what Emerson says is true, you can be sure that Hawai'i is one of the happiest places on earth. You will hear a lot of laughter here, and not just from all the flowers!
The island flowers for each island:
HAWAI'I – The Big Island
The Color for the Big Island of Hawai'i is RED! Red like lava! A perfect color for the Goddess of Fire: Pele. Just like lava being red, the Big Island's flower is also red. It is one of the most cherished red flowers – the red 'Ōhi'a Lehua. This magnificent flower graces the Big Island mainly in red, but can also be seen in yellow, less frequently, in orange, and the almost mythologically hard-to-find white Lehua.  
MAUI – The Valley Isle
PINK is the color for Maui! Pink is represented by the pink damask Rose of Maui. Called Lokelani, it is boldly pink, blooms island-wide, and is incredibly fragrant. Many roses have little or no scent when blooming on the islands. Not this precious flower. It calls you to her with its fragrance. She fills the room with her sublime fragrance.
KAHO'OLAWE – The Target Isle 
After the attack on Pearl harbor in 1941, the U.S. Military used the island for bombing practice until 1990. Most of the foliage of the island was stripped clean. In 1990, there was a gradual movement towards clearing unexploded bombs and replanting foliage on Kaho'olawe barren landscape.
In old Hawai'i, Kaho'olawe was referred to as "heaven come down to earth". The island has an undefeatable spirit, leading to her success at replanting and growing the Hinahina plant (among many other plants) with her beautiful silver-grey bloom. Therefore, Kaho'olawe's color is GREY like the silver-grey Hinahina, a beautiful flower for lei making. 
LANA'I – The Pineapple Isle
Pineapples have not been grown on the island since 1992. This is OK as Lana'i will always be known for the delicious and copious amounts of pineapples produced there, starting back in 1920. Sixty-eight years of mouthwatering goodness! 
Lanai's color is ORANGE. Sparkling orange! The beautiful plant, Kauna'oa, made up of delicate shades of orange tendrils, grows along the beaches and is used in many beautiful lei.
MOLOKA'I – The Friendly Isle
Laid-back, old-style Hawai'i. You won't find fast-food restaurants or any building taller than a palm tree. Even hotels are small and at a minimum. 
You will find the island color is GREEN. To reflect a land undeveloped, with rolling green hills, it is not a touristy island, but an inviting place nonetheless. 
The Island Flower is the white Pua Kukui Nut blossom coming from the Kukui or candlenut tree. It is delicate and has a gentle fragrance. Using the Kukui's sage-colored leaves as the white flower's backdrop makes an elegant and striking haku head lei.
O'AHU – The Gathering Place
Home to 80% of Hawaii's population, it is indeed a gathering place. YELLOW is the Island Color and also the color of the Pua 'Ilima flower claimed by O'ahu. 
This flower is a symbol of love. Many fell in love with Hawai'i starting years ago when you could only get there by traveling across the Pacific on a ship. It seems fitting that the flower of O'ahu and the home of Waikiki should have a flower that symbolizes love.
KAUA'I – The Garden Isle
Green seems like it should be the color of Kaua'i since 97% of its land is forest and undeveloped mountain ranges. Plus, it stays super green since it is also known for having one of the wettest places on earth, Waialeale. 
Her color is PURPLE for the light purple color of the leathery anise-scented Mokihana Berry that belongs to Kaua'i. Their twigs are often used as perfume, placed between the folds of cloth. And again, a beautiful lei is made from berries.
NI'IHAU – The Forbidden Isle
Ni'ihau is an island that still has a lifestyle that is 90%, including speaking the language. Other than a helicopter trip to one of her desolate, deserted beaches far from any people or settlements, it is not open to the public. Only relatives, residents, or the owners are allowed – by invitation.  
The island's color is WHITE which is also the color of the coveted Ni'ihau shell. These delicate shells are found on the island and used to make amazingly intricate and stunning lei. Called pupu, for a tiny shell, these lei are rare, treasured heirlooms, and expensive to purchase.

Different Islands = Different Personalities
Each island has its own color and flower. It is usually a lei flower or plant and represents its land and people. It is important to recognize that each island has its own …
distinct – and differing – personality. 
The Big Island of Hawai'i is vast and made up of three volcanoes, of which one is very active. Whereas the island of Kaua'i is much smaller and covered by forest and exquisite beaches. 
There is a different history, different specialties, and tendencies belonging to every island. The choosing of each island's color and lei flower is intrinsic to the land itself and something that the island is known for. 
Next time you think of coming back to Hawai'i…
…keep in mind that all of the islands have very different experiences awaiting you. When you are ready to explore, do a little island hopping, as we covered in a previous blog. See ALL the colors, the flowers, and all the beautifully unique islands of Hawai'i.

Writing and Graphic Design by Sugandha Ferro Black

Photos courtesy of Wiki Commons and other paid for or free sources unless otherwise noted.
Hinahina flower | © CC BY 2.0 David Eickhoff/Flickr, Hinahina plant | © Starr/WikiCommons, ilima | © Starr/WikiCommons, Kauna'oa | © Starr/WikiCommons, Mokihana | © Starr/WikiCommons, Roselani | © Starr/WikiCommons, Niihau | © Christopher P. Becker/WikiCommons, Red Hibiscus |© CC BY 2.0 Cliff, Eickhoff,
CC BY-SA 4.0 Eyo/WikiCommons, Niihau Lei Making | © Hiart/WikiCommons, Niihau Lei | © Wmpearl/WikiCommons