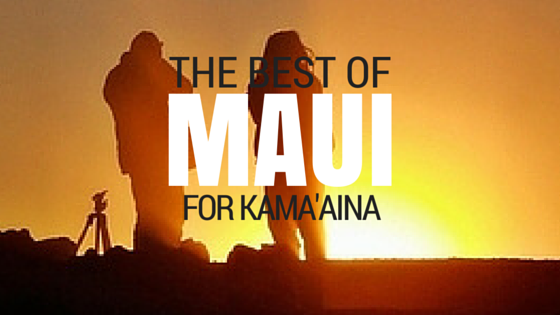 Believe it or not, Hawaii residents need vacations from time to time too! While many kama'aina prefer to visit mainland destinations (Las Vegas, in particular) when they need a getaway, others opt for weekend getaways to other islands. Personally, I love losing myself in the hustle and bustle of Honolulu once or twice a year, but many neighboring-island residents love to escape to Maui from time to time. What do they like to do while they're here? Read on!
MauiWine
One of the things that attracts visitors from other islands is Maui's natural beauty, rich agricultural scene, and varied microclimates. One of the many spots that offers all that and more is MauiWine, which attracts visitors from Oahu, Hawaii Island, and Kauai all year long. MauiWine's location on the slopes of Haleakala offers cool temperatures, incredible ocean views, and plenty to explore and taste. Because of Hawaii's strong Asian influences, one of our dyed-in-the-wool traditions is the practice of "omiyage," a souvenir-gifting practice that has its roots in Japan. Whenever we travel anywhere, we always bring back gifts—usually consumable—from where we've been. A bottle of Maui Splash or Lokelani is always a welcome form of omiyage from Maui!
Road to Hana
Yep, not all of the visitors on the Road to Hana are from the mainland. Since there's nothing like it on Oahu, plenty of folks from Honolulu list the Road to Hana as one of their Maui musts. That isolated feeling that you get while traveling around East Maui is hard to find on Oahu, and it's a refreshing change from city life. Hiking, waterfalls, and the black sand beach are major attractors for visitors from within the state, not to mention the famous banana bread!
Makawao Town
The quaint, shop-lined town of Makawao, complete with the sense of old-timey cowboy culture, is a huge draw for outer-island residents. It's a great place to find unique items in quirky boutiques for personal souvenirs, but Makawao's also a destination for some very coveted omiyage—treats from Komoda's bakery! Yelpers from other islands love their stick donuts, cream puffs, and guava malasadas.
Haleakala
Keeping with the adventurous spirit that neighbor-island visitors adopt when visiting Maui, a trip to Haleakala for sunrise is virtually required. Visitors from the US mainland have the advantage of a drastic time change to help them wake up early enough for the sunrise journey, but not so for Hawaii visitors! Even so, bundling up in winter gear and watching the sun rise above Maui's dormant volcano is no problem for many kama'aina.
Maui Swap Meet
We love swap meets in Hawaii—but then, who doesn't? It's no wonder that outer-island visitors are happy to get up early on a Saturday morning and visit the Maui Swap Meet. They can mingle with other visitors and Maui residents, chow down on some one-of-a-kind treats (Sumo Dogs, anyone?), and check out some of Maui's best products. Whether they're looking for jam, local honey, or even hand-made wood crafts, the swap meet is a one-stop-shop for items only found on Maui.
When neighbor-island visitors get away to Maui, there's something for everyone. With its perfect blend of natural beauty, incredible dining, and unique island-made products, even visitors from other islands may agree that "Maui No Ka Oi!"