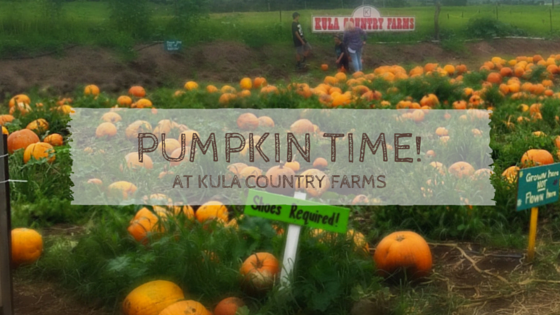 I'm sure that most people come to Maui for the year-round warm weather, for that "eternal summer" that lends itself beautifully to swimming, snorkeling, hiking, and sunbathing. Year-round summer is certainly a huge draw, but once October rolls around, sometimes you just want that "fall" feeling. I've lived here most of my life, and I must say, it's been a little hard to come by—until yesterday. I'd heard about Kula Country Farms and their yearly pumpkin patch, but I'd never made it there. Now, I'm not quite sure why this hasn't been annual tradition for my family—but it will be from here on out!
If you haven't been, I'd definitely recommend a trip to this serene upcountry farm, especially in October! The main attraction this time of year is the pumpkin patch—a huge field covered in pumpkins of every shape and size imaginable. Their simple price-by-size chart makes it easy to pick your perfect pumpkin, and they'll loan you a cart in which to tote it around! Kids will love running through the fields, imagining the jack-o'-lantern possibilities.
This place is not just pumpkins, though! After your careful gourd-picking, head back up the hill and visit their produce stand, for locally-grown produce that will wow you! Gorgeous, fat zucchinis, fresh asparagus, and tasty green beans were all available when we went, along with plenty of other fresh goodies—and homemade strawberry lemonade! Looking for something to take home? Look no further than their Kula strawberry jam and pancake syrups!
If you brought your kiddos, get ready to settle in, because this place is a keiki paradise! Games, homemade tire swings, and even a mini-golf course are on the property, making for plenty of family fun! My two-year-old loved the tire swings, and visiting the furry friends on the farm—a lazy rabbit, some fuzzy miniature horses, and countless goats! I took the time to sit back and watch these cuties while taking in the most beautiful island views I've seen in a while—true Maui bliss!
Even if you're not ready for fall or the approaching holiday season, Kula Country Farms is definitely worth a visit. It's family-friendly, educational, locally-run, and is a beautiful change from busy resort areas. See you there!