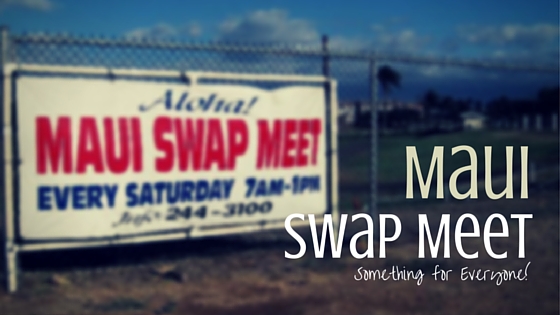 Hey, it stopped raining! We've had a wet couple of days here on Maui, but things are settling back to normal—for now! We certainly won't forget that it's hurricane season. However, plenty of Maui locals are getting down to the business of planning their weekends. With fingers crossed that the sun will still be shining come Saturday, many of us are planning beach days, hiking ventures, and other outdoor activities. Since my husband and I have a two-year-old in tow, we like to keep it a bit more low-key. Our Saturday plans often include a trip to the Maui Swap Meet—where we can easily spend a few hours getting some sunshine, exercise, and great deals!
The Maui Swap Meet has been going on for years, and now takes place right behind the University of Hawaii Maui College. If you've been looking for just that perfect thing to take home from your trip, you might just find it at the Swap Meet! With rows and rows of tents, tables, and trailers, it can be hard to figure out where to go! But, hey, it's Saturday, and it's a great day to just stroll around and take it all in.
What will you find at the Swap Meet? Is it worth it to get up early on a precious vacation Saturday and make the drive into Kahului? Well, it's certainly up to you, but I'd certainly give it a shot! You've got nothing to lose—other than the fifty-cent admission that keeps this Maui tradition running smoothly. You'll find unique jewelry, interesting keepsakes, clothing items, and more! Some are locally-made, handcrafted treasures, and others are import items that you can snag at a great bargain. There's something to be said for both! In addition, you'll find a plethora of food vendors, so whether you want a little snack (shave ice, anyone?) or are ready for a hearty lunch, you can chow down right there at the Swap Meet. On a hot day (and we've had our share of those recently), I make a bee-line straight to the hand-pressed lemonade stand.
Finally, if you're staying in a condo with access to a kitchen, don't skip past the fruit and vegetable vendors! You'll get some of the best deals around on produce, and you'll find locally-grown tropical fruits that may ruin you for your grocery store back home. I love picking up the long Japanese eggplants to throw on the grill, some calamansi for cocktails, and a bunch of fresh herbs for my steak marinade. I pay a fraction of what I would at Whole Foods, and get that tasty, locally-grown goodness from appetizers to dessert.
Whether you're looking for souvenirs, local snacks, beautiful artistic keepsakes, or anything in between, the Maui Swap Meet has something for you. It runs from 7:00 AM to 1:00 PM, at 310 Kaahumanu Avenue in Kahului. Parking is free and plentiful, and the admission fee is a steal at fifty cents per person—kids twelve and under are free! Best of all, a trip to the Swap Meet in the morning puts you right in Central Maui for plenty of other adventures for the rest of the day. Hit up Iao Valley for a quick, cool hike, or even enjoy the Maui Ocean Center on your way back to your resort. The Maui Swap Meet is definitely my top pick for a Saturday morning outing!