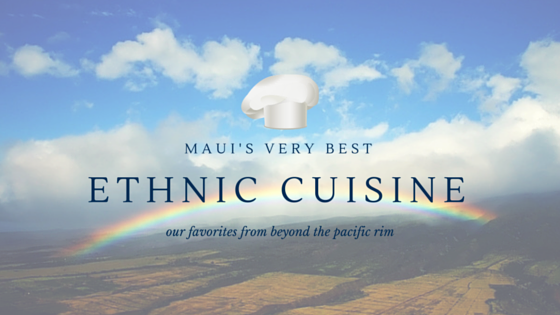 Of course, when you're on Maui, you'll be eager to sample some of the best local, Hawaiian-style cuisine, of which you'll find plenty while you're here! From the hole-in-the-wall treasures to the most upscale eateries, both Hawaiian and Asian cuisine rule the landscape on the island. What if you're looking to change it up, though? Read on for our picks of the best ethnic cuisine on the island that falls outside the Pacific Rim!
Mexican: Roasted Chiles
Tucked away in a Kihei shopping center, you might not give this up and coming Latin eatery a second glance. That would be a pretty big mistake, though, because this place is serving up authentic, creative Mexican cuisine, along with huge margaritas and incredibly friendly service. Top picks include the langostino enchiladas, the fajitas, and the pan de elote for dessert. Also, don't pass up one of their sweet-and-spicy margaritas that will knock your socks off—we love the roasted jalapeno version!
Greek: Pita Paradise
Greek food might not even cross your mind while you're on Maui, but in case it does, Pita Paradise most definitely has you covered. They manage to combine Mediterranean food with fresh island flavors in a brilliant way. You can seriously feast here, so arrive in Wailea with an appetite! We love the ahi tartare (or really, any fish dish—it's caught fresh daily!), the lamb kabobs, and, of course, the baklava ice cream cake. You gotta get their thyme lemonade too—whether you get it alcoholic or virgin, it's amazing!
Italian: Sale Pepe
This Front Street eatery is another spot that's gaining popularity quickly, and for good reason! Their house-made, authentic Italian pasta, pizza, and more are simply top-notch. Both locals and visitors alike rave about the lasagna, crostini, and their expertly-crafted cocktails. The interior feels intimate, casual, and truly Italian. You may even forget that you're on Maui, but that may not be a bad thing just once during your trip. Whether you choose an entrée, or just enjoy an evening of wine and cheese, you'll have made the right decision.
German: Brigit & Bernard's Garden Café
German? On Maui? Yep—you heard us correctly! This Swiss/German eatery is located in Kahului, and it's absolutely fantastic. The tiny restaurant features European knick-knacks and cuckoo clocks all over its walls, and boasts a charming outdoor eating area as well. Whether you go with bratwurst, schnitzel, or one of their daily specials, you will have a filling, delicious meal, served with aloha that's 100% Maui. My recommendation? Anything with the roesti potatoes, and of course, a tall German beer.
Indian: Monsoon India
This place is another hidden gem, located on the ground floor of the Menehune Shores condominium complex in North Kihei. Although it's undergone some changes in ownership and in name, this place has been a solid addition to Maui's culinary melting pot for several years. Portions here are huge, and everything is fresh-cooked and authentic. From samosas and papadums to tikka masala and biryani, they've got everything you might crave from an Indian restaurant, all with the most beautiful ocean view. My favorite way to chow down here is with garlic naan, saag paneer, and a mango lassi. If you're a dessert person, go for their simple but delicious rice pudding, full of Indian spices.
Of course, both Asian and Hawaiian fusion cuisines are still the most common, and are executed quite beautifully by many of the state's best chefs. However, if you're looking for some unexpected flavors in a tropical setting, you'll have your pick from some truly exceptional spots. Bon appétit!