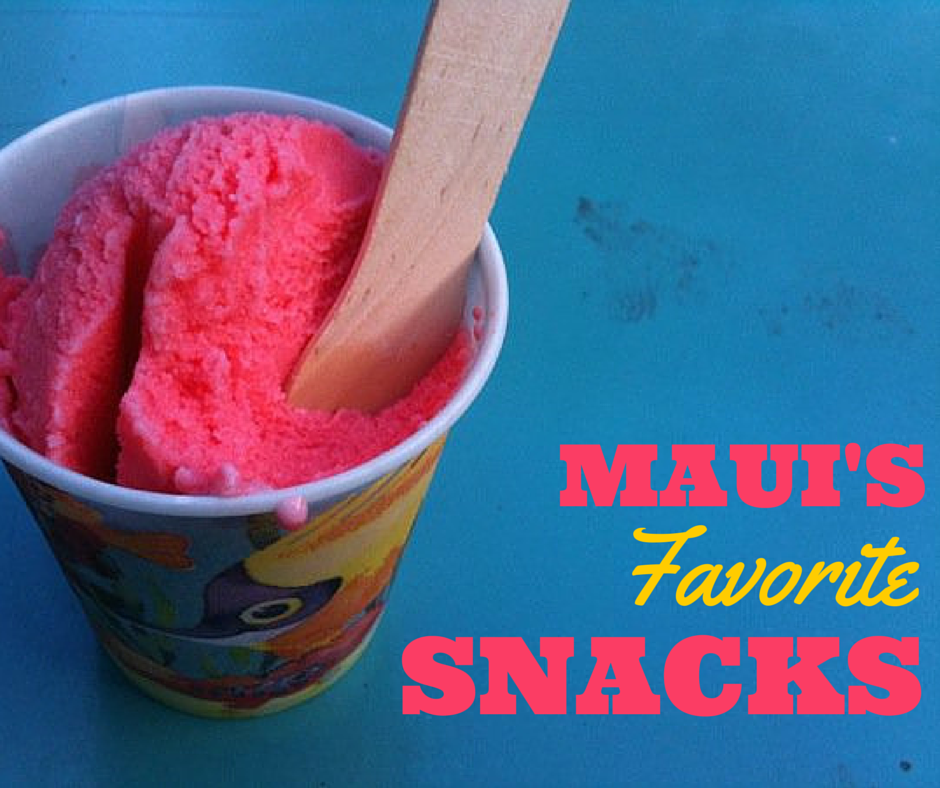 In our warm, tropical climate, it's a perfect place for plenty of tropical fruits and tasty vegetables to thrive. Just snacking on the tasty products of the 'aina (Hawaiian for "land") would be enough for most people to get their fill of island flavor, but you can certainly branch out and try the other delicious goodies that Maui is famous for. Here are my top five favorite Maui snacks!
Banana Bread
You've had banana bread your whole life, I'm sure. Your mom or aunt probably has a famous recipe, and you're positive nothing will ever top that. Maybe you're right, but just in case, pick up a loaf or two while you're here. The best place? Well, the specifics are debated, but in general, everyone agrees that the best banana bread can be found somewhere along the Road to Hana. Tightly wrapped in saran wrap, you'll find miniature loaves in little stands and shops along the famous Hana Highway. Most of the time, they're made with local bananas, fresh that morning. Personally, I've never had banana bread as dense, moist, and flavorful as some that I've gotten in Hana. Be on the lookout for different varieties, too– you'll find it with chocolate chips, coconut, mango, and more mixed in. Thankfully the loaves tend to be small, so you can sample them all along the drive!
Guri-Guri
Originally, I had shave ice in this spot, but decided against it. I don't have to tell you to get shave ice; you're going to get shave ice anyway. Fair enough. I can strongly advise you, though, to make your way to Maui Mall in Kahului, find a little pink storefront next to the pet shop, and get some guri-guri. Which is what, exactly? It's not quite ice cream, and not quite sherbet, but it falls somewhere in that spectrum. It comes in two flavors: strawberry and pineapple. Make sure you have cash (this little shop doesn't take a card), and know what you want. It comes in golf ball-sized scoops, in sizes from a single scoop to a five-scoop jumbo size. You can get all of one flavor, or a mixture of the two. The flavors are subtle, and go extremely well together, so I definitely recommend the combo option. For a sweet treat on a Kahului day, nothing beats a Dixie cup of sweet guri-guri, eaten with their signature flat wooden spoon.
Manapua
This staple of the islands is based on Chinese dim sum, but it's taken on a life of its own in Hawaii. Steamed or baked, and filled with everything from traditional char siu (Chinese-style barbecued pork) to Indian-style beef curry, I guarantee you'll find one of these hand-held buns to satisfy just about any taste. Before recently, these delicacies were kind of difficult to track down on Maui (especially fresh ones), but with the opening of two brand-new shops, the manapua business is in full swing in Central Maui. Try Maui Manapua Bakery on Lower Main Street in Wailuku, and head down early– they sell like hotcakes! Or, should I say, hot buns!
Li Hing Mui
You might have seen this on some bags of snacks in just about any grocery store on Maui, but its contents were possibly less than identifiable. I know that this can be off-putting, but please, try this sweet-sour-salty flavor on SOMETHING before you leave! The classic is the dried plum, coated in the ubiquitous red powder, and it's a favorite all over Maui. I remember sharing bags of li hing mui with classmates in middle school, our fingers sticky and red by the end of lunch. If you're wary about the dried fruit, you can also get gummy candies with a sprinkling of li hing powder, which make for a tasty snack. Or, my favorite, just grab a bag of the powder by itself, and sprinkle it on apple slices, pineapple rings, or chunks of watermelon. Be on the lookout at happy hour too– many local bars have started concocting drinks using this distinct flavor, and they're not to be missed!
Cone Sushi
Maui is home to a lot of sushi, in settings from fine-dining to ultra-casual. Hawaiian-style cone sushi definitely falls on the ultra-casual side of things, but don't let that deter you from giving it a try. You may have had its traditional Japanese counterpart, inarizushi, before, but it's a little different here in the islands. Sweet and vinegary sushi rice is mixed with a small amount of shredded carrots, and is then wrapped in a triangular fried tofu pouch. This is just another one of those things that you'll just have to try to appreciate, and I'm sure you won't be sorry you did. Find them everywhere, from delis to gas stations. They're commonly sold as side-items for other deli or okazuya meals, but they're perfect as a snack to take to the beach, hiking, or whatever your Maui day has in store for you.