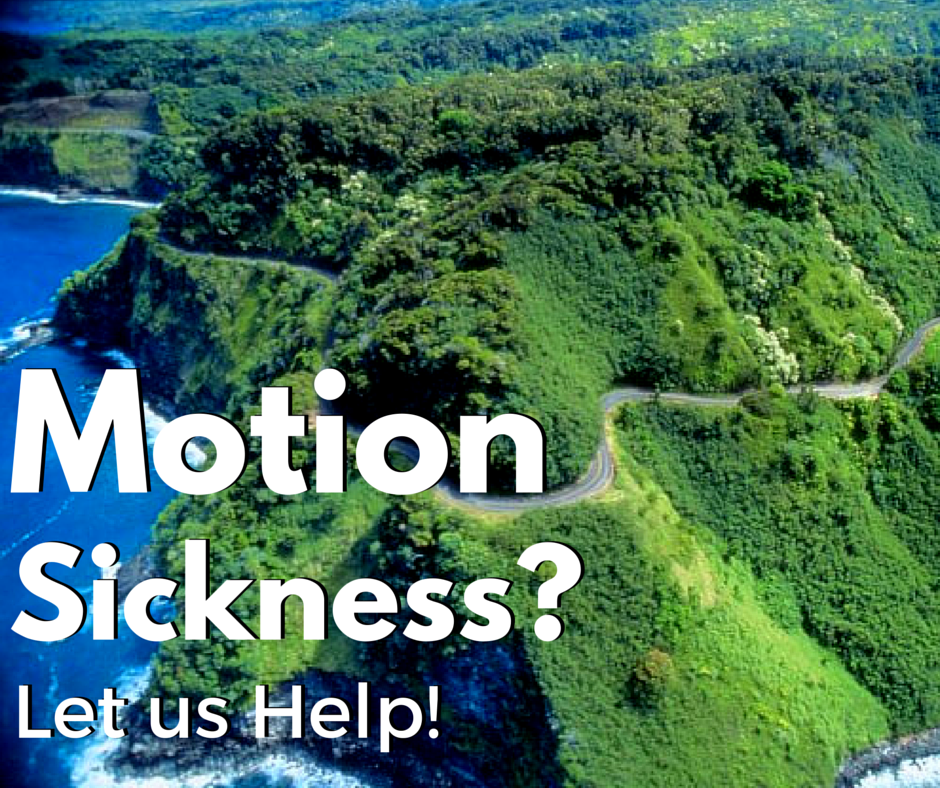 We field quite a few questions from prospective guests about one of the more infamous aspects of the famous Road to Hana. For those prone to motion sickness, the thought of a drive featuring 617 hairpin curves might not be too appealing! And, sure, for some, they'll just choose not to experience this bucket-list item, and spend a bit more time with their toes in the sand. Sure, but what about for those of you who really, really want to see this world-famous Maui journey, but are still a little wary about queasiness? We'll do our best to help!
Let us know!
This is the most important thing. If you're prone to motion-sickness, tell us when you make your reservation! That way, we can give your Tour Guide the heads-up, and, if you'd like, reserve you the "shotgun" seat, to minimize the effect of the curvy road. From the front, it's easier to fix your focus on a single point, if need be, to help keep you from feeling sick. It'll also allow you to check-in with your Tour Guide frequently, and let him or her know when you need to get some fresh air and a bit of a break. Luckily, on a small-group experience, this is definitely something we can do! Also, if someone else has already requested the front seat on the date and tour you've requested, we can work to reschedule your tour well in advance.
Ginger
Our favorite motion-sickness deterrent, apart from sitting up front, is ginger candy. Before your tour, pick up a stash of it from the local candy section of almost any grocery or chain store on the island. Most places stock it for exactly this reason! Make sure it's made with real ginger, and toss it in your day bag, and a couple in your pockets. Ginger is known around the world for its stomach-calming properties, and even just smelling it can do you some good when it comes to combating an upset stomach. Feel free to bring some ginger ale as well, if you'd like—Canada Dry is made with real ginger, and some of the more "indie" brands pack an even more powerful ginger punch!
Other Remedies
Do a little homework on what will work best for you. Apart from ginger, other folks swear by peppermint to prevent motion sickness—either natural peppermint candies, or a little peppermint oil on the back of your hand or in a handkerchief to sniff throughout the day. We've also heard that people have had great luck with the acupressure wrist bands, which take advantage of a particular point on the wrist that, reportedly, negates any nausea. What we don't recommend, generally, are the motion-sickness tablets that might cause drowsiness—even if they claim not to! While we don't mind if you nod off, we certainly don't want you to miss the beauty of the Road to Hana!
On that note, even though you'll hear about it most on the Road to Hana, some people prone to motion sickness may feel its effects head up to or down from Haleakala as well. Remember, we host thousands of guests every year, and if worse comes to worse, every seat in our Luxury Limo-Van is equipped with an "Aloha Bag," just in case. Trust us—we've dealt with plenty of troubled tummies, and are ready to help! For whichever tour you'll be joining us, please let us know how we can help make it comfortable for you, and, more than likely, taking just a few precautions will alleviate any discomfort you might've experienced.
A hui hou!