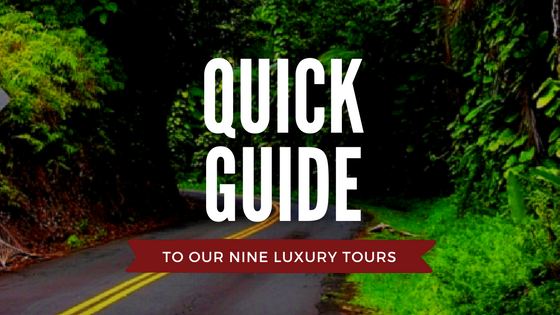 If you're planning your next trip to Maui, you might be overwhelmed with all the tour choices available! Once you've decided to travel with Temptation Tours—because, let's face it, you know you want to travel in a Luxury Limo-Van, led by a Hawaii-Certified Tour Guide, in an intimate, small-group setting—you might have a hard time choosing between our nine different Luxury tours! Not to worry—a great first step is right here: a handy guide with the basics of each tour, boiled down to a short-and-sweet description. Click on the tour names for more details, once you find one that catches your eye!
Hana Sky-Trek – Our half-day adventure between Kahului and Hana that travels one way by Limo-Van and one way by state-of-the-art helicopter.
Haleakala Sun-Trek – A stunning flight above Haleakala crater, a visit to a hip breakfast spot, and a tour of upcountry's most unique culinary attractions.
Hana Picnic – A fun and relaxing drive on the Road to Hana and back, including stops for swimming and a beach-side picnic lunch.
Hana Cave-Quest – A full-day Road to Hana adventure, including a one-hour tour of Hana's hidden gem: the underground caves of Ka'eleku Caverns.
Summit Lavender Sojourn – A fun trip to Haleakala, Maui's famous lavender farm, winery, and more!
Haleakala Sunrise – An early-morning trip to Haleakala for the unforgettable sunrise, followed by a hearty, run-of-the-menu upcountry breakfast.
Crater & Rainforest – Enjoy the best of both worlds with this full-day tour that includes a trip to Haleakala and a journey into the rainforest, halfway to Hana.
Hana Ultimate – The ultimate Road to Hana adventure includes a full-day Road to Hana tour with stops for both breakfast and lunch at two of Maui's most unique dining locations.
Private Charter – Your tour, your Maui, your way. Call us to start planning your exclusive Maui tour!
Have even more questions? Give us a call, or send us an email! A reservations agent will assist you in choosing, scheduling, and confirming your unforgettable Luxury Maui adventure!