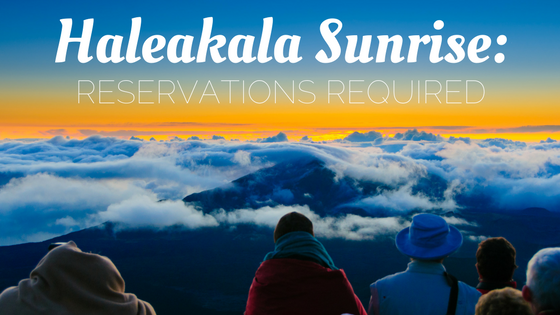 If you're planning a trip to Maui anytime soon, you might be planning a trip to the Summit of Haleakala to see the Sunrise—whether by tour, or on your own. While they're both great options, you should note that starting February 1st, 2017, all private vehicles (rental cars and local residents) will need to have a reservation to get to the Summit to view the sunrise. Vehicles without a reservation will need to wait until 7:00 AM to be allowed into the Summit parking area.
If you are planning on visiting the Summit for Sunrise on your own, be sure to reserve your spot online at recreation.gov ahead of time, up to two months in advance. A reservation for a parking spot costs $1.50 online, and is non-transferrable. You'll need to provide identification that matches the name under which the reservation is made.
This reservation system is a step taken by the National Park Service to eliminate over-crowding at the National Park, helping to protect and preserve this sacred Maui location. With the growing popularity of the Sunrise at Haleakala, more and more private vehicles arrive at the Summit each day—leading to delays at the entrance gate, increased littering, and damage to the fragile plant and animal life found at Haleakala National Park.
One way to even further minimize the environmental impact to Haleakala is to book a Haleakala Sunrise tour with a Sustainable Tour Operator, which is a company that provides unique, culturally significant touring experiences that help to minimize the environmental impact of touring, as well as actively work to improve Hawaii's environmental well-being. Currently, Temptation Tours is the only Certified Sustainable Tour Operator that is also permitted to conduct Sunrise tours by the Haleakala National Park Services.
To ensure your spot at the Summit for this unforgettable experience, call us or book online today! Don't miss out on the Sunrise at Haleakala, and do your part to keep Haleakala beautiful for generations to come.