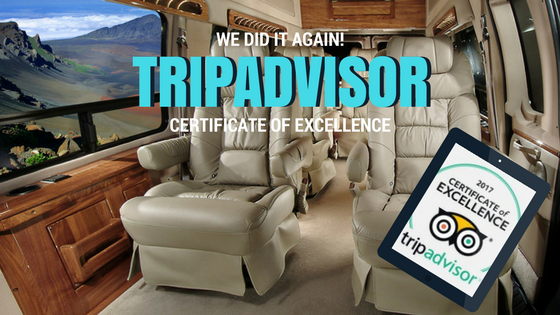 Wow! We couldn't be more honored to have received TripAdvisor's Certificate of Excellence again for 2017! It truly means the world to us that visitors to Maui take the time to join us, and the experience really pays off for them! Here's what TripAdvisor reviewers loved this year!
Visitors to Maui, this special, peaceful island, don't have a "big bus" tour in mind when they're out exploring the scenery. They're looking for intimate, small-group adventures where they have a chance to visit off-the-beaten-path locales, bond with their traveling companions, and make new friends, all in a group of no more than eight per tour.
Almost every review has mentioned how relaxing and comfortable it is to travel around Maui in one of our custom-built Luxury Limo-Vans. With individual leather captain's chairs for each guest on board, large, panoramic windows, and plenty of space to kick back and relax, our Limo-Vans make the Road to Hana and the journey to Haleakala truly fantastic.
The Road to Hana, including a waterfall swim, and even the option for a tour of the famous Ka'eleku Caverns, is truly special with Temptation Tours. Guests also adore our Hana Sky-Trek tour, where they can join a Limo-Van ride one way, and a helicopter tour for the other! Of course, who could forget Haleakala, the famous dormant volcano? Our Sunrise tours garner rave reviews almost daily, and the beautiful, peaceful Summit Lavender Sojourn tour is also a guest favorite!
From the post-sunrise breakfast at the Kula Lodge, the elevated meals on our Hana Ultimate tour, and of course, our Pacific Rim Cuisine picnic lunch, guests are well-fed on board every one of our adventures! No box lunches here, either—our picnic lunch is served on crystalline plates, with real flatware and cloth napkins, a true hallmark of our award-winning service!
If you read our reviews on TripAdvisor and elsewhere, you'll notice that most reviewers mention their Tour Guide by name, as the center of their amazing experience. Our Guides are highly trained, incredibly experienced, and are veritable experts in many different aspects of Maui and Hawaii. When guests return, they're always eager to request their favorite Tour Guide by name, and even first-time visitors are welcome to request a particular Guide based on their stellar reviews and recommendations. Whichever Guide leads your tour, you can rest assured that they'll be a wealth of knowledge, a careful driver, and, by the end of the day, probably a great friend!
Hundreds of guests have shared their incredible experiences with us on TripAdvisor, and we invite you to do the same! We can't thank you enough for helping us to receive this incredible recognition from the most trusted travel review site there is, and we can't wait to see what you share with their readers after your Luxury Maui Adventure!