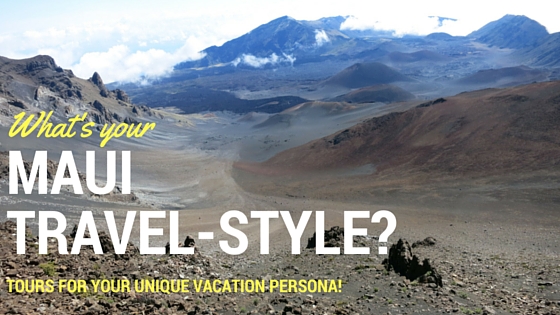 When planning a trip to Maui, people fall into some pretty distinct categories. Are you looking to do it all, and leave no stone unturned when visiting the Valley Isle, or are you a more laid-back, relaxed kind of traveler? Read on, and find out what tours will be the best for you and for your vacation personality!
The Bucket-Lister
You've got a list a mile long of what you want to do while on Maui—or maybe your vacation includes two or three other islands as well! You want to experience all the "must-do" activities you can possibly squeeze in, and you've got a compartment in your luggage designated for all of your extra memory cards. For you? Start with the Sunrise at Haleakala, a favorite of thousands of Maui vacationers every month. The early wake-up call just means more time in your day! You'll get those perfect shots of the incredible show of light and color atop Haleakala, and you can go over your list again during your run-of-the-menu breakfast, and compare notes with your fellow travelers!
Of course, you have to do the Road to Hana, and, wait, what about a helicopter tour? Not to worry—the Hana Sky-Trek has you covered! Check off two list items at once with this half-day combo tour, where you tour the Road to Hana via Luxury Limo-Van one way, and soar above it in a state-of-the-art helicopter for the reverse leg. Two unforgettable experiences, all in a half day? This is for you, Bucket-Lister!
The Nature-Lover
Your draw to the Valley Isle is all about its natural beauty. You've seen photos of waves crashing along the sea cliffs, the fantastical rainbow eucalyptus, the bizarre endemic Haleakala Silversword, and more. You want to get up and personal with the botanical and geological sights on Maui, and learn about their origins, their conservation, and their cultural significance. For you, Nature-Lover, we'd love to host you on a Hana Cave-Quest tour, where you'll learn all about the plant and animal life found along the Road to Hana, and get a truly "in-depth" (pun intended!) geology lesson when exploring the Ka'eleku Caverns. These underground caves are actually lava tubes, formed by the last eruption of Haleakala over five hundred years ago.
Speaking of Haleakala, you'll of course want to visit this now-dormant volcano during your stay on Maui. On a Crater & Rainforest tour, you'll enjoy a daytime visit to Haleakala National Park, where your Hawaii-Certified Tour Guide will explain its formation, its history, and how it factors into Maui's society today. On the Crater & Rainforest, you'll also get views of upcountry Maui, enjoy an outdoor picnic lunch, and then revisit the Road to Hana—as far as Ke'anae—for a second look at East Maui and its stark contrast to Haleakala.
The Foodie
I know you, Foodie traveler. You've been stalking Yelp ever since you started planning your visit to Maui, making your list of restaurants and bars that you absolutely must visit. You're staying in the least expensive accommodations you can find, to budget more for breakfasts, brunches, lunches, happy hours, and dinners! For you, we have two tours that you cannot miss. First, the Hana Ultimate. Sure, you know you want to do the Road to Hana, but what is there to eat along the way? Your tour will start out with a full, run-of-the-menu breakfast at Café Mambo in Paia, and then, after touring all the sights and experiences of the Road to Hana, you'll sit down to a four-course luncheon at the modern, beautiful Travaasa Hana.
Still hungry for more flavors of Maui? Book a Haleakala Sun-Trek! After a thirty-minute helicopter tour of Haleakala first thing in the morning, you'll return to Café Mambo for breakfast, this time expanding your menu options with a no-host breakfast. Then, it's time to visit upcountry Maui, where you'll tour Surfing Goat Dairy, a charming local goat farm that makes some seriously tasty goat cheese. You'll get a flight of both sweet and savory cheeses, and then we DARE you not to buy at least four more to take back to your hotel (don't worry, they'll cold-pack them on ice for you). My favorite? The horseradish flavor—from steaks to sandwiches, I put it on everything! After Surfing Goat Dairy, you'll head over to Ocean Vodka. Enjoy a Pacific Rim Cuisine picnic lunch on their incredible grounds (which include a "martini garden!"), and then tour their organic vodka distillery, and yes, there are samples! After Ocean Vodka, you'll visit Makawao Town, where you can load up on even more local Maui goodies before returning to your hotel.
The Relaxer
If you're a Relaxer, you've got one goal during your Maui Vacation: Kick. Back. Nothing strenuous, nothing wild—you want to get away from your busy life back home and just mellow out for a week or two on the Valley Isle. Sure, you've heard about the Road to Hana, but driving it yourself seems like more stress than you're willing to endure right now. We've got you covered, Relaxer, with the Hana Picnic. All you need to do is step outside of your hotel lobby, and let us take it from there. Your Hana Picnic tour is relaxed, laid back, and all about having a fun time in the rainforest, with plenty of time to swim, take photos, and above all, enjoy the comfort of an eight-passenger Luxury Limo-Van.
Want to take relaxation to the next level? Look no further than the Summit Lavender Sojourn. This tour has "mellow out" written all over it. First, a trip to Haleakala, for serene, peaceful views of the crater and the rest of Maui. You truly feel like you're "away from it all" at 10,023 feet above sea level. Afterward, it's time to visit the Ali'i Kula Lavender farm, where fragrant fields of lavender will fill your senses. Tour the peaceful, scenic gardens, and then visit the gift shop for plenty of lavender items, including lotions, bath products, and even lavender-infused chocolate. Next, MauiWine, another scenic stop, where you'll learn all about wine-making on Maui, and where you can enjoy a sampling of three of their famous wines. Finally, your tour concludes with a stroll around Makawao, a quaint, charming "cowboy" town where life moves just a bit slower than the rest of the island.
Of course, you might be a "mix-and-match" traveler, in which case, go with what sounds good to you! Above all, no matter what your travel style, we've got a tour for you—so call us today!