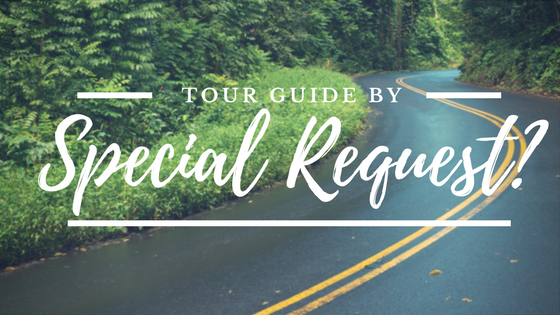 Our Hawaii-Certified Tour Guides all have plenty in common: they're extremely knowledgeable, incredibly friendly, and have an enormous amount of enthusiasm for their very special work. Another thing that's special about our Tour Guides? They make a lasting impression on their guests with every tour!
Couple that with the fact that our guests love to leave reviews (on TripAdvisor, Yelp, Facebook, and more!), plus our hundreds of yearly repeat guests, we often get asked if specific Tour Guides can be requested.
Our answer? Absolutely!
Whether your Tour Guide from the last time you joined us absolutely amazed you, or you've read the many five-star reviews for any one of our Hawaii-Certified Guides, you're more than welcome to put in a request for a particular Tour Guide.
How do you do it? The best time to request a Tour Guide is at time of booking—whether that's over the phone, through a concierge agent, or online. That will give us plenty of time to ensure your favorite Guide is available, and to schedule him or her accordingly.
If you're booking online, there's a nifty "comments" section on the site—put your Guide request there!
Of course, it goes without saying that we can't absolutely guarantee the availability of a particular Tour Guide. Things happen, and sometimes it doesn't work out. If we're not able to fulfill your request, we'll let you know as soon as we can, and match you with a Tour Guide who we feel would be great for your group. That said, we do our absolute best put your requested Tour Guide on your tour, and we let your Guide know that you requested her or him—they love knowing that you asked specifically for them!
As with most requests—special meals, specific stops, and even special pick-up locations—we try our hardest to make it happen for you. See you soon!