Maui has so much beauty.
The mountains, the beautiful beaches with multi-colored sands, brilliant rainbows, clouds, the shape of whatever your imagination sees. All of this is Maui, which is topped off with beautiful, fragrant flowers. 
Yes,  there is so much to explore and write about.
In the rush to get to the beach or to the mountains, Kahului often gets overlooked.  Most of us think of Kahului as where the main airport is and the place where most visitors land.  It's where you get your rental car, then do some food shopping, and head to your lodging in Maui for the length of your vacation.
Although Kahului is not generally considered a tourist destination, we think it is time to give it some well-deserved credit. Kayak reminded us about some of the best parts of Kahului.  We thought it was time to let you know about them too!
Let's start, how we often like to start – with some history.
The history of Kahului, like so much of Hawai'i,  is closely tied to the sugar industry. Before the Sugar Industry began, in the middle of the 1800s, the central valley of Maui was largely uninhabited. It was a dry and windswept wilderness with scrub trees and bushes.
When Henry Baldwin and Samuel Alexander procured land near Makawao, the first sugar plantation was started.  This industry continued to expand over the next century.
The Sugar Plantation Era was born.
As the industry grew, so did the plantations and so did Kahului.  The town grew and plantation workers were contracted to come and work in Maui from all over the world.  The primary workforce expanded with people from Japan, China, Korea, Puerto Rico, Portugal, and The Philippines. 
Because of the sugar industry, Kahului became the headquarters for Maui's first railroad.  This railroad was built to haul sugar from the fields to the refinery and then to the boats waiting in the harbor. 
The town of Kahului we know today began development and construction following WWII as people wanted nicer places to live than the plantation camps where the sugar workers had lived previously. It was a planned development by A&B who owned the sugar plantations and was named Dream City as a brand new city built on old sugar plantation land next door to Wailuku town.
The phased growth of the new town continued adding more homes, roads, stores. What began as a wartime, Naval Airport in 1942, opened to commercial airline traffic after the war in 1952. 
Kahului is a College Town
In 1931, the Maui College was founded as Maui Vocational School.  It was later called Maui Technical School, Maui Community College and finally the University of Hawai'i,  Maui College, in 2010, offering 4 year degrees. 
But, there is so much more to Kahului!
Kahului is Maui's largest town, and the 8th Largest Town in the State of Hawai'i.
As a visitor, let's see what fun things you can do in Maui's biggest town, many things which you can do on a rainy day!
Shopping, Naturally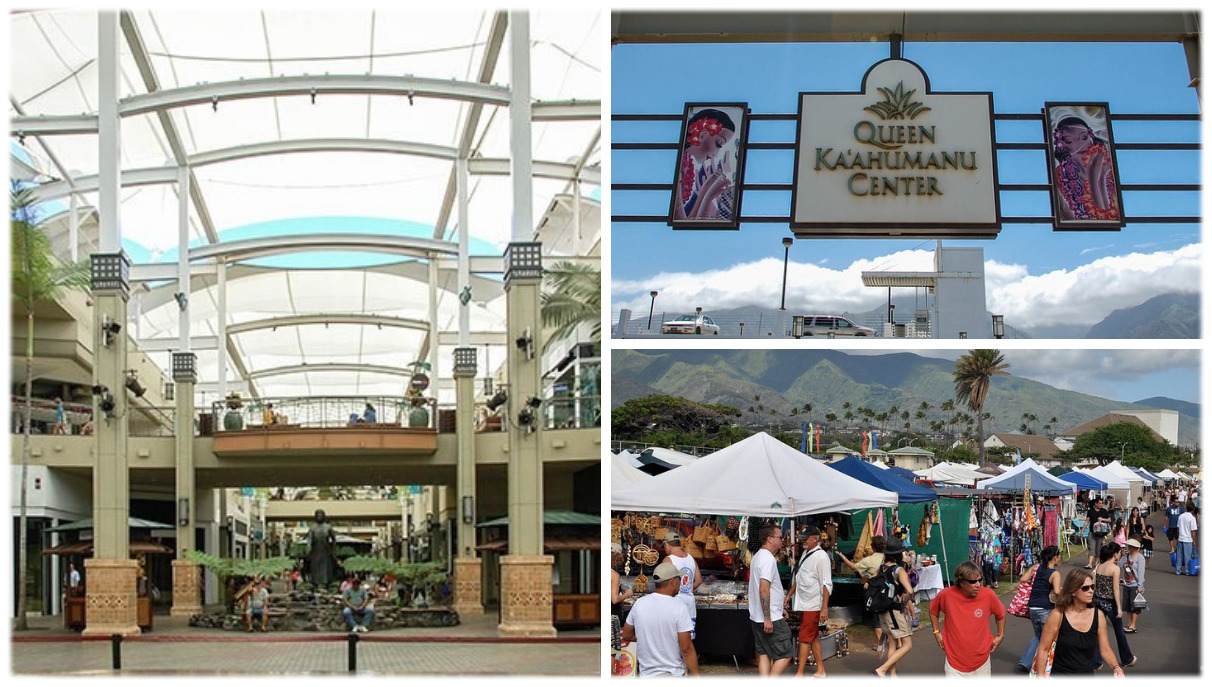 Being the retail center for Maui residents, Kahului is THE place for gifts and goodies from Hawai'i! Plus, there are several malls and major stores, plus a weekly swap-meet and a variety of farmers markets.
Check out one of our favorite shops, MAUI BUILT, which has the top, trend-setting, Maui Tropix clothing.
Museums – Surprisingly fascinating
Alexander and Baldwin Sugar Museum
Bailey House Museum
Outdoors in Nature
Maui Nui Botanical Gardens – a well kept garden to see all the beautiful indigenous plants in Hawai'i
Kanaha Pond State Wildlife Sanctuary – see some of Maui's native water birds and visitor birds
Relax or take a walk on a stunning beach –  right out of the plane, after or before – a meal or a day of shopping
Water sports – swim, surf, windsurf, kite-surf or SUP
Iao Valley State Park – walk where the forest meets streams and dramatic formations like the Iao Needle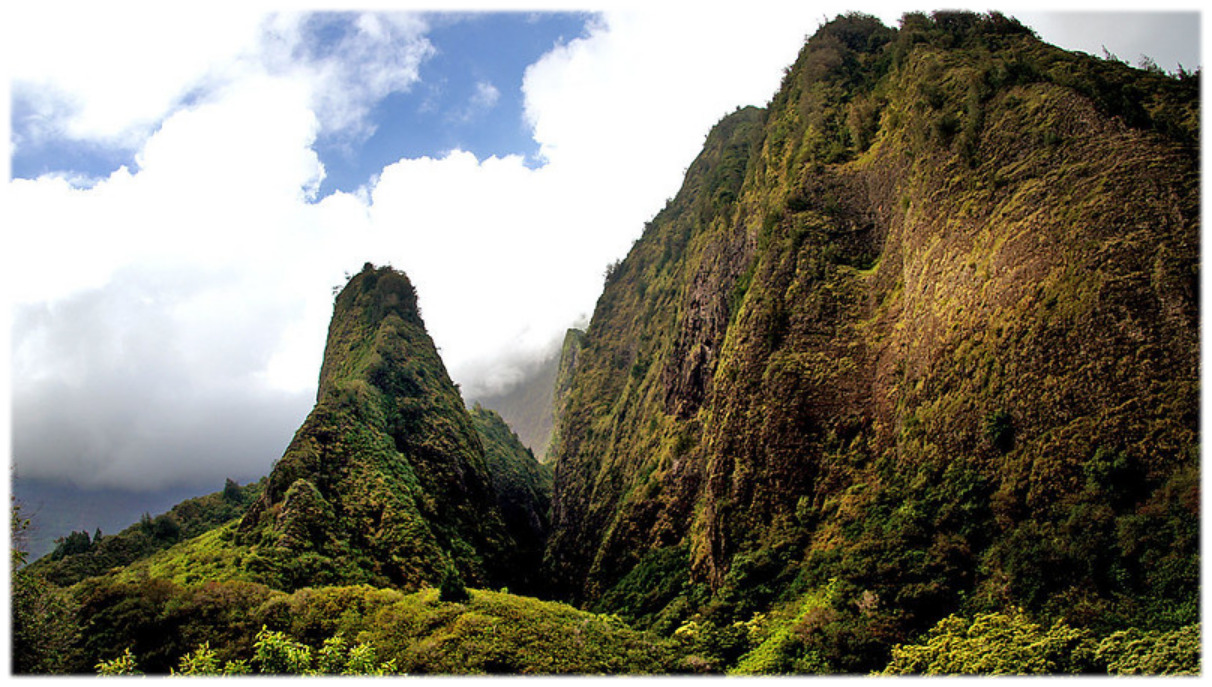 Dining –  A couple of suggestions
Enjoy a variety of local foods at Koho's Bar and Grill or stop at a food truck specializing in local foods.
Enjoy Bistro Casanova or Marco's for lunch or dinner.
Temptation Tours has our offices and base yard in Kahului. We have enjoyed the benefits of sweet, Kahului town for 35 years. We thought it was about time to give some credit to this town that has supported us for so long.
We recognize everyone is always excited to get to the beach when they arrive.  We don't blame you! Next time you visit, think about giving Kahului a chance at some of your time.  
You can also check Kayak for what they have in store for you in Kahului. We know it will be worth your time.
Writing and Graphic Design by Sugandha Ferro Black

Photos courtesy of Wiki Commons and other paid for or free sources unless otherwise noted.
UH Maui | © Little T889/WikiCommons, QKC Sign | © David Casteel, QKCenter | © David Casteel,  Sugar Museum | © Eric and Mary Ellen/Flickr, Sugar Cane | © Forest and Kim Starr/Flickr, Bailey House | © Smart Destination/Flickr, Maui Nui | © Forest and Kim Starr/Wiki, Swap Meet | © K. Kendall/Flickr, Sugar Factory | © Joanna Orpia/Wiki