No Matter Our Culture or Heritage, All People are Drawn to the Mountaintop 
The mountains are calling and I must go –  John Muir.  
I have been to the Mountaintop –  Martin Luther King Jr.
The wind howls but the mountain remains still – Japanese Proverb
Since ancient times, Haleakalā* has been and remains a sacred place.  Nā Akua*  inhabit this mountain where kahuna* and kupuna* still conduct ceremonies and rituals.

Haleakalā has held a central place in Hawaiian culture and spiritual life for nearly 1000 years.  When Polynesian seafarers arrived here and first glimpsed the beauty of this mountain.
What they saw was a shield volcano*, rising to 10,023 feet. Crowned with a lei* of billowy clouds and a beautiful valley at her crown. The valley is about 7 miles long and 2 miles wide.  It drops 2,600 feet from the summit to the far, eastern end, called Paliku.
The National Park Service and countless generations joined hands in the spirit of laulima*, for the stewardship of this magnificent wilderness starting in 1916.
Congress created a bill to preserve and protect Haleakalā. It was recognized then as a rare and uncommon landscape worth safeguarding for future generations.
Four years later, archeological surveys began. These surveys were to help us understand how this sacred ground had been utilized in the past. Sites showing human activity were excavated, mapped, and documented.
EMORY AND SOEHREN: first anthropologists in 1920
Since native Hawaiians consider the summit of Haleakalā a sacred place, they never considered permanent homes in the Wao Akua*. No data has been collected that indicates there were ever permanent home structures built.
Instead, Native Hawaiians did build individual structures for specific purposes throughout the crater of Haleakalā.
Some were sleeping shelters to connect with and study the night sky. Other structures were built to research and explore the unique plants, insects, animals, birds, and landscapes. One of them is our State Bird – the rare and newly off the endangered list Nene*. 
These enclosures were crucial due to the changeable weather of the high altitudes of Haleakalā. Dense fog, cold wind, rain, harsh sun, heat, or even snow could occur anytime.
There are remains of shelters, trails, and caves that tell us about the prospecting and mining of basalt rock for stone tool-making. 
Ko'i is Hawaiian for an adze; an axe-like tool.
These tools were handcrafted and used to harvest trees, carve out canoes from massive logs, and carve statues of Hawaiian Gods called ki'i. 
The process of creating a cutting blade tool from stone is labor-intensive.
First, the adze maker finds a piece of very hard and dense lava rock.
The rock is then chipped away with haku kā ko'i or chipping stone until it has a good edge and the right shape.
Finally, it is lashed to a wooden handle with cordage that is hand twisted and braided from coconut fiber. The handles were generally carved from Koa.
For the past 50+ years, Native Hawaiians have reinstated and perpetuated long-established traditions of their cultural practices on the mountain. Along with spiritual practices, these traditions also include agriculture, forestry, crafts, and the construction of enclosures. All from the same materials as their distant ancestors used. 
As a sacred space for native Hawaiians, the park has many areas set aside and secured for those who visit the mountain to perform ancient rituals.
We encourage visitors to respect this spiritual significance. If you find yourself at the summit during sunrise, you are invited to participate in chants that greet the morning sun. A good thing to keep in mind is that you are in a sacred area, an ancient Hawaiian Church, without the building.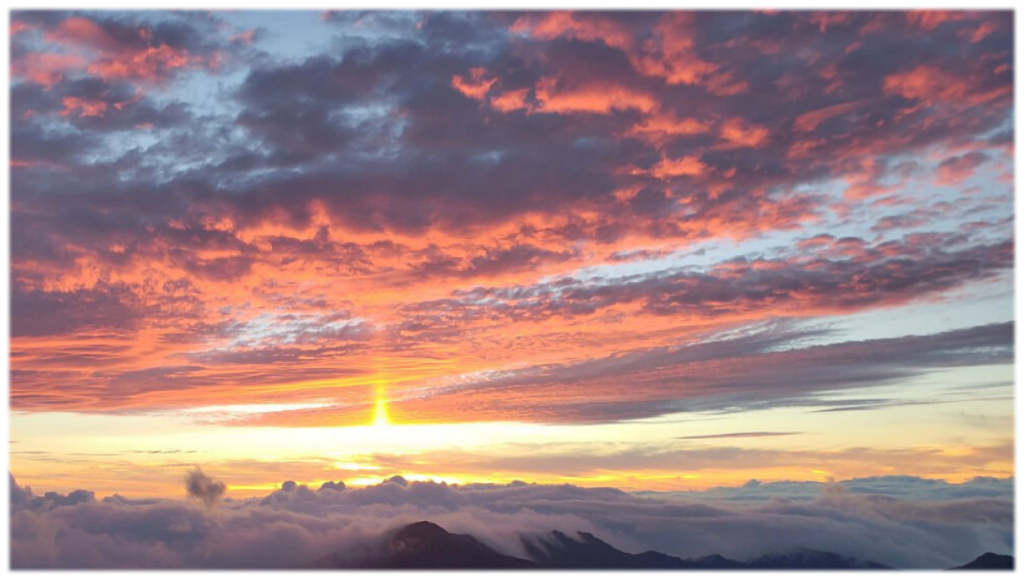 1.45 million people visit Haleakalā National Park every year.
The park encompasses over 30,000 acres of public land surrounding the dormant volcano.
From the mountaintop to the sea, this ahupua'a* of Kīpahulu is divided into 3 distinct areas.
The summit – meeting of two valleys to form the peak
The wilderness area – 2 erosional valleys filled with lava vents and cinder cones of various shades of red, gold, copper, and brown. These colors reflect the minerals in the lava that created them.
Kīpahulu – forested area filled with rare Hawaiian Biosystems of many plants that are specific to Haleakalā. Only qualified people who are discovering how we can keep this area from extinction are allowed in this area.
The park is home to rare, endemic, indigenous plants and animals AND back-country hikes. Lush jungle waterfalls with refreshing swimming holes and beautiful beaches abound! As well as a vast amount of fascinating ancient and modern Hawaiian history.
50 endangered species found nowhere else on earth thrive here.  This aina* tells a story of centuries of tradition.
Although the alpine wilderness area looks baron, there are many signs of life.  The lower you go into the sub-alpine areas, the more unusual plants you will see.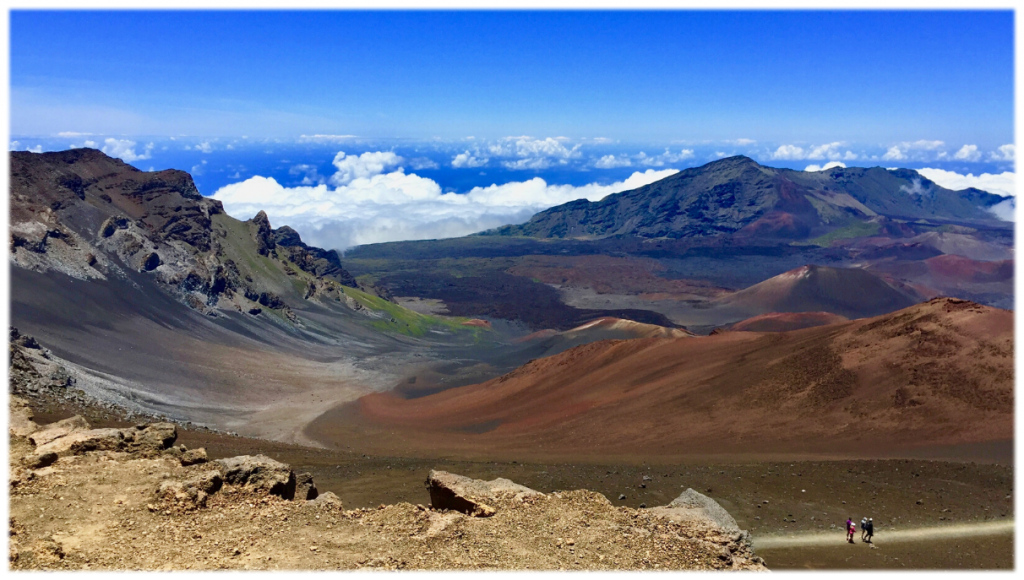 The Haleakala Silver Sword, or 'Ahinahina, is one of the most striking plants encountered in this dynamic backdrop. A miracle plant, it has adapted to the high altitudes and intense sunlight of the valleys of Haleakalā.  The leaves are protected from the sun's radiation by tiny silver hairs.
Facts about 'Ahinahina
'Ahinahina can live for up to 90 years
They flower only once in their life (between 3 and 90 years)
The flowers are pollinated by native insects that live in the crater
After they bloom, they spread their seeds and then die, making room for the next generation of 'Ahinahina to propagate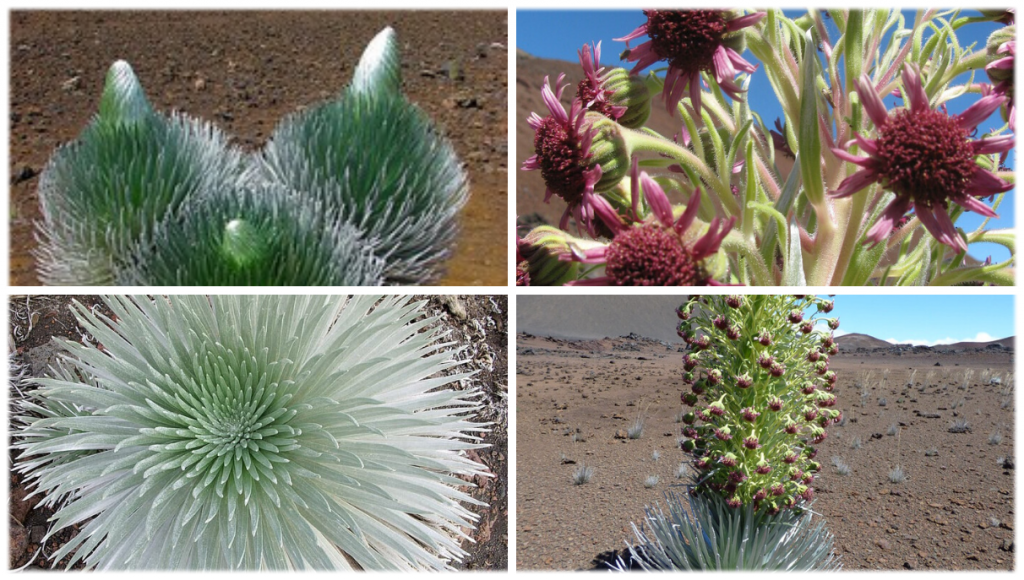 The 'Ahinahina is just one superb example of the miracle of life that happens on this sacred mountain. There are 49 more stories we could share.
When you are at the summit of Haleakalā, Maui's majestic dormant volcano, it can feel like another world. You may find yourself wondering if you are still on planet earth. For people of all origins, races, and beliefs, it is a powerful and uplifting experience.
But at dawn, it is the most magical.  It seems like you are floating on a soft sea of clouds amidst a few island peaks. The vistas from this altitude are spectacular.
And, right as the sea of clouds melts away, the spectacular sunrise unfolds before you.
Once you witness this miracle of nature, you will understand why mankind has been captivated by this sacred place for the last millennium.

Here is an 'Ōlelo No'eau* for Haleakalā
(Hawaiian Proverb)
'Akāka wale o Haleakalā.
Haleakala stands in full view.
Said of anything that is very obvious or clearly understood.

Hawaiian people have a rich oral tradition with many legends and myths associated with Haleakalā. The story of the demi-god Māui snaring the sun is one of the favorites! 
After Māui pulled the Hawaiian Islands out of the sea with his magical fish hook, it was a simple task to snare the sun and not let it go until it promised to make the days longer!  
It is stories like this that inspired the Hawaiian treasure, Brother Iz (Israel Kamakawiwo'ole) to compose a song about this demi-god, Māui as the Hawaiian Superman!
Join us next week when we will explore a few legends of Haleakalā.

Writing and graphic creation by Sugandha Ferro Black

GLOSSARY* of Hawaiian Words
Ahupua'a – a wedge-shaped land division, extended from the mountains to the sea
Aina – Land, as in malama ka aina (care/respect the land)
Haleakalā –  House of the Sun
Kahuna – The Secret (expert in their field, knowing of the secrets)
Kupuna – ancestor or grandparent, as in kupuna kāne (grandfather) or kupuna wahine(grandmother)
Lā – Sun
Laulima – many hands, often refers to helping one another
Lei – garland made of various flowers, plants or (now) manmade materials worn around the neck
Nā akua – The Gods
Nene – Hawaiian Goose and State Bird
'Ōlelo No'eau – Hawaiian Proverb
Shield Volcano – composed almost entirely of fluid lava flows
Wao Akua – realm of the gods
*Please keep in mind that all Hawaiian Words have many meanings. The meanings we share here are the specific translations for the words as they pertain to this particular blog's subject matter.
Photos courtesy of paid-for or free sources unless otherwise noted.
Hawaiian Ancient Tools from NPS Photo for public use.