Hawaiian Music…
When you hear those two words, you immediately hear the double strum of the 'ukulele and the languid steel guitar, bending musical notes to perfection. It sounds like the swaying trunk of a coconut palm. And then, enter the impossibly sweet falsetto voices singing in 4-part harmony.
You are transported!  
Those three together, and you can feel the warm sand between your toes. You can hear the soft waves brushing your feet as they come and go. The fragrant, soothing trade winds. Yes, music is a part of Hawai'i that is almost as important to her people as breathing. 
Therefore, today is the first blog of our series on essential artists in Hawaiian music. They may touch you deep in your soul. As you learn to love Hawaiian music even more, you may be inspired to listen to this classic Island Sound. Perhaps you will add some songs to your music library.
The influence of Hawaiian Sound on popular music covers nearly every possible style and genre, from pop to reggae. You can read more about those styles here in The Sweet Sounds of Aloha.
In this series, we will be talking more about the artists of traditional Hawaiian music.
It seems perfect to begin our stories about Hawaiian musicians with the singer NPR named "The Voice of Hawai'i" in 2010, Israel Kaʻanoʻi Kamakawiwoʻole. Better known as Bruddah Iz, or just Iz.
He was literally The Voice of Hawai'i in many ways. 
Bruddah Iz was a singer with the kind of voice that could bring a noisy crowd to silence in seconds.
As it happened once – Hawaiian musician Del Beazley spoke of the first time he heard Israel Kamakawiwoʻole perform. It was at a graduation party, and once he began to sing, the whole room went silent. 
The Hawaiian people loved Iz. Like their own family, he shared a collective soul with them. His voice spoke and sang what was already in their hearts. He was so important to Hawaiians that when he died in 1997, his koa wood casket lay in state inside the state capital of Hawai'i.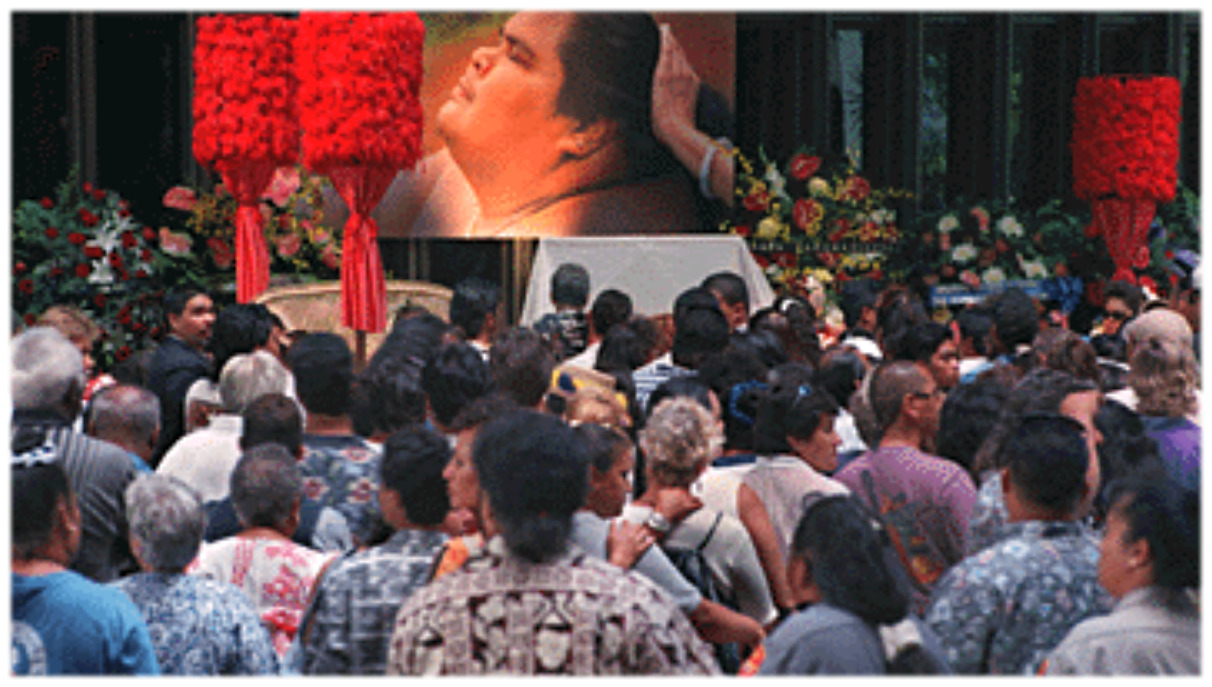 He was one of a handful of people to receive this honor.
Hawaiian flags flew at half-staff for Iz's funeral. Thousands of people came to his funeral and then gathered again when his ashes were scattered. They were cast into the sea off Mākua Beach in 1997. Friends, family, and fans paddled out on a variety of surfboards, kayaks, and floating devices to scatter his ashes that day in the Pacific Ocean. 
People born and raised in Hawai'i had known and loved Iz long before he became famous outside of Hawai'i. 
The album that propelled Iz onto the international music scene was the one called Facing Future from 1993. This album held his record-breaking hit, Somewhere Over the Rainbow/What a Wonderful World. His renewed version of Over the Rainbow began appearing in commercials, TV shows, and movies.
Listen to Bruddah Iz HERE
Facing Future became the first certified Platinum Record Album from the State of Hawai'i.
This famous song has an extraordinary birthday story.
The year was 1988.
At 3:00 AM one morning, a phone call came into a Honolulu recording studio. A request was made for Iz to be allowed to come in and make a recording. Milan Bertosa, the studio owner, was about to shut down. He told the caller that Iz could come if he were able to make it within 15 minutes. 
Bertosa later recalled that night: 
"In walks the largest human being I had seen in my life. Israel was probably 500 pounds at that time. And the first thing at hand is to find something for him to sit on." 
A security guard on duty gave Iz an oversized steel chair. 
"Then I put up some microphones, do a quick soundcheck, roll tape, and the first thing he does is Somewhere Over the Rainbow. He played and sang, one take, and it was over."
Just like that. Walk in, sit down, play a world-famous, record-breaking, perfectly gorgeous-in-every-way song, and then walk out. That was and has been the style of Hawaiian music for many artists and groups. 
For what would have been his 61st birthday, and in honor of Asian Pacific American Heritage Month last year, a Google Doodle was created with this song.
You can view and listen to it HERE.
Of course, there is much more to the story of Bruddah Iz than just his sweet, pure voice. He is equally beloved by the Hawaiian people due to his active and vocal support in promoting the rights of the Hawaiian people. 
His desire for an independent Hawai'i was expressed through his actions and his song lyrics. He summed up his deep feelings for the land of Hawai'i in one of his most songs, Hawaiʻi '78. The lyrics of this epic song ring as true today as they did over 40 years ago.
"The life of this land is the life of the people, and that to care for the land is to care for the Hawaiian culture."
Listen to a beautiful rendition

HERE
You can also find aspects of his music that he used to promote awareness of his belief that a second-class status had been pushed onto fellow natives. He felt it was from the big corporations who controlled vast swaths of Hawai'i. Luxury hotels and shopping centers were popping up everywhere and forcing the local people to work for low wages or in jobs they did not like or get out.
Iz grew up in the Honolulu neighborhood of Kaimuki, just inland from the landmark Diamond Head.
People remember him starting to play music with his older brother Skippy and cousin Allen at 11. He was regularly exposed to the music of Hawaiian entertainers, such as Peter Moon, Palani Vaughn, and Don Ho. 
After a while, Iz's family moved to Mākaha. It was there that Iz and his brother teamed up with 3 friends that formed a band called The Mākaha Sons of Niʻihau during the mid-1970s.
This was the time of the 2nd Hawaiian Cultural Renaissance. The work of musicians like Gabby Pahinui and The Sons Of Hawai'i gave this Renaissance an immense musical component.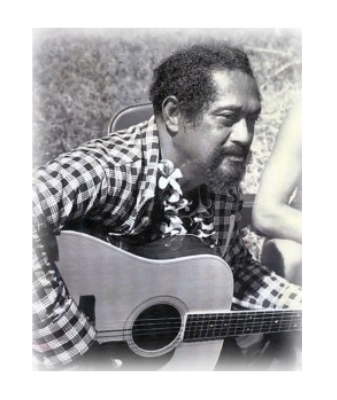 Incidentally, in some recordings, in the first few seconds of Somewhere Over the Rainbow, you can hear Iz dedicate the song to Gabby.
Bruddah Iz and the Mākaha Sons of Ni'ihau toured Hawai'i and the United States, releasing fifteen successful albums.
Iz's goal was to make music that stayed true to traditional Hawaiian music. He would leave the Mākaha Sons in 1993 to pursue his solo career.
Bruddah Iz was perhaps one of the most beloved of many well-loved Hawaiian musicians and artists. His music is heard all over the world and inspires thousands of people everywhere. Live recordings of him almost always show him smiling and laughing, a 6'-2″ 500-pound gentle giant.
Eventually, he became one of the most recognizable ambassadors of the second Hawaiian Renaissance around the world. The great music of the times, along with the Hōkūleʻa, (the Double-Hulled, Open-Ocean Canoe), became a global model for biocultural restoration and sustainability.
He was indeed a giant in many ways.
But, most importantly, his songs and voice have inspired and will continue to inspire generations of Hawaiians to feel the same pride and love of their motherland's culture and history as Iz felt.
His gentle, angelic voice, his sweet laugh, and his overflowing aloha will reverberate down the ages, conquering with kindness and restoring love and respect for all things Hawaiian.

Written by Peter D. Black
Graphic Design by Sugandha Ferro Black

Photos courtesy of paid for or free sources unless otherwise noted.
Gabby, Iz Album Facing Future, Iz photos (not funeral) | © Fair Use,  Hokule'a | © CC Y 2.0 Hongkonghuey/Flickr
Diamond Head | © CC BY 2.0 Brian Snelson/Flickr, Article | © Clay Bonnyman Evans/WikiCommons
Iz Funeral | © Dennis Oda/Star-Bulletin*
* In the rotunda of the state Capitol, Israel Kamakawiwo'ole's casket is surrounded by flowers, kahili and well-wishers. A large portrait of the artist hangs above it.