Today, we continue our Kupuna Blog Series. These are the people that are the heart and soul of Hawai'i. They share what truly makes Hawai'i the special place it is. 
Although you may never know or meet any Kupuna, chances are you have crossed their paths. The person helping you at a store, giving you medical care, or a massage may have learned and embodied what Kupuna have personally given them. You can receive the heart and soul via someone kupuna have influenced along the way. 
As you read the stories of many Kupuna, you will find a lot of similarities between their stories because of the common thread they share. Whether they are Hawaiian or not, they have grown up in Hawai'i. They are the fabric of Hawaiian society. 
Kupuna are guided continuously by their grandparents or great grandparents – whether they are alive or not. They receive advice from their elders and learn that it is better to stay the course with their guidance after trying to ignore it.
Kupuna share a common love of the land. They have learned that the environment which nourishes us and sustains us must be protected. 
A Born Healer – Aunty Margaret Machado, 1916 to 2009

Formally, she was known as Margaret Machado, she embodied the Aloha Spirit in her work as a healer, massage teacher, and, some would say, miracle worker.
She was born on the Big Island but was sent away to live with a Christian missionary family in Honolulu on 'Oahu when she was still young. She never knew her real family very well because of that move. Her move to another island gave her exposure to the Christian religion alongside her beliefs in true Hawaiian Values.
Kalehuamakanoelulu'uonapali* was the name given to her by her grandfather before she was born. This ordained her future as a healer and Hawaiian Lomilomi practitioner.
Most importantly, it foretold that Margaret would be the one to carry on the family healing secrets; she would be the one entrusted with the Hawaiian Lomilomi knowledge to carry forward.
Her grandfather, who she did not know well, came to visit her in Honolulu when she was ten. It was then that he passed down the family wisdom and practices. He died not long after. Six years later, at the age of 16, Margaret came back home to the Big Island.
Aunty Margaret, as she was fondly called, chose to break with the traditional Hawaiian culture which had the practice of keeping family wisdom within the family. Instead, she felt that her Christian upbringing gave her another direction, and that was to teach anyone who wanted to learn what she called Love Work.
Her fundamental teaching

was pure and simple love.
Aunty would often say: "Your hands reveal your heart. If your hands are gentle and loving, your patient will feel the sincerity of your heart, and the Lord's healing will flow through you both. Remember Lomilomi is a praying work."
What Aunty gave the world was so much more than massage techniques. Hawaiian Lomilomi to her was touching and massaging someone with love in your heart and your hands. People came from all over the world to learn or be treated by her. She never once took any credit.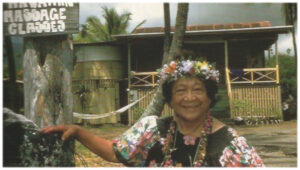 Instead, she always said, "I don't do the healing. The Lord does the healing."
She gave selflessly to many individuals. Even though she broke with the family tradition and began teaching Lomilomi outside the family, she still practiced the heart and soul of Hawaiian Values. That was the practice of Aloha. Being kind, generous, giving.  
For years, Aunty was the only State Certified person to teach Lomilomi in the State of Hawai'i.
My husband went to massage school here on Maui many years ago. While working alongside other massage therapists, he would occasionally work with someone who had spent time with Aunty Margaret. They always spoke of her with love and reverence. Most of them had a hard time leaving her small sanctuary in Kona on the Big Island.
And as expected, these other therapists always had the most beautiful massage techniques. Different from mainstream massage schools.
Occasionally, he would massage a client who had attended a workshop at Aunty Margaret's homestead in Kona. One client talked profusely about the amazing, life-changing Saltwater Cleanse she offered, along with help from her staff. In addition to her massage work, her Deep Sea Saltwater Cleanse also became very well-known.
These cleanses were life-changing for hundreds of people from all over the world. 
Aunty would procure pure, deep seawater from a special facility in Kona. An amazing place where ocean water is brought up from 2,200′ to 3'000′ deep. It is pure, clean, and unpolluted, and has not seen the surface of the ocean in a thousand years. Aunty would then mix that ⅓ seawater with ⅔ fresh water. Plus, another student of hers would make a unique herbal formula to help in the cleansing process. 
People will remember Aunty Margaret for her way of doing one thing the most – simply to love the person in front of her. This is where the natural healing happened. 
Let's end today with Aunty Margaret's most famous saying:
"Aloha and prayer are the essence of Lomilomi. Touching the body with a loving touch, if your hands are gentle and loving, your patient will feel the sincerity of your heart, and their soul will reach out to yours so the Lord's healing will flow through you both".

Written by Peter D. Black
Graphic Design by Sugandha Ferro Black

*Although we do not have an exact translation for Aunty Margaret's name, within the name are several meanings:  The lehua flower, eyes, mists, scattering or shaking of pollen and bluff/precipice/cliff.
Photos courtesy of Wiki Commons and other paid for or free sources unless otherwise noted.