We get this question ALL the time – why should we go all the way to Hana? What is so special about The Road to Hana?
Perhaps you're not sure you really want to go there? Maybe you want to go but don't know how to convince a family member who questions the whole thing.
If this sounds about right, then this blog is for you! 
We will share with you 3 great reasons why you will absolutely love the Road to Hana and beautiful Hana herself. 
First of all, there are many good reasons why the words, The Road to Hana, are recognized worldwide. 
Maui is a small, sub-tropical island out in the middle of the Pacific Ocean, 2,500 miles from ANY landmass. How can Hana, with its two-lane road, be so well known? It must mean that there is something great going on!
So, here's what you need to know to convince yourself or others to take a chance on The Road to Hana.
Three Reasons Why Hana is such a treasured place.
In Hana, you are more likely to experience life as it was in Hawai'i many years ago, the feeling of Old Hawai'i
Things you may experience in Hana you generally won't experience elsewhere on Maui:
FIRST:
Hawaiians greet each other by the sharing of Ha or breath.
The honi ihu or exchange of breath, is when two people press the bridge of their noses together while inhaling at the same time. This ancient Hawaiian greeting welcomes each person into the other person's space by sharing the breath of life. This breath of life is sacred to the culture. Ancient Hawaiians recognized that their breath was a key to good health and believed it had mana (spiritual power).
When the Dalai Lama visited Hawai'i in 2012, he shared Ha with some Hawaiians attending the Welcome Ceremony.
You will hear more local dialect being spoken.

Hawaiian Pidgin English is a creole language as it is a Mother Tongue for many born and raised in the islands. Pidgin language grew out of a need for Native Hawaiians and the many immigrants from various countries, including Westerners, to speak to one another.
A mixture or stew of words from these many languages gradually developed. That language is called Pidgin English or English-based creole. It sounds like broken English to untrained listeners, but it is a fully developed language. 
We encourage people not to attempt Hawaiian Pidgin English unless they have learned how to speak the language properly. It is challenging to say it like a native, and it may be perceived as disrespectful.
You will see Hawaiian parties called pa'ina (dinner party) or aha'aina (feast) as you traipse around Hana.

As you drive around Hana, you will see families and friends gathered at a park, in a yard, or in an open-air carport or garage. They will tell endless stories, eat, dance, and laugh the night away during this gathering. If you don't actually see a party, you will see where there will be one soon as you observe these Hawaiian homes.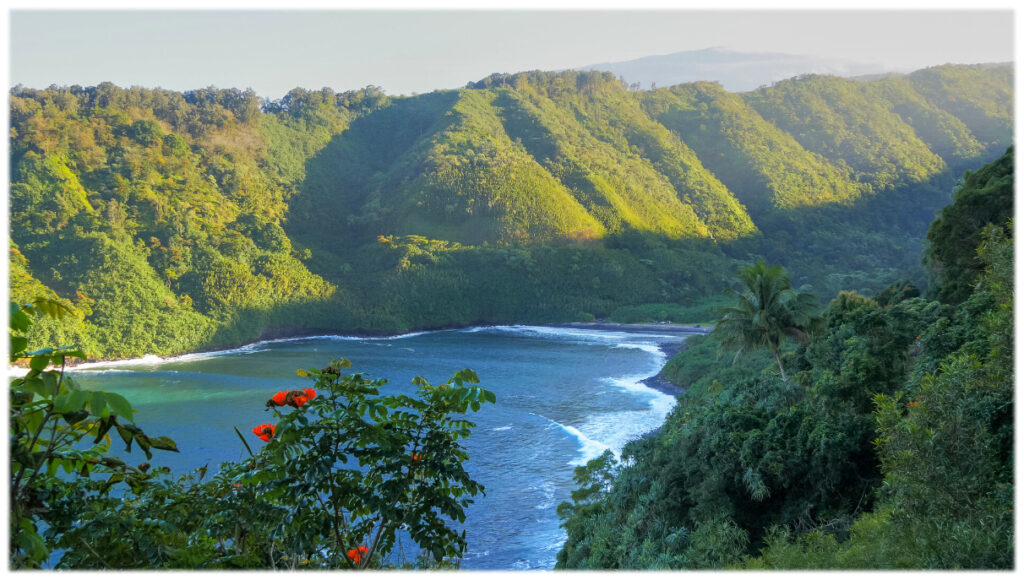 SECOND: You will feast on non-stop sights, quirky little towns, panoramas, and beautiful foliage.
Here are just a handful of beautiful treasures you will come across on the Road to Hana.

Pa'ia Town as you leave modern Maui behind
Ho'okipa Beach – turtles sunbathing, surfers, kiters, windsurfers, and occasionally, massive waves.
Kaumahina State Wayside Park – beautiful coastal views
Honomanu Bay – more beauty
Ke'anae – stunning views, and an excellent arboretum     
Wailua Valley State Wayside Park – more beautiful views
Halfway to Hana Stand and wonderful Banana Bread
Waterfalls – too many to name, but read about them HERE (link Blog)
Nahiku Marketplace
Kahanu Gardens – Hawaiian Temple and many Hawaiian plants
Ka'eleku Lava Tube (read about this HERE)
Wai'anapanapa State Park, with a gorgeous black sand beach
As you continue on around the island, past Hana, there are many more treasures and delightful sights to take in, but that is for another time
THIRD: The experience of going back in time, far away from mainstream civilization.
Far from the crowds and stress of modern life, you can listen to the sound of your own heart beating.
Many areas don't have cell reception, so you are forced to relax.
Things close down early, so lights are out early. Read a book? Talk to your companions?
It is so quiet.

The actual road to Hana has many lovely moments and places to stop and take in all the natural beauty. That's one reason it can take two to three hours, depending on where you start your drive.

And yes, the road is packed with personality, 617 curves, and 54 one-lane bridges. So, again, you are forced to slow down and lower your blood pressure!

Our main tip we tell everyone is to start early! Especially if you plan on driving yourself. You can almost have the road to yourself and linger in so many beautiful places with no one around.

Of course, the best option, in our humble opinion, is to let someone else do the driving! That way, you and your entire group can share and talk about the trip as the day progresses.

If you want to really have a relaxing, 5-star day, make sure you check out our Road to Hana tours. There is something for everyone. And you can't beat the comfort of our climate-controlled Luxury Limo-Vans with super large windows for maximum viewing.

Hana and the road to it are unique, magical, and a place no one ever forgets. It is truly unlike anywhere else in the world. You will treasure your experience and most definitely want to return regularly whenever you are in the neighborhood!

Writing and Graphic Design by Sugandha Ferro Black

Photos courtesy of paid for or free sources unless otherwise noted.