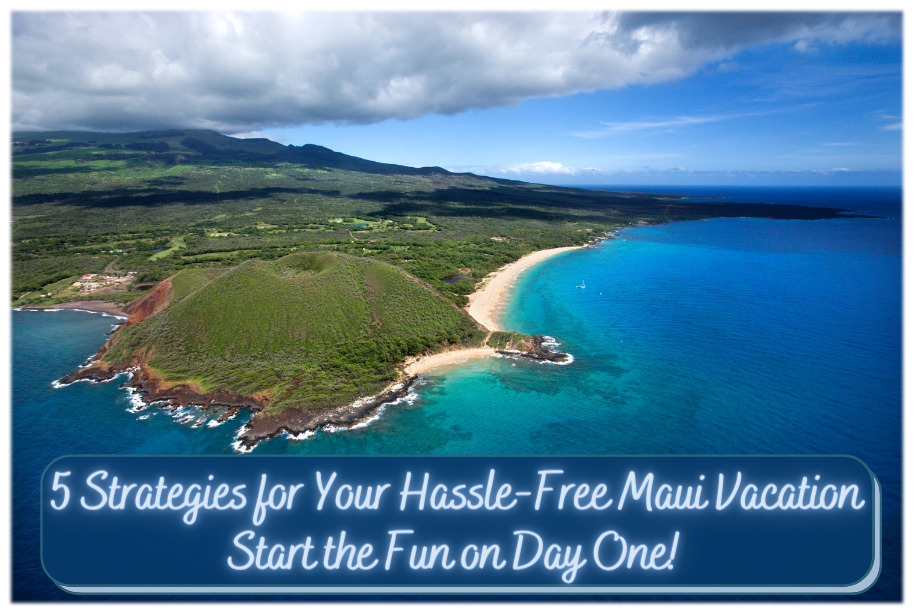 We want you to step off your plane with a big smile, feeling 100% confident that this vacation will be fantastic from this first moment onwards!
Therefore, we must share some of our favorite tips on preparing for your first few hours on the island. Once you have your bags and are on your way, the sooner you can dive into what you came for. Whether it is your favorite beach, snorkel spot, hiking trail, or all three. Let's not waste a moment! 
With that in mind, here are a few items to take care of to fast forward the fun factor. These tips are designed to save you loads of time later when you just want to hang out on the beach. When you are in deep communion with the ocean and the crystal clear water, you don't want to think of the housekeeping things you still have to do.
Here We Go! 5 Strategies for Your Hassle-Free Maui Vacation ASAP!
Tip # 1. Know Your Arrival Airport
Most flights from the outer islands or mainland destinations will likely land at Maui's primary airport in the town of Kahului. Kahului Airport's code is OGG. A few smaller, inter-island flights might land at Kapalua Airport, which is JHM. There is even an airport in Hana that goes by HNM.   
Although the Kahului Airport is small, you should get familiar with it before arrival. They just finished a $3.4 million rental car facility at the airport. Depending on your luggage, you may need to take the cute little electric tram to the rental car center. You can also have someone get the car while another waits with the bags next to baggage claim.    
If you are making a quick, one-hour stopover at the Honolulu airport on your way to Maui, the same tip applies. Know your arrival airport. There could be construction or closures that slow down your transfer.    
Also, the TSA line can be an extra-long wait, depending on the time of day. So if there is any way to have TSA Pre, it can save a lot of time. 
Tip # 2: Vacationing and Travel Make Us All Extra Hungry – Plan Ahead for that.
Whether your plane lands at meal time or not, traveling is an appetite stimulant. Chances are someone in your party is hungry. For some of us, just thinking about going on vacation makes us hungry. Excitement burns calories. We need fuel (food!) to have plenty of energy on our arrival day. One energy drink is not going to keep you going.
We suggest researching a few quick, healthy dining spots on the way to your first destination, probably your lodging. That way, if you feel you will need some food right away, you won't be forced to stop at the first drive-thru fast food place if you want healthier choices.
Of course, if you prefer a fast-food drive-thru that happens to be on your way, then by all means – do it! This is your vacation, after all! So you get to splurge a little.
If you're heading to a Wailea resort, you might consider a breakfast or lunch stop at Nalu's South Shore Grill. If it is later in the day, you may wish to kick off your vacation with Happy Hour at Monkeypod Kitchen. Heading to the West Side? Grab breakfast or a late lunch at Leoda's in Olowalu.
There are other great places, but those places may require a little homework on your part.
Tip #3: Stock Up on Groceries If You Have a Kitchenette – or Even Just a Fridge
If you are staying in a condo or Airbnb with a full kitchen or in a hotel with a fridge, you should stop for some supplies plus a snack to keep you going until you are ready to have some real food. Most grocery and natural/health food stores have delis where you can get freshly made healthy dishes and snacks.
Then again, you might want to grab some of your favorite Hawaiian snacks to have on hand for the in-between times or hotel-room movie night.
There is a Costco, Walmart, AND Target near the airport, along with a Whole Foods AND Safeway, for everything you might need—and anything you might have forgotten! This is THE time to pick up those last-minute items you may have overlooked. The selection and prices are way better here, next to the airport, than at the resorts.
Tip #4: Map It Out Ahead of Time – Program your Map App
If you primarily use your phone's Maps/GPS, it is an excellent idea to pre-program or save some of the important places you will be visiting in your Map App. Save the place you are staying and some of the stores or food places you know you want to check out.
Have fun listening to the Map Voice pronouncing Hawaiian names!
Spend a few moments familiarizing yourself with the directions to your lodging. It will help you know how far away things are. And how much time it will take you to get around. Maui looks like a little dot in the middle of the Pacific Ocean, but it can sometimes take close to an hour, maybe more, to get to your destination. And Maui also has peak traffic times like everywhere else.
It is not a bad idea to get on your Map App before you come and print out a couple of helpful maps. You never know when your cell phone reception may be shaky, but usually, it's just when you need good directions the most. Like when you're WAY out in Hana somewhere.
Tip #5. Checking In, You're Almost Home Free!
Make sure to call and find out check-in times. Unfortunately, you can't always count on what is posted on websites due to various things that have happened pandemic-wise in the last two years. Also, things are changing fast; you don't want to be stuck somewhere with your luggage and have to drag it around more than you need to.
Many places will store your luggage if you arrive too early for check-in. So, keep your beachwear and tote bag nearby because this is an excellent time to hit the beach and swim while your place is getting ready. And, don't forget the sunscreen!
The same applies if you are staying at a place with a pool, but we recommend the beach first. Nothing says you are in Hawai'i more than swimming in that amazing ocean.
There is an old saying that the journey begins when the plans for it commence.
We agree. It is exciting planning and getting ready for a trip to Maui. All the anticipation creates a beautiful feeling of what is yet to come.
The perfect Maui vacation should begin once your plane touches down on the runway at OGG. We want you to be ready to enjoy it entirely from the moment you get here.
By implementing these strategies, you can jump into the deep blue sea while other visitors (who failed to make a shopping list like you!) are still trying to decide what to do. For example, should they go to the supermarket and where should they go for a snack, as now they are starving?
That won't be you! Instead, you'll be relaxed, calm, smiling, and stress-free as you cruise into your beautiful vacation. You'll be putting on your favorite Hawaiian Music Spotify station while others try to find the charger for their phone. Isn't life grand when you do just a little bit of preparation?
See you at the beach!
Writing and Graphic Design by Sugandha Ferro Black
Photos courtesy of paid-for or free sources unless otherwise noted.