For the lucky few, cruising around Maui on a bicycle is a rare treat. On most days, it's about as close as you can get to bicycling heaven! 
If you have access to a road bike with good tires, you can travel the same places all the other visitors do. Except, you are up close and personal. 
You can smell a variety of flowers and stop anywhere on a whim without looking for parking. You will spend much of your time with a front-row seat to all the beauty that Maui has to offer. 
On a road bike, a mountain bike, a hybrid, or any other type, you are sure to have a blast cruising the wide variety of terrain Maui has to offer. 
There is Haleakalā, Maui's 10,023' mountain. So, mountain biking is a no-brainer. Or, Maui has a great network of good roads, so road bikes or hybrids can take you from one side of the island to the other.
Before you begin to plan your Bicycle Tour of Maui, we want to make sure this is the right thing for you.
Here are some things to consider:
You must love to ride a bicycle.
Be well equipped with proper safety gear, first aid, bike repair, sunscreen, etc.
Know your limits and how to plan a great road trip on a bicycle.
You don't mind doing the research necessary to find and reserve all the essential overnight lodging/camping you may need.
OK, ready? Let's go!
Here is a tiny teaser of what Maui has to offer you on a bicycle:
First, The

Road

Less Traveled
You can indeed find a bicycle tour company who will rent you a bike to coast down Haleakala from 10,000' to sea level. However, if you wish for an adventure far from the hordes, consider riding along the shoreline in remote South Maui with the ocean and sunset at your side.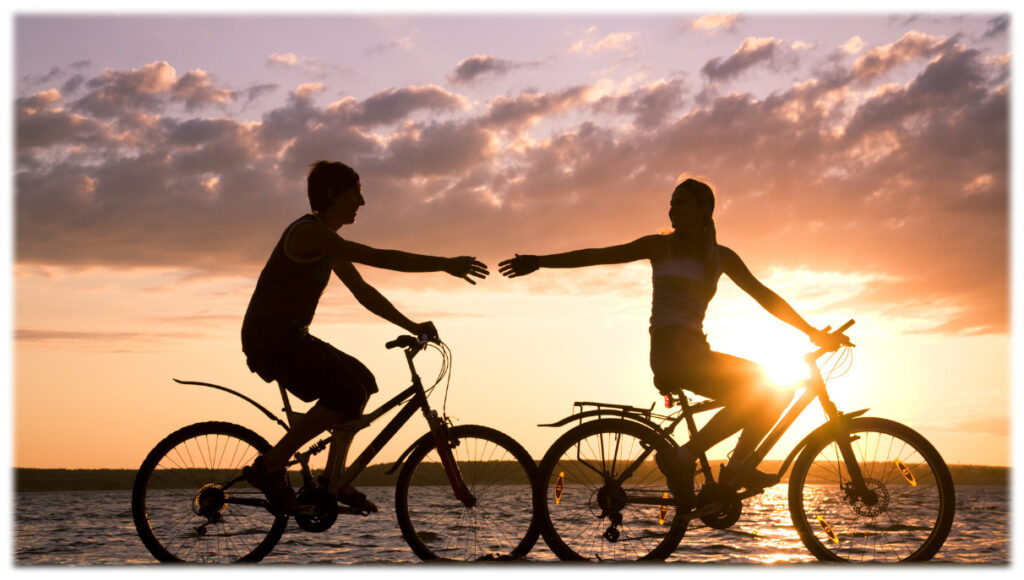 The road from Kihei/Wailea is pretty flat and becomes less populated and more laid back the further out you bike. There are some places where you can still feel Old Hawai'i. The road ends at La Perouse Bay, a gorgeous bay with dolphins, turtles, and more great snorkeling. 
Make sure you bring extra drinking water, as it is pretty dry and can be a cloudless day. Bring a good lock if you pack your snorkeling gear. You will ride by the protected ʻĀhihi-Kīnaʻu Natural Marine Reserve. Here, there are also several of Maui's best snorkeling spots for seeing the giant green sea turtles and various marine creatures.
Second, The Road to Hana
Maybe you have heard about the 617 curves and the 53 one-lane bridges on the Road to Hana. We think this sounds like a perfect road for a bicycle ride! 
First leg: Ho'okipa beach to the cabins at Wai'anapanapa State Park – It takes about 3.5 hours.
From the well-known Twin Falls stop, you can be at Wai'anapanapa Park in 3.5 hours, with a few excellent stops along the way. (You can read more about Hana in our 3-Part Blog series starting HERE).
Linger at beautiful waterfalls and freshwater pools with a cool dip. Fruit and home-baked banana bread stands await you with special treats. Of course, the stunning panoramic views are the primary reason for the trip. Plus, book a cabin or bring a tent. It will be worth it to spend the night.
Second leg: Wai'anapanapa Park to Kipahulu. It will be about a 1.5-hour ride.
Once you have explored the beaches, pools, gardens, and heiau of Hana from your cozy Wai'anapanapa cabin home base, then you can cycle around to the Haleakalā National Park in Kīpahulu. Home to 'Oheo Gulch, which for many years was called 7 Sacred Pools. 
We recommend another night here. You can research to find some overnight lodging in Kipahulu. Or, if you are prepared, there are some of Maui's most dramatic camping sites here along the sea cliffs, looking across the ocean at the Big Island of Hawai'i.
You may even catch sight of a Hawaiian fisherman throwing a net that most likely was made by him or a member of his family.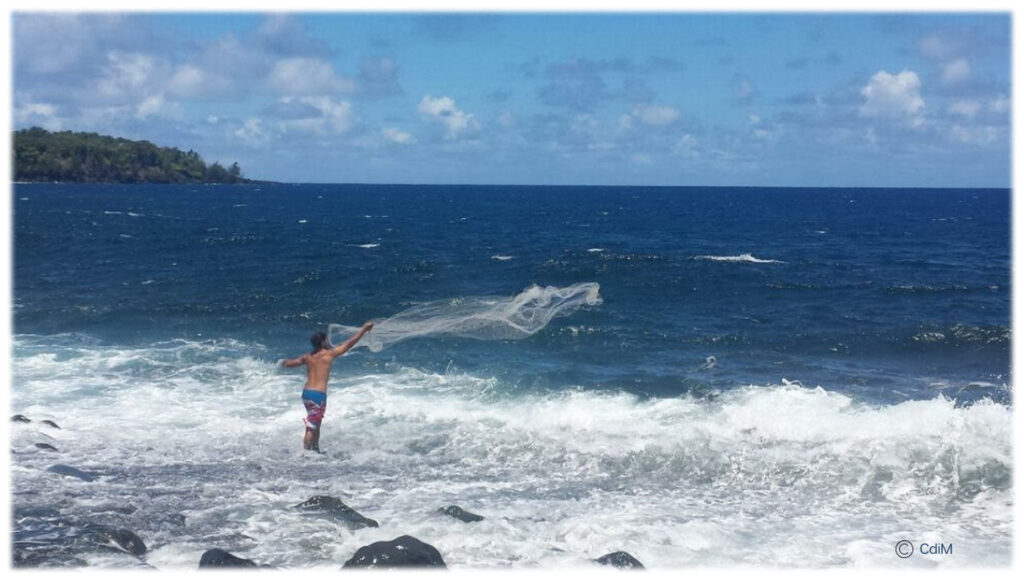 Third leg: Kīpahulu to 'Ulupalakua. This is close to 4 hours of biking, and will be a bicycle adventure of a lifetime.
This is the fabulous Back Road. The road the rental cars prohibit you from driving on. It is primarily desolate, except for the super funky Kaupo Store. We never know if it is open or closed. There are a couple of lovely churches and some areas to camp. One excellent camping spot, entirely off the tourist maps yet on the shoreline, is called Plenty Kiawe (lots of Kiawe).
Last, The Mountain – Haleakalā
If you research riding a bike on the mountain, you will see primarily the Haleakalā Downhill Bike Ride. There are many versions of this trip. They usually drive you up to the summit, and then you cruise down with the group to Pa'ia.
You can also find a Self-Guided Haleakalā Downhill bike experience, which, again, drops you off at the summit and lets you coast back down the mountain on your own timing. 
Or, if you are a hard-core bike rider, you can ride UP the mountain. You don't have to get to the top to have an exquisite view of the valley isle. You can follow the route of the Cycle to the Sun bicycle race that happens every summer. 
This race uses a great road we like to call the back road up to Kula. Pulehu Road is a great, two-lane, country road that many local cyclists love to ride. It is far from the crazy highway and surrounded by open pastures and farmland. Not too many cars. And 360 degrees of gorgeous views. Especially on a clear day.
There are SO many great places to ride! Take it easy or challenge yourself, with lots of variations in-between. Maui has many micro-climates and you will get to experience many of them. So prepare for warm & dry, cool & moist, and of course, perfect bike riding weather. 
Unlike those in their cars, you will be able to HEAR the thundering waterfall, feel its spray on your face. Or SMELL those amazing patches of ginger or plumeria blooming and hear the many different birds. Perhaps even the waves as they crash into the shoreline. 
This sounds like so much fun. I am going to grab my bike right now! See you on the road!

Written by Peter D. Black

Graphic Design by Sugandha Ferro Black

Photos courtesy of Wiki Commons and other paid for or free sources unless otherwise noted.