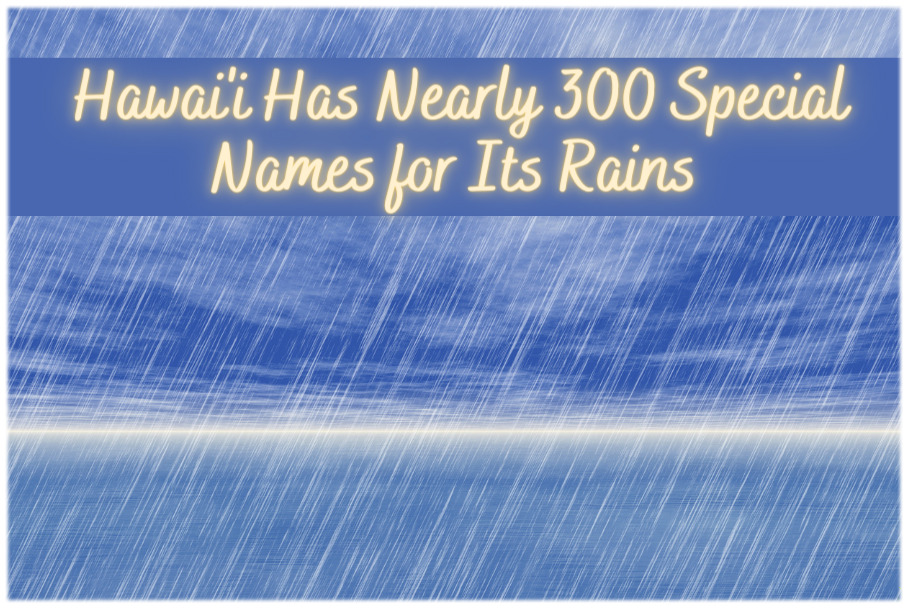 Many people who visit Hawai'i, especially for the first time, comment on how laid-back the lifestyle is here. The pace most locals and residents move seems slower than what people expect or are used to.
You may even see a bumper sticker warning visitors or even rambunctious residents to, "Slow DOWN! This ain't the Mainland!" 
But, if we stepped back just 200 years ago – what would we see?
We would see an age when Hawaiians had hours each day to be keen observers of the natural world around them.  They became closely attuned to all that surrounded them. Rain and wind became like family. Certain types of rain or wind would visit regularly. 
As family members, the Hawaiian people began to name the rains and the winds of Hawai'i. 
There are close to 300 names for rain, which means there are nearly 300 types of rain in Hawai'i.  THAT is a big rain family. 
In the days gone by, this was one of the many channels for the Hawaiian people's creativity. Bringing their natural world and their surroundings into their language could more accurately reflect their environment and lifestyle.
'Ōlelo Hawaiʻi  –  Speaking the Hawaiian Language
Ua – Rain
In today's blog, we use the many names for rain to illustrate how the Hawaiian language is a living, breathing part of Hawaii's culture.  The relationship between the people, the land, and the language is a manifestation of this.
It displays the culture's deep connection to nature. 
That connection is heard repeatedly in the detailed descriptions the many names provide for the rain and wind.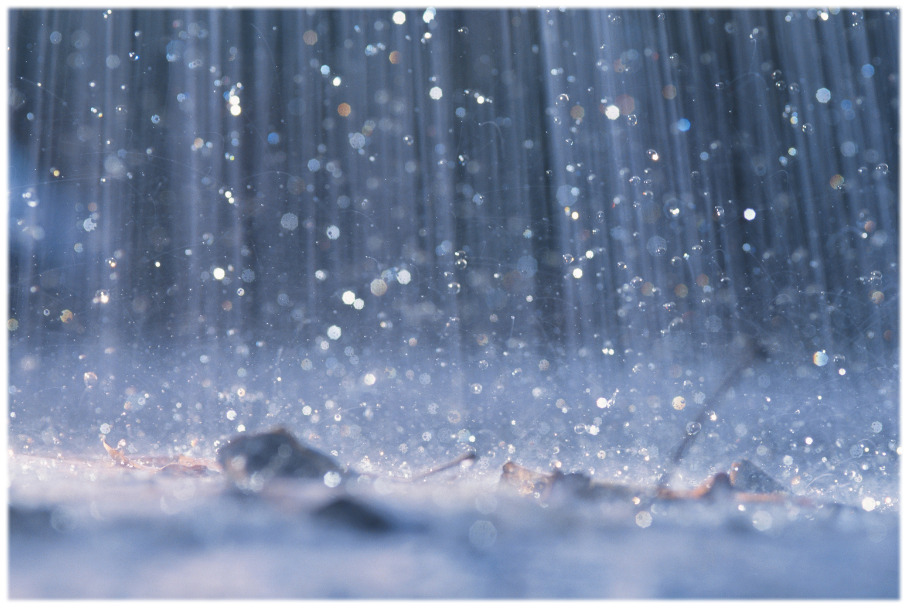 Because the ancient Hawaiians were thoughtful and closely observed their environment, they were able to give very descriptive and specific names to almost everything in their world. The rain was considered a great blessing, In Water, there is Life.
Hawaiian rain names are highly descriptive. 
Here are nine characteristics of rain, out of many more, which helped Hawaiians to determine the appropriate rain names:
color
duration
travel pathways or angles
intensity or lightness 
size of drops
density of mist
time of arrival or passing
when a particular fish was running or a flower blooming
combination of the above or more
Once you go below the surface, the language has a profound connection to nature, exemplified by the many different types of names for wind and rain we are talking about here. 
This is SUCH a different paradigm to live in. A world of almost zero separation from one's environment. For most of us, rain is rain, right?
It is a beautiful example of the same human intelligence we have today, yet applied in a completely different way. The intelligence of very thoughtfully and deliberately taking the results of their keen powers of observation and applying those results into words and language.
A language that then helped to unify and connect the people through their experiences.
The Hawaiian Language Perpetuates the Hawaiian Culture
Another essential part of the language and naming things from the natural world is how they are linked to a specific place. 
This is extensive in Hawaiian Chants, which will name a rain during a chant that was observed or experienced in a particular place.
For example, Kulu pakakahi is a special type of rain that appears in Ni'ihau in November.
You know when you study these names, t
here is nothing impulsive or careless about them.
Here's an example you may have experienced: if you have ever spent a lengthy amount of time on any island, you know that you can have rain at your front door and sun with a rainbow outside the back door.
Here are 5 more examples of deliberate attention to detail:
lilinoe is for the fine mist that covers mountains and cliffs on Hawaiʻi and Maui
nāulu is a sudden shower that you didn't see coming
hoʻopala ʻōhiʻa tells you the native lehua flowers from the ʻōhiʻa tree would be ready to pick
hōʻeʻele is a drenching rain
pōʻaihale falls in a circle around your home
ua ʻula-lena is a rain that has a reddish hue
4 Rain names specific to Maui
laniha'aha'a is a rain low in the sky, typical of Hana in Maui 
uakea is a white rain very typical of Hana
kūpunikapa is a cold rain often associated with Lanakila, Maui 
pa'ūpili is the rain in Lahaina that moistens the pili grass
We have briefly mentioned the naming of winds: 
Wind coming down the mountain
Wind from the sea,
A combination of elements
Consequently, the winds that bring an inevitable rain may have the same name as the rain.  As in Ua Lī'lī-lehua.  This is the wind and rain, which is famous to Pālolo Valley on the island of O'ahu.
The kūpuna (ancestors and elders) of Hawai'i were ever attuned to their environment – land, sea, and weather. These names were given throughout the entire archipelago of Hawai'i to the winds and rains that returned year after year.
They felt the weather every day and had an affinity with it. The kupuna knew it as a friend and enemy.  It could be a message from the gods or a sign of love or battle. 
Everything, natural and human, was connected. And from this culture came the word Aloha! 
The simple word, Aloha, is a perfect example of this phenomenal use of language. To see and feel  what really matters in Hawaiian life is shown in the way the word Aloha has such a multitude of meanings and translations: 
We trust on your next visit to Hawai'i, you will give and receive Aloha in small, almost invisible ways – breathe in a rainbow or close your eyes to really hear the sound of the rain. 
Feel that special kind of soft wind or breeze on your face, which brings the scent of flowers.
 And, when you feel the misty rain or a downpour, look up and say Aloha, because …
In Hawai'i, RAIN is a very special blessing! 
For the rain brings life.  

Writing and Graphic Design by Sugandha Ferro Black

Photos courtesy of paid for or free sources unless otherwise noted.