Santa loves kids in Hawai'i just as much as he loves kids all over the world. We told you how he especially loves to come to the beach and shower small gifts or treats upon the children here in the islands in our blog titled: 7 Reasons You Should be on Maui for the Holidays.
With the holidays right around the corner, we wanted to expand upon that story and tell you more. Let us introduce you to the famous Shaka Santa and his jolly wife, Tutu Mele.
Shaka Santa has been a big part of the holiday season in Honolulu every year since 1989.  Mrs. Claus decided to leave her cozy home at the North Pole and join Shaka Santa in Hawai'i in 1994. Once she got to Hawai'i, she needed a new name, more fitting to the islands, so she changed her name to Tutu Mele, in 1998.
Before we tell you much more about our dear Shaka Santa and Tutu Mele, we have to back up a bit and tell you about where Santa's Shaka Sign originally came from.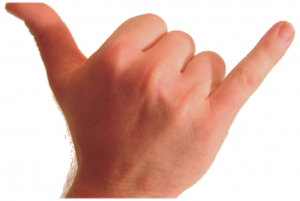 It's not what you may think…
Where Did the Shaka Sign Come From?
Many hand signals look like the Shaka Sign. Some can mean, call me with the thumb held near the ear or let's have a drink with the thumb held near the mouth and the little finger in the air. Plus, there are many other meanings throughout the world. None of the other gestures are as popular or famous as the shaka sign, especially when it's thrown by surfers worldwide.
In Hawai'i, the Shaka sign is everywhere. The hand can be up or down, relaxed or excited, or just super casual, like Hawai'i itself. It can be a greeting, a farewell, a thank you for letting me into traffic, or, a very relaxed, peace-out (modern-day hang loose). Contrary to what you may think, it was not developed by surfers or to impress tourists.
To learn the true story of where this Hawaiian symbol came from, we have to go back in Hawaiian history and tell you about a man called Hamana Kalili. His life story is so unique and charming. It is such an Only in Hawai'i story, there has been a full-length book written about him.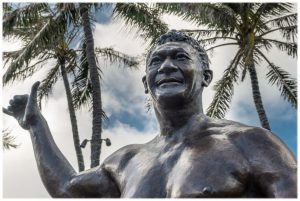 Let's start with his family. Hamana was born the 13th child of a Hawaiian family in 1882. He lived and worked his whole life where he was born, in La'ie, O'ahu.
His parents were  Hawaiian. His mother was the daughter of a Chief from Maui, and his father was a Hawaiian commoner from the island of Hawai'i. They settled in La'ie to have their family. There are still many Kalili's living in La'ie. 
Early in his life, Kalili was a master fisherman with a small-time commercial fishing business.  His life situation changed, and he took a job at the local sugar mill. 
Here is where the shaka story begins.
In a work-related accident, Kalili lost his 3 middle fingers.
This prompted a job change. In his new career, he was a security guard on the Sugarcane Train. The actual train carrying sugar cane to the mill.  He would wave the kids away who wanted to take some of the sweet cane with his 2 fingered hand and signal the conductor when it was safe to go on, using the same hand. With only the thumb and little finger pointing out at both ends, the shaka was born. 
He began to tell the children spooky stories about hammerhead sharks while using his shaka hand to describe the scary hammerheads. He would wiggle his hand back and forth, pretending his 2 remaining fingers were shark eyes.
From Shark Eyes to ALL CLEAR!
Later on, the children would use the shaka to signal the all-clear sign to their fellow sugar cane robbers, so they would know that Kalili was not on the train that day. Then, the notorious gang knew they were free to grab some sugar cane sticks as treats.
Shaka is not a Hawaiian word!
Some 50 years later, in the 1960s, the shaka came back to the mainstream and was made famous by a used car salesman! He always ended his commercials with the Shaka gesture and a very enthusiastic greeting, Shaka, brah! Next, a famous politician took the sign and made it even more well-known!
Frank Fasi, 6-time mayor of Honolulu, starts a tradition
Yes, you guessed it!
Our popular politician, Frank Fasi, began to use the hand gesture in 1976.  This was the year of Frank Fasi's third campaign for mayor of Honolulu. And, he used the shaka sign as a critical element in his reelection campaign!. His manager and staff were not fond of the shaka idea, but he overrode their advice and did it anyway. Apparently, he knew what he was doing!
He won that race and used the shaka icon for three more successful mayoral bids, serving six terms in all.
Now we have told you about the origin and history of the popularity of the Shaka Sign. 
Here's where Shaka Santa comes in!
Starting in 1985, Honolulu City Lights quickly became a month-long celebration.  It began in front of Honolulu Hale (Honolulu City Hall)  with a 50-foot tall, beautifully decorated Christmas Tree.  
Soon holiday lights and decorations beautified the area.  Each year the decorations grew further, covering more of downtown Honolulu. Eventually, they went all the way down to the civic center and were called The Corridor of Lights.
OK, I think I hear sleigh bells…
In 1989, the 21-foot-tall Shaka Santa came riding out of the sky and landed at the outdoor fountain of Honolulu Hale where he has been every year since.  He was joined by Tutu Mele in the early 1990s along with the alphabet blocks, gnomes, bears, and Rudolph the Red-Nosed Reindeer. Like many visitors from the North, he decided to return to Hawai'i every year.
Check out Shaka Santa and Tutu Mele in 2018
2004 Marked Honolulu City Lights 20th Anniversary Celebration 
Two years ago, in 2020, Shaka Santa and Tutu Mele were masking up like the rest of us.  After all, we need them to be around for all future generations. They were both still as jolly as can be, even wearing their bright-colored masks.
Catch a glimpse of Shaka Santa and Tutu Mele in Masks during the Covid pandemic
In Hawaii, everyone uses the shaka to express friendship, gratitude, goodwill, encouragement, and unity –  from tiny keiki, parents, grandparents, and even Santa!
A little wave of the hand, coupled with a warm heart, spreads a lot of aloha. Anyone can do it! Don't be shy! Shaka, Brah!

Writing and Graphic Design by Sugandha Ferro Black

Photos courtesy of paid for or free sources unless otherwise noted.