Long before Western explorers and Protestant Missionaries arrived, Hawai'i people had a time of year called Makahiki*. This time was a season of rest and rejuvenation. The days were shorter and a bit cooler – there was more rain to nourish the earth, and life slowed down. 
A natural end of the yearly cycle, the pause before the spring, when life begins anew. 
Yes, there are seasons here, even in the sub-tropics of Hawai'i.
Makahiki, which could easily be called the Hawaiian New Year, was a four-month-long festival. It began in October and concluded in February. Interestingly, a correlation with the arrival of Humpback Whales.
Makahiki was the time to honor Lono, the God of fertility, agriculture, and peace.
Much like the Holiday Season Americans and Europeans are familiar with, Hawaiians gathered together in joy and festivity. They feasted on special foods and enjoyed competitive games, hula, and storytelling. 
All warfare was forbidden, and all productive farming ceased. The growing season slows to a crawl during these months. A perfect season for renewal.
Here are 5 competitive games that people enjoyed:
Heihei kūkini – foot racing
Pūhenehene – a skilled game of balance and trickery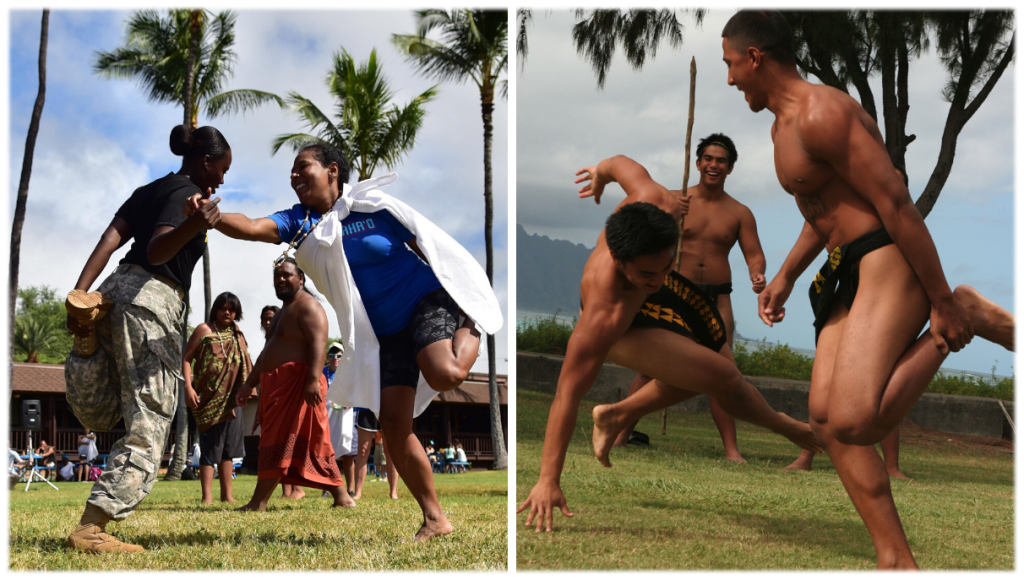 Mokomoko – boxing
Hākōkō – a wrestling style similar to sumo
Kōnane – a board game most resembling chess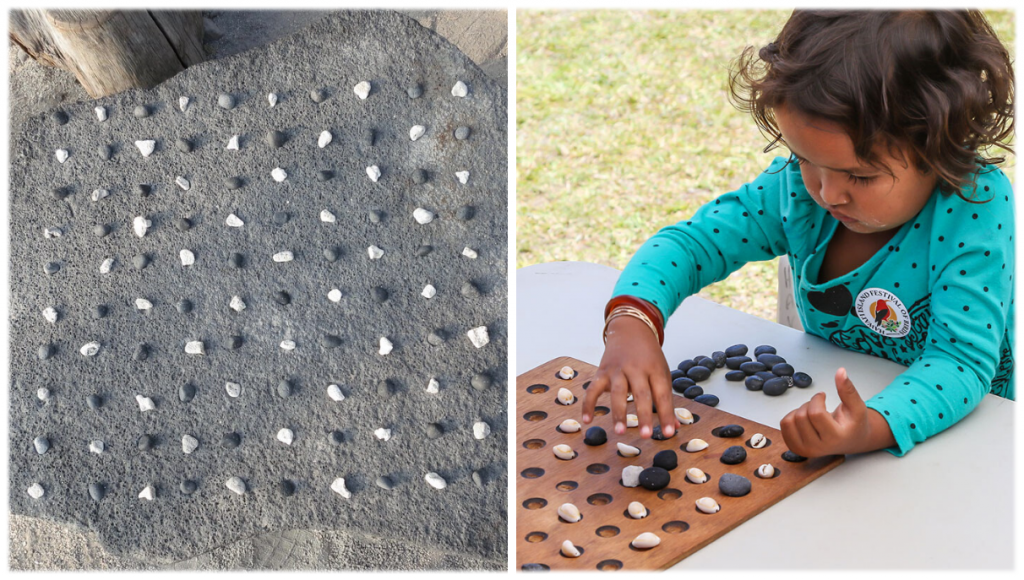 Makahiki also signified rest and rejuvenation of the land and sea. To ensure sustainability for the next five generations and beyond, harvesting, fishing, and gathering materials from the land were regulated continuously. 
Also, this time was an occasion to strengthen existing relationships and forge new connections amongst family, neighbors, and friends.
A Visit From the Chief
The Ali'i Nui* traveled around the island to each ahupua'a* to oversee the lands and to see their people.  ʻAuhau (taxes) and hoʻokupu (offering) were gathered and given to the chief at this time. In return, the Ali'i Nui redistributed the gifts and sometimes the land.
If a steward of the land had passed on, could not continue working in his given area, or did not utilize the earth's resources, the Ali'i Nui offered the stewardship of the land to someone else.
This was not land ownership in the way westerners consider property rights. The Hawaiian way was based on stewardship, all the way up the system to the ruling monarch.
Hawaiians had special spiritual rituals during this time of year. They performed ceremonies of gratitude for the earth's bounty and called upon the gods to provide rain and harmony in the future.
Makahiki Festivals are Still Held Today, and Ceremonial Protocols are Enacted

The Giving of Ho'okupu in the Makahiki of today
The Essence of Makahiki Season Was Peace and Good Will to All
When the Protestant Missionaries arrived in 1820, they introduced the traditional Christian Christmas Celebration. It is not hard to envision that these island people, who were already beginning to embrace Christianity, could easily include this as part of their traditional year-end festivities. 
After all, Hawaiians are no strangers to gatherings celebrating life and giving gratitude. Plus, the singing of Christmas Carols indeed captured their penchant to sing! 
Christmas in Maui
For those who enjoy a White Christmas, a holiday without snow could mean it doesn't quite feel like Christmas.
Coming to Maui during the Holiday Season is a rare and unique experience.  Sand under your feet on a warm, sunny beach is our holiday snow year-round!  Unless there is snow on the top of Haleakalā*, then it's the best of both worlds.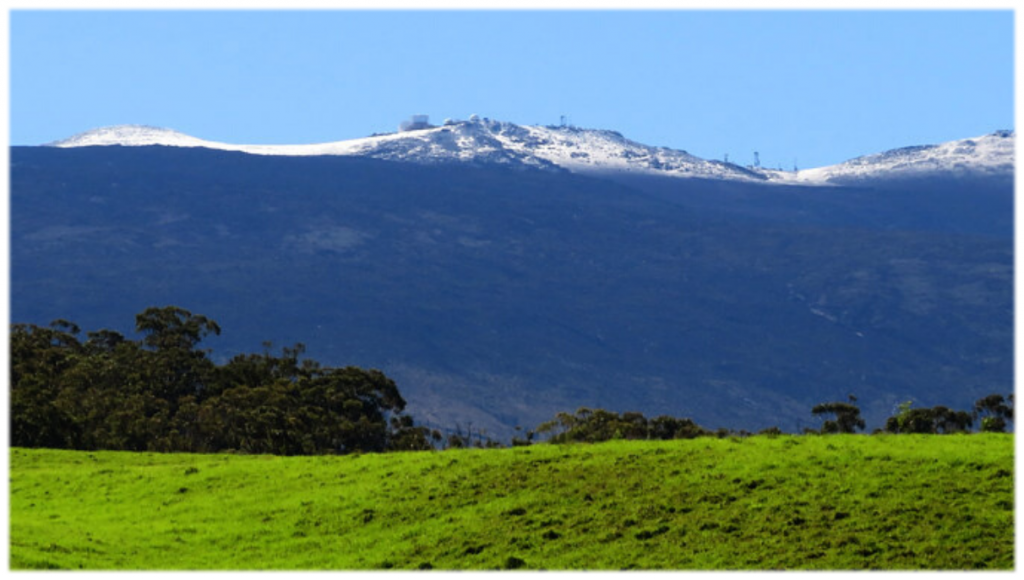 Imagine your toes in the sand, the ocean lapping at your ankles while you gaze up at a snow-capped Haleakalā!  What planet are we on?
The magic of the Holiday Season in Maui is heavenly. The days are filled with special holiday events and fun-filled festivals during the whole month of December. 
There are special events celebrated by people of all faiths and traditions.
You can find warm Hanukkah celebrations in the synagogue, Christmas Eve mass, or handmade mochi in the Japanese Dojo. A beautiful melting pot of cultures and traditions.
Like the song says:
"Mele Kalikimaka* is the thing to say on a Bright Hawaiian Christmas Day."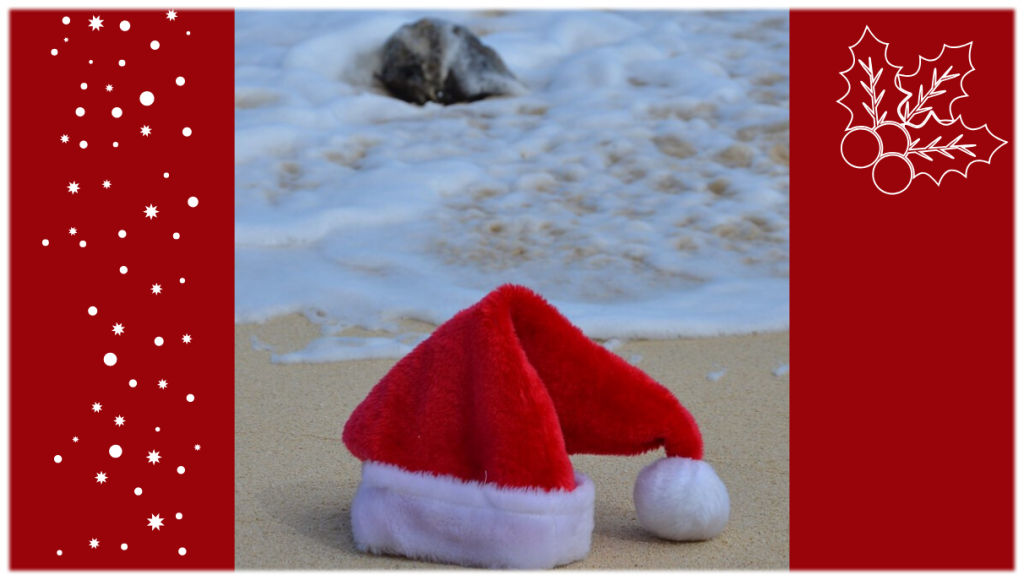 Maui beckons you for the holidays with these special events:
Banyan Tree Lighting
A Holiday tradition for over 20 years, Lahaina's giant Banyan Tree has donned lights for the holiday season with a laid-back celebration.
This banyan tree was planted one hundred and forty-seven years ago on April 24, 1873. Many years later, covering over half an acre, it is the most massive Banyan Tree (in captivity, as we say on Maui) in the United States. 
According to old news reports, a royal ball was once held under the tree in 1886 for King Kamehameha III on his birthday. The tree has seen a lot of exciting times!
See the Banyan from the Air HERE
See the Banyan full of Holiday Lights HERE
Santa Claus at the beach OR Build a Hawaiian Holiday SandMan
Santa and sometimes an elf or two will visit various beaches during the season. Of course, the keiki* will pester Santa no matter where he is! But what better place than the beach!? Hawaiian Holiday SandMan??  No description is needed. Just pure fun!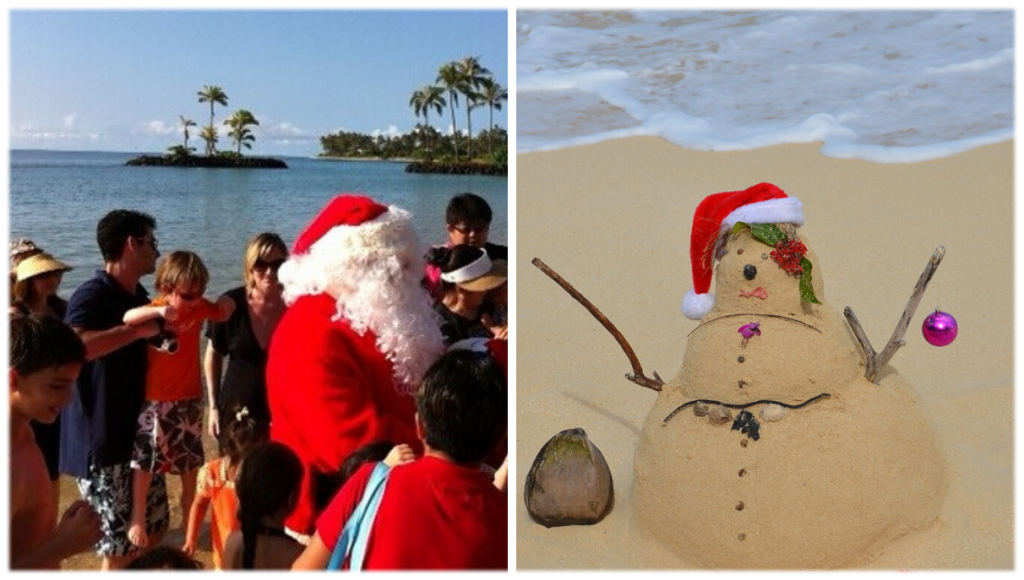 Shopping
Shopping Centers and Villages decked out in their holiday finery display many treasures and Hawaiian Style Seasonal gifts. There are memorable hula performances to help bring in the celebration. You can come to Maui early, before the holidays, and then return home for your local season, laden with island gifts for your friends and family. 
Need to do some last-minute gift shopping? Then there are many regular and Holiday Craft Fairs where you can get locally made arts and crafts, see local talent, and have some Ono Grindz. There are at least six during the Holiday Season,  plus weekly swap meets with lots of great gifts and foodie treats.
You will find many handcrafted, one-of-a-kind items that you will not see in the big box stores. Plus, don't forget to bring home some island-style holiday ornaments to remind you of your Holidays in Maui.
Christmas Eve at a Hawaiian Church
For Christians, a service in the Hawaiian Language is a thing of beauty.  Nothing describes the lyrical tone and sound of the Hawaiian Language. Everyone, from any and all faiths, is welcome.
Menorah Lighting Event for Chanukah
Enjoy Hanukah music, hot latkes, and even delicious Sufganiyot (Israeli jelly donuts) in Hawai'i!  Or, celebrate Japanese Ganjitsu (New Year), Filipino traditions, and more!
Whale Watching
From mid-November until March, this is a MUST DO activity. Whales are a huge part of Hawaiian and Polynesian folklore.

And the Best of the Best: Take a Day Tour – Sit back and Relax
Of course, a journey on The Road to Hana should NOT be missed.  It is always better to have someone else drive so you can see the sites without worrying about the one-lane bridges or curves in the road.  
You can take your pick of our Road to Hana Tours or design a private charter for you and your family.
Of course, getting away from the hustle and bustle of the holiday season in your town may mean that you want to take time for yourself and your family.  Enjoy your very own Makahiki.  A quiet holiday to rest and rejuvenate is always a good thing.
After a few quiet days of recharging and slowing down to Maui Time, you can jump into some of these special seasonal activities we have described here. It is a perfect topper for your Makahiki Holiday Season on Maui!

Writing and Graphic Design by Sugandha Ferro Black

GLOSSARY* of Hawaiian Words
Ahupua'a – A land division that goes from the ocean up to the mountain

Ali'i Nui – High Chief
Haleakalā – House of the Sun, 10,023 ft. high dormant volcano on Maui
Keiki – children
Makahiki – A season of rest and rejuvenation from October to February
Mele Kalikimaka – Merry Christmas
*Please keep in mind that all Hawaiian Words have many meanings. The meanings we share here are the specific translations for the words as they pertain to this particular blog's subject matter.
Photos courtesy of paid-for or free sources unless otherwise noted.
Title – CC BY 2.0 / Yukihiro Matsuda, Konane – NPS/Janice Wei