When your plane touches down in Maui, after a long flight, there is only one thing on your mind – warm, soft sand between your toes and jumping in the ocean! It will soothe your kinks and wash your concerns away instantly. That is a fact!
That is only one thing of many that will help soothe your soul on Maui. There are so many other things that make Maui No Ka Oi*. We MUST share a few of these other things you can do to help you get on the relaxed, hang loose* rhythm of the island.
To achieve the slower, island-style pace and get a jump start on unwinding, here are seven activities that can calm your spirit and chill out your brain. Seven great, only in Maui, stress eliminators!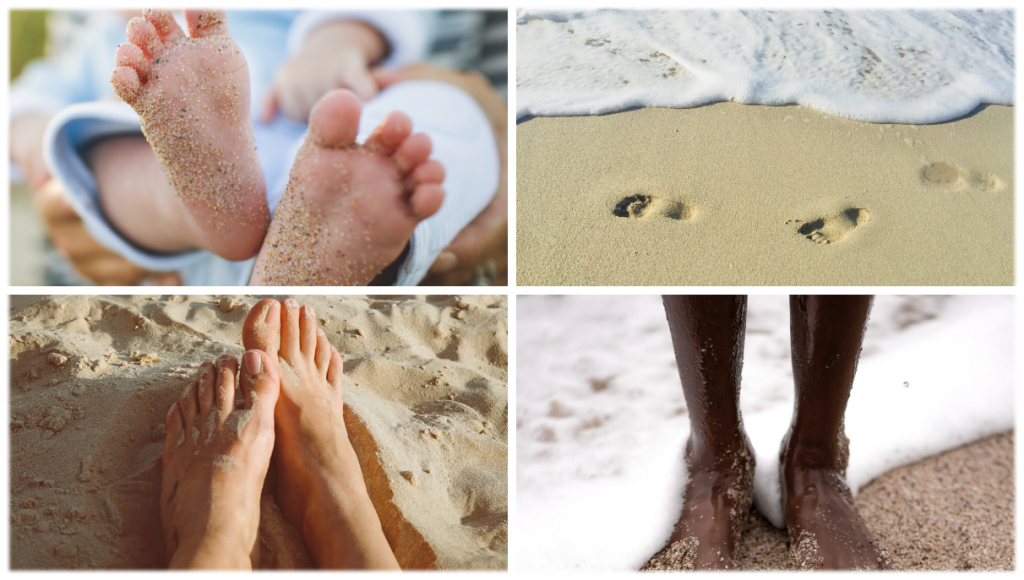 7 Easy, Fun Things That Will Soothe Your Soul
Sit on a Lava Rock
Maui has 81 accessible beaches.  When you find the beach that calls your name, search for a flat rock in a quiet area near the sea.  Make sure you bring a towel or pareu*. Fold it up like a cushion, sit down on it and feel your body and mind relax. You are in the presence of 2,500 miles of Pacific Ocean.
Lay back and feel Maui's gentle, early morning sunshine, or try the sunset option! Arrive at your flat rock about 20 minutes before sunset.  Put your "cushion" on the rock. Use this time to relax, breathe and take in the beauty of the evening on the beach in Maui. Let the sound of the sea and the emptiness of thousands of miles of the ocean fill you with peace and relaxation.

If You Are a Voyeur or Shopping Soothes Your Soul, You Need This
Let's start with people-watching. If this is one of the things you enjoy, there is no shortage of colorful characters to watch on Maui. 
One of our favorite places to watch people is sitting on the benches along the seawall in Lahaina. It is exceptionally extraordinary at sunset.  You shop a bit, relax at sunset, and watch the passersby – an incredible cross-section of humanity.
Then, have a post-sunset cocktail and dinner at any number of eateries nearby.
Pa'ia and Makawao towns can satisfy a shopper's need to relax. These towns also boast more of Maui's many colorful characters for the voyeur in you. And you can buy your pareu if you haven't done that already!
You may see Paniolo (Hawaiian Cowboys) in Makawao and plenty of surfers and young neo-hippies in Pa'ia. Tie-dye shirts and buskers playing Grateful Dead songs on the sidewalk. Quite a colorful mixed plate.
Flowers and Plants Are the Answer
An excellent option for kids and adults is the Maui Tropical Plantation. Activities include a tram, a low zip-line, and a unique tour of the plantation. This plantation is home to more than 40 harvested crops used at their restaurant, plus other places on Maui.
Many unusual plants and flowers line the pathways. This makes an afternoon walk delightful. Plus, a gift shop and good food to boot!
Sacred Garden, in Ha'iku, is a unique place with an exciting variety of plants, Living Shrines, and two walking labyrinths.  Speckled with a picnic and sitting areas, we encourage you to bring some snacks. 
Don't forget about Maui's specialty blossoms, the Protea.  Many Protea farms offer tours. You will be astonished at the number of colors and variety of flowers. Here are a few.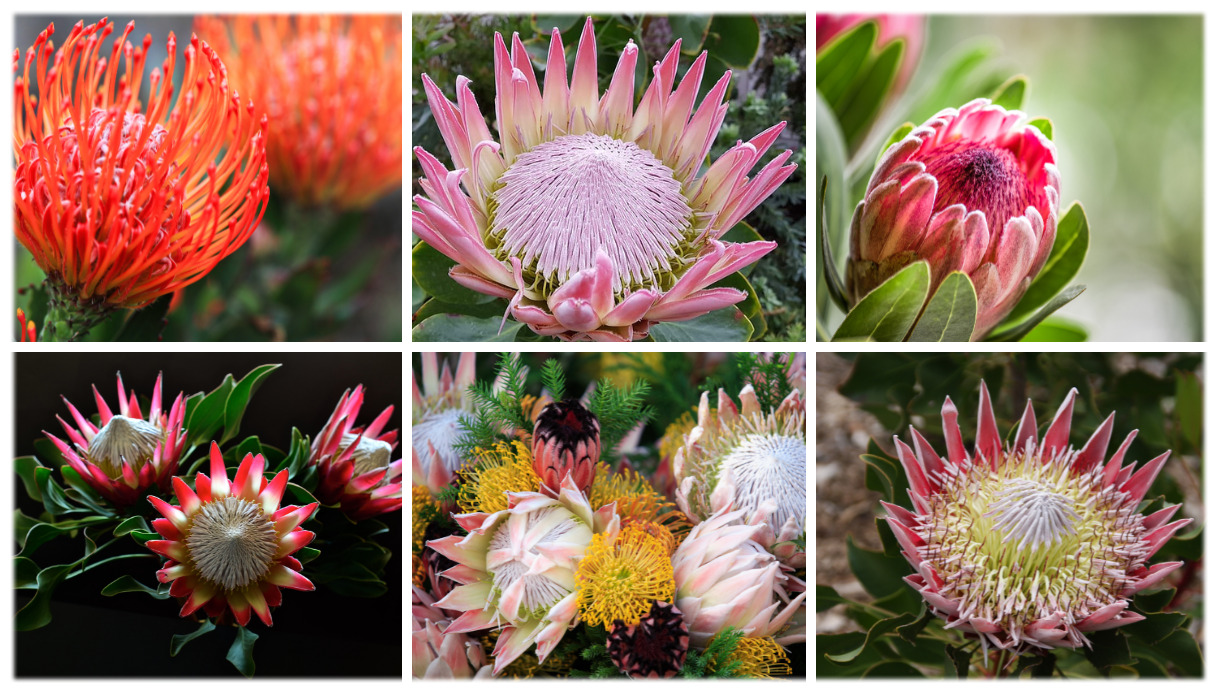 Let the View Take You Away
For mega vistas, head up to 'Ulupalakua and visit Ali'i Lavender Farm on your way.  The views from here are spectacular.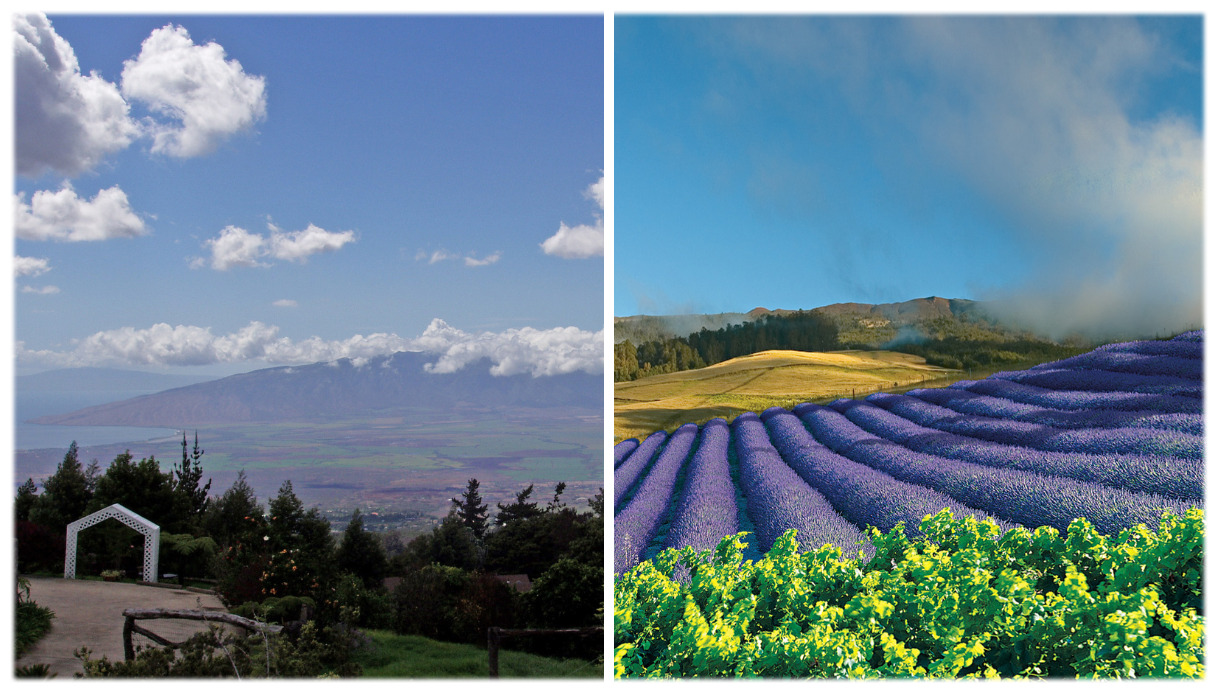 Of course, Kahakuloa Bay with Kahakuloa Head looming around the backside of Lahaina is breathtaking (title image). On the Kahakuloa side, you can feel a bit of the days of old Hawai'i gone by.
When you feel energetic, a walk in Polipoli Forest gives you the special treat of native birds, spectacular views, and redwoods.
Walking is Your Jam 
There are many official hiking trails on Maui, but if you want to take a nice leisurely walk, Thompson Road is for you.  There are a couple of inclines to get your heart rate up and stunning mountain-to-ocean views.  Look one way to the panorama of the sea and the other way to the mountain.
Of course, we can't forget about the Wailea Beach Path – a great sunset view and stroll along the ocean.
Love Animals?
Maui's paradise for rescued animals is Leilani Farm Sanctuary. It is located upcountry* on eight lush acres. This all-volunteer, non-profit sanctuary saves animals who are in harm's way. Pure and simple! Tour the farm and meet the animals. This is a total feel-good experience; pure goodness in action!
Being on the Sea Rocks Your World
Surrounded by the sea, Maui is home to many seafaring boats of all sizes.  Be it a kayak, slicing silently through the waves, or a sunset cruise with Mai-Tais, you are bound to find the perfect vessel for your ocean experience.
Don't forget that a Whale Watch is the perfect sea adventure if you find yourself on Maui between November and April. It is the one activity that is guaranteed to delight everyone!

The motion of the car or van eases your mind.
We would be remiss if we didn't encourage you to ride with Temptation Tours to Hana.  The Road to Hana is famous for 617 curves and 54 one-lane bridges, so having someone else drive is a treat.  
Imagine yourself and your family in our Luxury Limo-Van. Large windows on both sides mean you won't miss a thing.  Relax in the leather captain's chairs while you take in the sites, stop at the best places, and lunch is served too!
Get Ready to Totally Relax!
After you are here on the island for a few hours or a couple of days, walking on the beach, enjoying the stars and the Milky Way at night, you will start to notice some interesting things: your breathing is slowing down, you are smiling more, and you're not sure what it was you used to worry about. 
You can take off your armor and walk in the surf, soaking up the sunshine and feeling the unbounded joy of just being alive! This powerful medicine will soothe your soul and bring tranquility to your heart. The sweet Land of Aloha.
We hope you dream of visiting us when the time is right if you haven't already. Come share our island home. We will be here waiting for you.
In the meantime, we will keep your dreams alive by telling you fun stories and some history and showing you beautiful images of our island home and our neighboring islands.

Writing and graphic creation by Sugandha Ferro Black

GLOSSARY* of Hawaiian Words
Hang Loose – the shaka (or hang loose symbol) is a constant reminder that in Hawai'i, it is not the norm to worry or rush. The shaka sign represents the embodiment of island style. It signals that everything is alright.
No Ka Oi – the best!  Maui No Ka Oi – Maui is the Best!
Pareu – a sarong made of a single straight piece of printed cotton cloth, traditionally worn by Polynesians
Upcountry – for us in Maui, it means, Makawao, Kula and Ha'iku

*Please keep in mind that all Hawaiian Words have many meanings. The meanings we share here are the specific translations for the words as they pertain to this particular blog's subject matter.
Photos courtesy of paid-for or free sources unless otherwise noted.