One day around lunchtime you suddenly have a craving for some Poke (poh-kay). In Hawai'i, you would say:
"I am so ono for Poke!"
Your friends would immediately understand and probably agree with you. Someone in the group would set off for the neighborhood market and pick up some fresh Poke, perhaps a few Poke bowls, for lunch.
Everyone has a different favorite. Some like the spicy ahi poke, others like the ahi limu (seaweed). Then there's always someone who wants tako (octopus) poke, and often a kimchi lover will ask for a kimchi shrimp poke. And that is only a smattering of the options.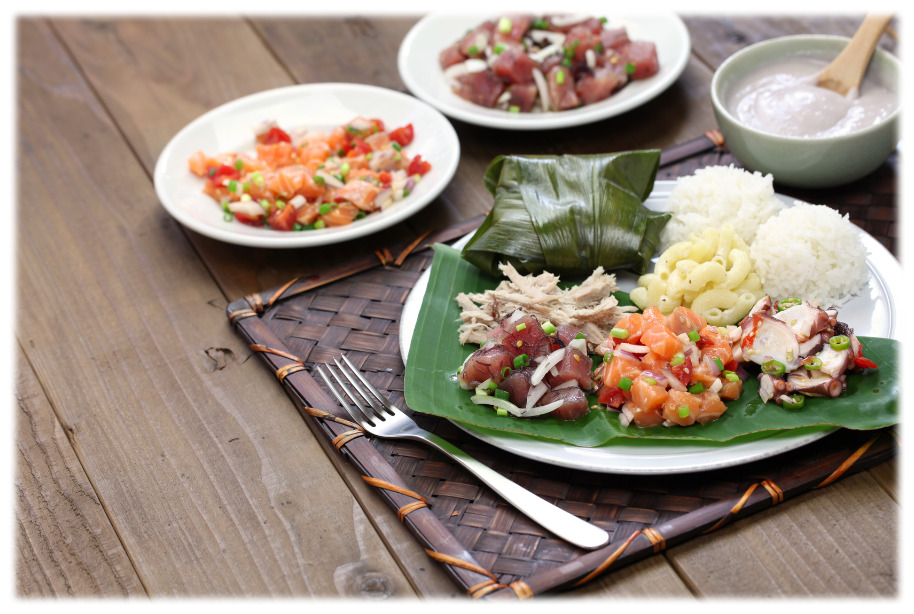 Hawaiians have enjoyed Poke for centuries!
Long before the Western ships arrived for the first time in Hawai'i, Hawaiians made a Poke out of small reef fish by rubbing the prepared fish with sea salt, to preserve them.
Over time, sea vegetables, limu (seaweed), and inamona (ground kukui or candlenut meats) were added for extra flavor. Once the Westerners arrived with different ideas from around the world, Poke evolved into many different forms and flavors.
Poke with inamona is still my favorite, even with the wide variety of Poke available today.
In today's world of jet travel and sharing of cultures, Poke is well known across the U.S. mainland and in many foreign countries as well. It has become that super special ingredient, making ordinary dishes irresistible. Now people all over the world are also ono for Poke!
Poke translates as, to slice or cut crosswise into pieces.
Poke is Native Hawaiian cuisine at its finest. It is Hawaiian comfort food, suitable for ANY occasion. It can be either an appetizer or a main course. You can count on it being one of the essential dishes at any large Hawaiian meal or party. Eh! Who goin' bring da poke? This is one of the first questions to be answered when the party begins to be organized.
Poke can be made with a variety of fish, including shellfish, but these are the three most popular fish used:
Ahi (Yellowfin Tuna)
Aku (skipjack tuna)
Heʻe (octopus, sometimes called Tako Poke)
One of the most significant differences between Poke and other raw fish dishes (such as Ceviche), is that there are no citrus fruits used to cure and partially cook the fish.
Some historians say that the current versions of Poke we see almost everywhere began to develop in the early 1970s. This was when Poke got its name, and Ahi Tuna became more available. The deep red color of fresh, sashimi-grade ahi, made into Poke, was way more appealing than the Poke from dull, white reef fish.
Starting around 2012 the fast and casual style of order and pick-up bars was becoming very popular. These types of restaurants began to double in number, primarily because they focused on serving Poke bowls and a wide variety of Poke styles. The original version of Poke was slowly being left behind.
Poke changed along with the waves of new immigrants and their cultures.
With the arrival of Chinese and Japanese Immigrants, other ways to eat raw fish were introduced. The use of sesame oil and soy sauce became immensely popular almost immediately.
Poke made with sesame oil and soy sauce is still one of the most popular styles.
When the Western ships sailed in, the sailors needed salt. So they traded whatever they had, which was often salmon. This was how salmon was first introduced to the islands. And of course, any fish was on the table for making Poke. Nowadays, salmon Poke is another common, less expensive favorite.
In the 1990s, Chef Sam Choy was a significant contributor to the introduction of Poke to the populace. He was an early curator for the Hawai'i Regional Cuisine movement. In 1991, he initiated his first Poke Contest. Poke recipes from all around the islands flooded in, showing how creative home cooks could be with Poke.
Twenty-one years later, the Poke Contest is still an annual event every year in March.
Fun Fact: Ahi Tuna has a wide variety of health benefits. It is high in omega-3 fatty acids and potassium, which helps lower blood pressure and cholesterol.
And then, The Poke Bowl opened the door to Poke innovation!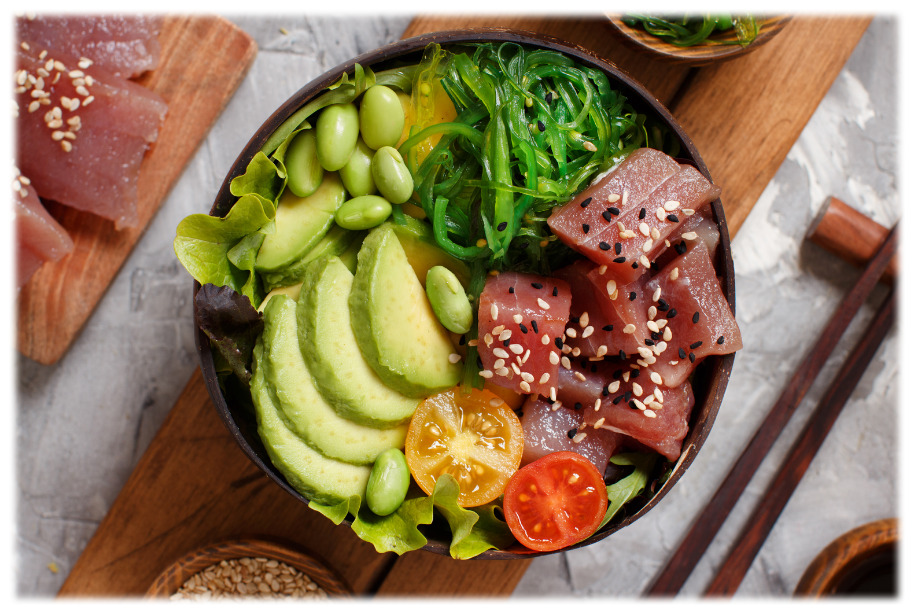 Poke Bowls
These bowls developed from the need to make a snack into a meal to go. All you need is a hearty serving of rice with your favorite Poke on top and a few veggies: and you get a robust and healthy lunch that will last you the rest of the day!.
Poke Nachos
These are not your average nachos! No cheese is involved. Just a scoop of fresh Poke and Kalua Pig on top of freshly fried won ton chips. Add some Hawaiian secret sauce and green onions, and you are ready to grind 'em.
Poke Tacos
Served on traditional taco shells or won-ton shells, these are to die for! The Poke can be traditionally raw or seared/blackened. No need to say more. Guaranteed, you will never have enough of these. Everyone will want more!
Ahi Poke Musubi
This is one of the many varieties of musubi in Hawai'i. Traditionally it is a ball of rice rolled in some nori or sesame seeds with meat or salted veggies. Another popular musubi is the iconic Spam Musubi, where a cube of rice is topped with cooked spam and rolled in nori.
Ahi Poke Musubi mixes two favorite island foods, Poke and rice.
The Poke is mushed and stuffed into slightly sushi-seasoned rice balls and rolled in a sesame and nori salt called furikake. It is then deep-fried. Hot and crispy on the outside and soft and fresh on the inside. I am going to have to try this soon!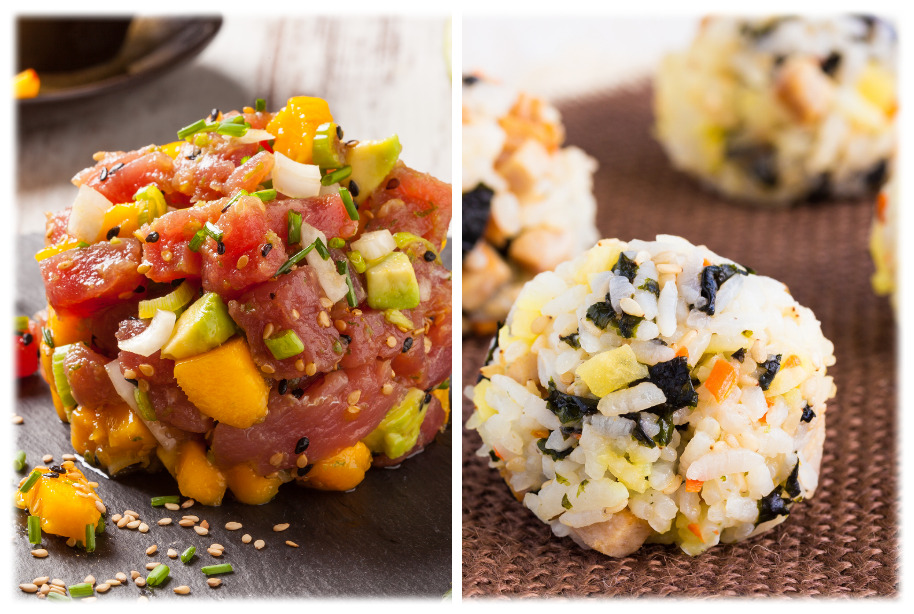 There are, of course, many other options like Poke Sliders, Poke Tostadas, and Haute Poke, 30-courses at $300 per meal. There is no end to where this Poke trend may go.
As you can see, you can find Poke served everywhere, from high-end events and weddings to backyard or tailgate parties.
We can say with absolute certainty that it is no longer a trend here. It is a way of life in Hawai'i, and people across the globe are catching on!
One last thing: you may find Poke from San Diego to Seattle or Los Angeles to New York, but it will never be Hawaiian Poke. Those of you who know, know.
There is NO substitute for authentic Hawaiian Poke! So don't hold back while you are here!
It is one more fabulous thing that makes people count the days until they return to Hawai'i. They finally get to have some REAL, island-style Poke. Let's Eat!
Writing and Graphic Design by Sugandha Ferro Black
Photos courtesy of paid-for or free sources unless otherwise noted.