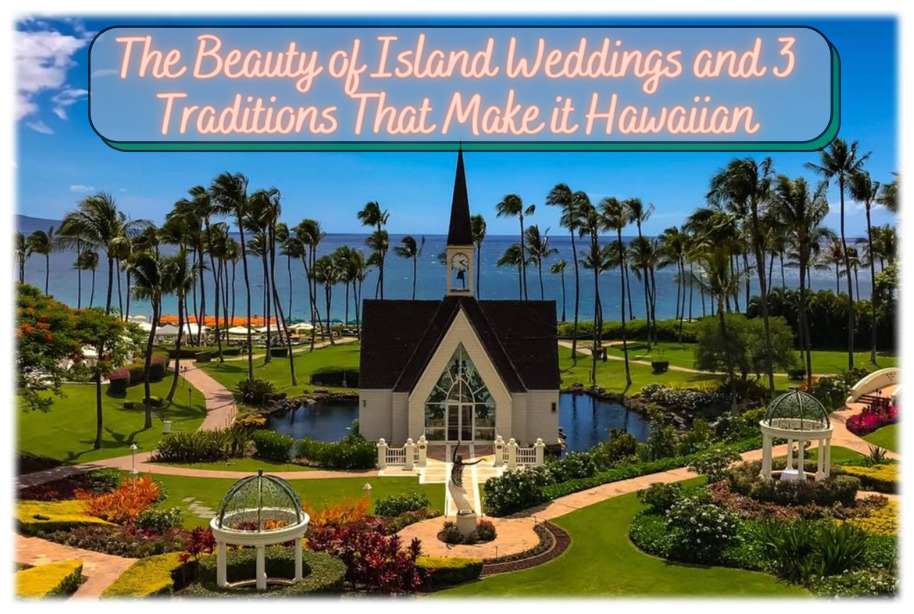 Many a fiancé has dreamed of a beach wedding in Hawai'i.
Adding the sounds of the beach, of the gentle surf as it whispers across the sand, makes the heart sing. So many brides and grooms have had that beach wedding dream come true! Looking at the numbers, there are approximately 22,000 weddings annually in Hawai'i at an average cost of $38,000.
The weddings in Hawai'i today do not resemble the Polynesian-style weddings of ancient times. But they do follow some modern traditions and protocols of current Hawaiian culture. The most essential custom to respect is showing the proper honor for the land, the sea, and the islands' culture. 
No words adequately describe the exceptional delight one feels at a beach wedding in Hawai'i. The presence of so much beauty can be almost overwhelming. The soft sand and immense deep blue ocean, with the neighboring islands off in the distance, is a backdrop dreams are made of. All around, fragrant flowers and soft music ignite a multitude of emotions and flavors of joy and happiness.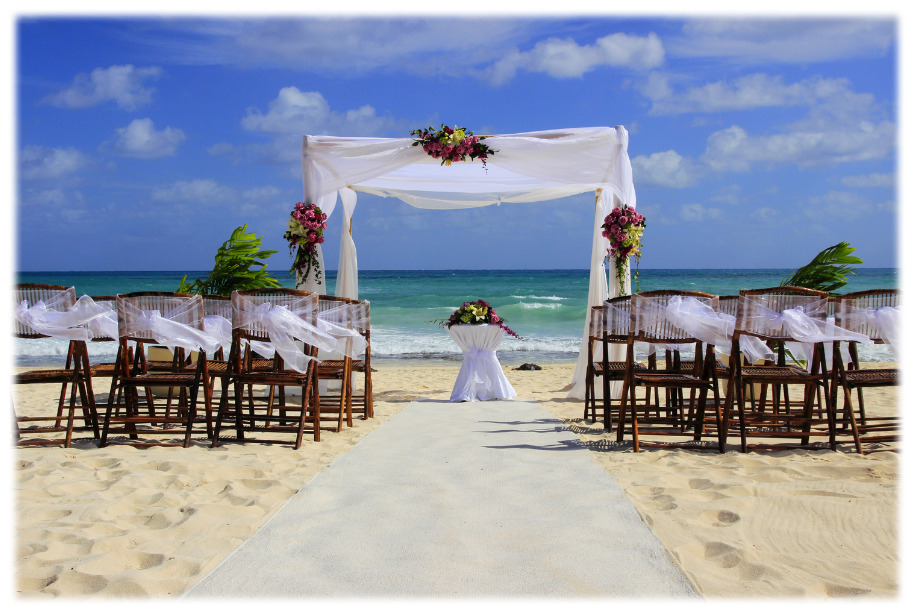 Those at the wedding party begin to feel tears rolling down their cheeks as soon as the Pū (conch) is blown. Then, a chant is presented, and exquisite lei are exchanged. The balmy tropical sea breezes carry sweet fragrances and enchant those present. It feels like another world. 
Marriage for ancient Hawaiians existed long before the Western explorers arrived in their giant sailing ships. 
Historical evidence tells us that the islands were populated 500 to 1000 years before Westerners came upon these island jewels in the Pacific Ocean. By the time the Westerners arrived, the island people were well-established in their lifestyle, which included an ancient form of marriage.
The Hawaiian word for marriage is hoʻāʻo pa'a.
Hoʻāʻo pa'a was a lasting relationship and never considered otherwise. Likewise, a wife or husband would rarely consider leaving the marriage.
The marriage would begin with a lengthy preparation. First, there was a marriage agreement between the couple, the parents, the Ali'i, and the Hawaiian Gods. Then the period of marriage preparation began. The couple would learn the necessary elements to prepare them for a life together. They were taught the skills and values of having a life together with one another.
Once they were ready, they received instructions on how to care for each other for the rest of their lives. Then they embraced each other, exchanged breaths in the Hawaiian way (honi), and, Voila! They were now husband and wife.
If marriages were arranged between two people who lived in different places, gifts were often sent to the bride and her parents by the groom's parents. And the reverse would happen – gifts would come from the groom's parents to the bride's parents and the bride herself.
These gifts were called lou (hooks) or lou' ulu (breadfruit hooks). These lou symbolized a binding marriage

.
Having many wives or husbands in ancient Hawai'i was not uncommon, especially among the Ali'i and the chiefs. This is because they had the wealth to care for a large family, and it was essential to pass on the royal and high-ranking bloodlines. 
There are many types of places and ways to stage a wedding ceremony in Hawai'i today.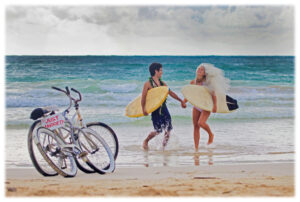 You can have a simple wedding, a vow ceremony with the wedding couple and the kahu (officiator), or an elaborate wedding with a hundred guests or more at one of many exquisite venues.
With multi-colored sandy beaches, lush green landscapes, magnificent volcanoes, and dazzling sunsets, you can choose the perfect place that suits you and your beloved.
Perhaps you need unique flowers, a special lei, a plant, or a particular type of food. Since there are so many weddings in Hawai'i, you will likely find what you may need on the islands.
Considering a multi-cultural wedding? Hawai'i is the perfect place for that. Over the last 250 years, many races and ethnic groups have immigrated to Hawaii. This makes it a prime location for a multi-cultural ceremony. In addition, the influences of these cultures enhance the Hawaiian Wedding experience by providing some traditions that have been passed down from your family's heritage.
If you decide to have a Hawaiian wedding, you will find that the rituals are rich with tradition. And the ceremonies always begin and end with Aloha.
Sharing one's life with another through love, kindness, compassion, and unity is truly an expression of Aloha.
The word Aloha has many meanings, but it translates as the presence of life or breath is life.
Sharing the Aloha spirit on your wedding day gives inter-connectedness with those who came before you and those who share in the ceremony and the nature surrounding you.
Here are three elements of Aloha that you will see in modern-day, traditional Hawaiian weddings.
Blowing of the Pū
This action of blowing the conch is used throughout many ceremonies, rituals, and special occasions in Hawai'i. It is similar to the trumpet announcing a dignitary's arrival. It was used in the past to announce royalty or the arrival of canoes. Often, it was blown to communicate between villages. During a modern Hawaiian Wedding ceremony, the Pū is often used to inform the bride's arrival.
Oli Aloha
A chant of love will often be sung after the blowing of the Pū. Native Hawaiians did not have a written language before Western contact. So, stories were told through song, chants (oli), and prose to record events for posterity. The oli may prepare the space for the arrival of the wedding couple, bless the people participating, or both. It may also reflect the love that has arisen from this union.
Exchanging Lei
Lei are a symbol of love and Aloha. In Hawai'i, giving lei to someone on a special occasion is commonplace as a symbol of your love. For example, exchanging lei on your wedding day symbolizes your love and respect for one another.
Here are a few other options that add a beautiful Hawaiian feeling to any island wedding.
Hawaiian Music
Nothing is more romantic than the music played by Hawaiian Musicians. The sound of the 'ukulele, the slack key guitar, and falsetto voices can make your heart turn to butter and then melt in the balmy tropical breezes.
Hula – Hawaiian Dance
The sweet sounds of Hawaiian Music drift across the celebration. Then, enter the hula dancer's swaying hips, graceful hands, and beautiful smile. It will light up your special day. Those moments will be forever etched within your fondest memories. The magic of her dance reminds you why you chose Hawai'i as the place to say your vows and marry the love of your life. 
Like ancient Hawai'i wedding practices, marriages in Hawai'i rarely end. The blessings of Aloha and love showered from the heavens will enter your hearts and give you strength and fortitude. This will help you persevere through challenging times on your journey toward a loving, long-lasting marriage. 
There is nothing better than growing in love and friendship as you grow in years of marriage. So start your lifelong journey of love and discovery with a memorable wedding on Maui. You will never regret it and always remember your ultra-special day and everyone there!
Writing and Graphic Design by Sugandha Ferro Black
Photos courtesy of Wiki Commons and other paid-for or free sources unless otherwise noted.
Maui Cannery | © CC BY 3.0 Mauiinfo_KarmaHillPhotography/Wiki.