In today's blog, we continue with our Hawaiian Musician series. These are the people and legends who have expressed the Hawaiian spirit and soul through music. 
Our blog features the legendary musician, singer, guitar virtuoso, and songwriter Gabby Pahinui. 
It is an honor to introduce Gabby to those who have never heard his music and the music he created with so many renowned fellow musicians.  
As Hawaiian cultural-history expert, DeSoto Brown said in a Honolulu Star-Bulletin article:
"Gabby Pahinui was not only an outstanding musician and entertainer, he was also a central figure, maybe THE central figure of the Hawaiian Renaissance of the 1970s."
When you listen to Gabby, you hear something deep in the collective Hawaiian Spirit. You hear the sounds and voices which bring the music from far back in Hawaii's past. 
Listen or Watch Gabby:  HERE  – He Punahele Mai 'Oe (A song written for a daughter.  You are cherished, loved, and a beautiful lady.)
Aside from bringing back deep memories of ancient Hawaiians and their music, Gabby was also a pioneer in the world of modern music. 
Modern musicians, such as the world-renowned guitarist Ry Cooder, have said: "
"Gabby is like the Louis Armstrong of Hawaiian music. He was right up on top of the whole sound pyramid here. He's certainly the greatest guitar player I've ever met in my life. Just hanging around him, I learned more about music and guitar in general than from anybody else I've ever met."
Gabby was a skillful player of the Hawaiian Steel Guitar, a slide guitar played on a stand while seated. Some say it was invented in Hawai'i before Blues Slide Guitar.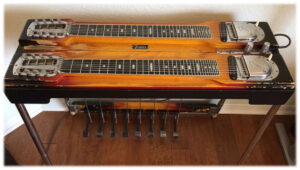 Aside from that, Gabby is most well known for his mastery of the traditional Hawaiian slack-key guitar. 
Slack Key is a term that comes from a Hawaiian phrase, Kī Hō'alu. The key is slackened or down-tuned. This leaves the guitar with an open-string chord with low bass notes, which are finger-picked.  
This luscious, full-sounding guitar and his beautiful, expressive voice make for a real treat for those who love Hawaiian Music and Hawaiian Culture.
Click here to listen to Ipo Lei Manu and watch a compliation of images from 1974 during the recording of this song.  This song was written by Queen Kapiolani for King Kalākaua while he was on his last voyage. The song speaks of the 'i'iwi bird in the forest surrounded in the mist.  The mist is symbolic of her arms wrapped around her King to keep him safe. 

Gabby was inducted into the Hawaiian Music Hall of Fame in 2002.
He won TWO Hawai'i Academy of Recording Artists Lifetime Achievement Awards. In 1997 he received the award for his solo work, and in 2009 for his work as a member of the Sons Of Hawai'i. 
These awards and notoriety did not cover the fact that Gabby grew up without financial security. He was raised in the impoverished district of Kaka'ako in Honolulu in the 1920s. Gabby described it as "all tin roofs and kinda falling apart." He spent his childhood supporting his family by selling newspapers and shining shoes. He dropped out of school after 5th grade.
Gabby was born in 1921 as Charles Kapono Kahahawai Jr.  Later, he and 2 of his siblings were given to the Pahinui family as their hānai (Hawaiian adoption) children. He married his wife Emily when he was 17 in 1938. They had ten children – four daughters and six sons.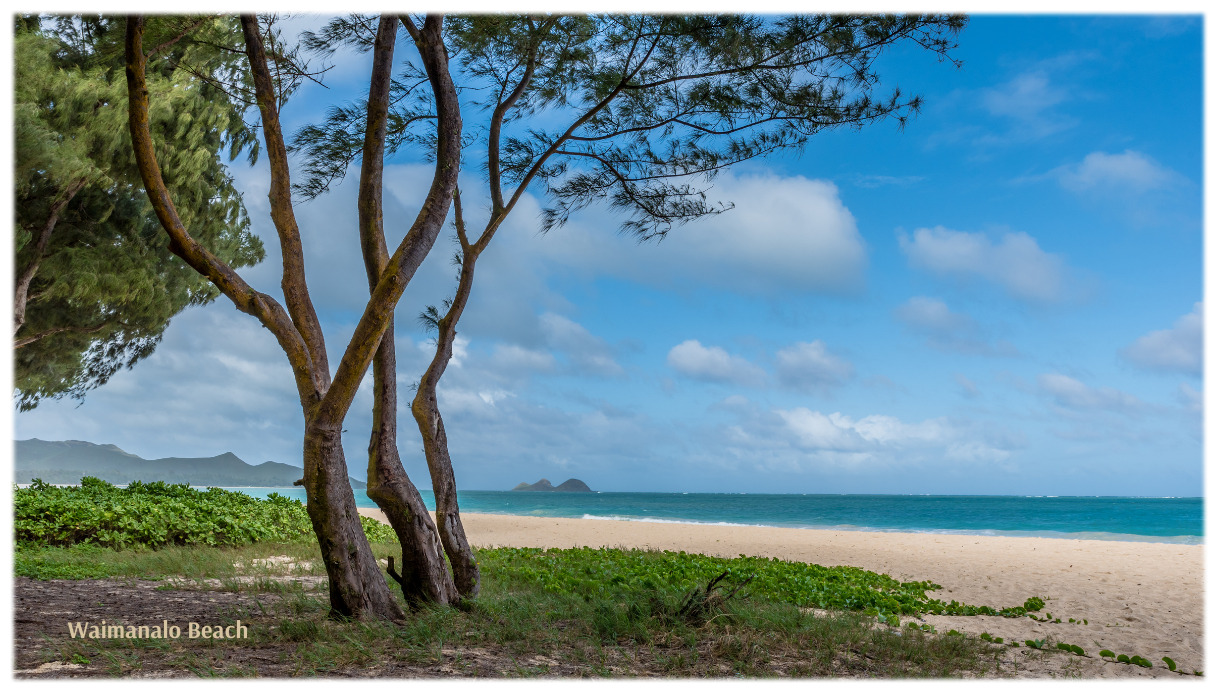 Eventually, Gabby moved Emily and the children to Waimanalo.
This area on O'ahu had become a popular second home for many musicians. The all-weekend jam sessions at the Pahinui home were legendary and one of the many reasons Gabby was considered the central figure in the Hawaiian Cultural Renaissance of the 1970s.
Despite his success, Gabby still had financial trouble. So he made ends meet by working for the City and County of Honolulu road crews, doing pick and shovel work alongside fellow Hawaiian musician Eddie Kamae. 
Gabby's son, Cyril Pahinui, related a story about how Gabby got his name. Early in his career, he played steel guitar with an orchestra. The standard costume for the gig was gabardine pants.
So, naturally, he started being called Gabby.
Keola Beamer, another acclaimed musician from one of Hawaii's respected musical families, once said:
"We all looked up to him, you know, 'cause he was Pops. I mean, he was the man. I really regarded him as a cultural folk hero because he had the courage to be authentically who he was in the world and an incredible musician on top of that."
Gabby Pahinui passed on his unique style of playing and his tuning to 3 of his sons. But he didn't teach them, as he said in a 1979 interview:
"They've got to teach themselves. Like, how my sons learned and how I learned – they can watch us. That doesn't mean we'll teach them. Any time of the day, any time of the night, any place – we'd be in the kitchen, down at the beach. That doesn't mean they're going to learn. But they can watch, and they'll pick it up from there."
This was truly Old Style learning! 
In 1972, Gabby recorded his first album with 3 sons, Bla, Cyril, and Martin. During a later interview, Bla said: 
"…the rhythm. The rhythm is so important to my dad. Without the rhythm, there's nothing. So that's why with my left hand and my dad's right-hand rhythms, I'm going one way, and he's going the other way. That's what makes the Pahinui sound."
Gabby has always been loved and revered.  Even the world-famous Brudduh Iz dedicated his trademark international hit song, Somewhere Over the Rainbow, to Gabby. You can listen HERE as the tape starts to roll. He says: "K, This one's for Gabby."
Gabby enjoyed his new success in the '70s, but his lifelong habit of drinking and smoking, and a challenging road crew accident, had left him in poor health. He retired from road work but took up teaching in the City and County's cultural programs.
He died of a heart attack on October 13, 1980, at 59. This was just as Hawaiian music, including slack-key guitar, was gaining immense popularity. 
You can choose to listen to the three albums Gabby recorded in the 1960s with the Sons of Hawai'i or listen to anything from the four albums he recorded in the 1970s as the Gabby Band. Whatever you are listening to,  you will quickly realize you are listening to a once in a lifetime musical genius.
Both vocally and instrumentally, it is a one-of-a-kind sound.
The unique and masterful music of Gabby Pahinui is undeniable. It is pure Hawaiian.
Writing by Peter D. Black
Graphic and Design by Sugandha Ferro Black
Photos courtesy of paid for or free sources unless otherwise noted.