Like so many traditions in Hawai'i, The Aloha Shirt is deeply rooted in Hawaiian culture and history. Seeing an Aloha Shirt will make most people feel the irresistible pull toward Hawai'i. Everyone has a dream to someday visit or return to these magical islands.  
The Aloha Shirt was initially called The Hawaiian Shirt. It was launched 100 years ago and had its Golden Age between 1930 and 1950. This was when tourist visits soared from 50,000 a year to 250,000 a year. For some perspective, in today's Hawai'i – 10.5 million visitors came in 2019!
In the early '30s, Aloha shirts were pre-made or made to order for 95 cents.
During the early 1930s, a beautiful cruise ship called the S.S. Malolo* began making frequent trips from the U.S. mainland to Hawai'i. The ship brought various famous people – politicians, movie stars, and more.  And, yes, you guessed it …
… these early influencers bought and wore Aloha Shirts.
The First Aloha Shirts Were Fashioned with Asian Influence
During the time when the Aloha Shirt was developing, Chinese and Japanese immigrants owned most of the tailor shops. They used traditional, imported fabrics from back home in Asia, such as kimono silks, to make the first short-sleeved, casual Hawaiian shirts. In 1937, the name Aloha Shirt was trademarked.
Asian influence soon started to change.
Japanese-styled motifs evolved into classic Hawaiian images. Diamond Head was substituted for Mt. Fuji, and Japanese pine trees were replaced by coconut trees. Shirts began appearing with thatched huts, ocean scenes, surfers, and canoes riding the waves. Whales, fish, and flowers soon replaced bamboo, cranes, and tigers that characterized the first prints from the Orient.
5 things that happened in the '40s & '50s to make The Aloha Shirt ubiquitous by the mid -'60s
At the end of WWII – Men and women returned home from Asia, and many came through Hawai'i. They carried these colorful shirts back with them.  After a long and dark time, these shirts promised brighter days ahead.
Aloha Week Started in 1946 – A yearly event with a wide variety of festivities to celebrate Hawaii's unique culture, dance, and music. Today, over 100,000 people, on average, attend Aloha Week.
The help of A-list celebrities – These astronauts from the 26th NASA space shuttle mission joined in the fun in 1988. Before that, Bing Crosby in the 1930s and the legendary Hawaiian Olympian Duke Kahanamoku in the 1950s increased the shirt's visibility. Then, in the 1953 movie, From Here to Eternity,  Ernest Borgnine, Montgomery Clift, and Frank Sinatra strongly increased their exposure. And, lest we not forget The King, Elvis Presley, dressed in multiple Aloha Shirts as he played and sang on the sands of Waikiki in the classic film Blue Hawai'i in 1961.  Plus, two presidents of the time, Harry Truman, and Dwight D. Eisenhower, increased the shirts' visibility worldwide by wearing Aloha Shirts in public. Even Mickey and Minnie Mouse wore Aloha Shirts when they were in the mood…
Statehood – In 1959, Hawai'i became the 50th state, and the appeal for The Aloha Shirt increased as California surfers returned home from Hawai'i wearing their colorful shirts and board shorts. Although President Harry Truman was not Hawaii's president, as his term ended in 1953, he and his staff helped Hawaii's Fashion industry progress.  In this shot, most of his staff, including the president himself, sported lovely Aloha Shirts.
Aloha Friday – Starting as a plea to the Honolulu Chamber of Commerce, in 1946 there was a request to wear more lightweight clothes in the summer months.  Aloha Shirts and Aloha Wear made their way into the workplace during those summer months.
Then, in 1960, Aloha Friday was born. 
On Fridays, everyone could come to work in casual wear (what eventually became known as Aloha Wear). Later this would become Casual Friday across the mainland. 
Simultaneously, Aloha Shirts and Dresses appeared as uniforms for Disneyland and other big-name companies.
Called Operation Liberation, the Hawaiian Fashion Guild gifted each member of the State of Hawai'i House of Representatives and Senate two aloha shirts, which helped propel the idea of  Aloha Friday.
A song was specially written:  It's Aloha Friday, no work till Monday…Listen Here
Alas, like many things in the '80s and '90s….
…the massive popularity of The Aloha Shirt became its downfall.  Cheap offshore manufacturing forced Hawaiian manufacturers to struggle to compete. Big-box stores like Costco and Walmart stocked the cheap renditions from abroad. These knock-off shirts, found throughout the country and in Hawai'i itself, blatantly copied the original designs.  Adding insult to injury, they were made with dismal, synthetic fabrics. Synthetics like nylon and polyester were scratchy and not as comfortable as the original designs. This further ruined the stellar reputation of the authentic Hawaiian Shirt.
This helps to explain why the original shirts or even replicas can be so expensive. 
Through the decades, Hawaiian designs gave The Aloha Shirt its broad appeal. Original shirts with original labels are collector's items now.  Some can be worth thousands of dollars. 
The sought-after local shirt and clothing designer Sig Zane, still prints and sews most of his designs right here in Hawai'i. He says…
"You can't blame outside designers for always copying Hawaiian designs. That's because we are the paradise and dream state." 
Sig's creation and manufacturing of his designs is drawn from the Hula ceremony depicting the ancient dressing ritual. It is a beautiful and hypnotic hula that illustrates the sacred act and ceremony of slowly donning the special lei and clothing worn for the Hula Kahiko*.
Sig's designs are intentional.
They are created to channel the mana* from the piece of clothing to the wearer in the same way the dressing ritual channels mana into the hula dancers before their performance.  
There is a profound aspect of Hawai'i which is often misunderstood. When a facsimile of a Hawaiian original is made without incorporating the Hawaiian heart and soul, something is lost. It can be fun to wear an aloha shirt that follows the latest fashion trends and have a Mai Tai or Pina Colada. Absolutely!
But…
…to put on an authentic Aloha shirt, created with respect for its place, culture, and long island history, now that's an experience of mana! That is diving into the heart and soul of Hawai'i! It's like putting on the magic of fragrant tradewinds, the crashing surf, and the Kani pū* blowing far off in the distance.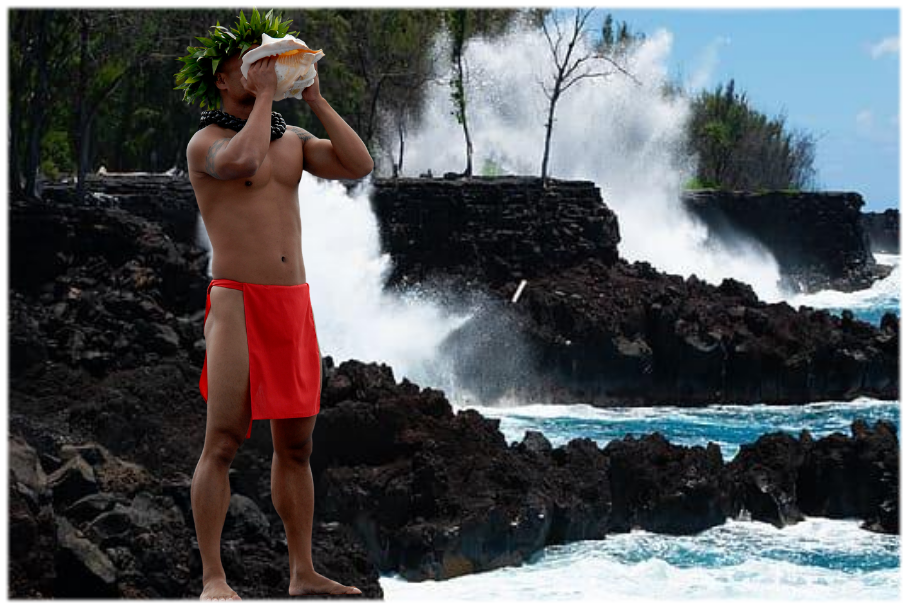 Aloha Wear is an interestingly rare and unusual fashion trend in Hawai'i that is still extremely popular and continues to be worldwide.

Writing and Graphic Design by Sugandha Ferro Black

GLOSSARY* of Hawaiian Words
Hula Kahiko – Ancient Hula
Kani pū – blowing of the conch shell
Malolo – Rest, adjourn, to ebb and flow
Mana – Divine Power
*Please keep in mind that all Hawaiian Words have many meanings. The meanings we share here are the specific translations for the words as they pertain to this particular blog's subject matter.
Photos courtesy of paid-for or free sources unless otherwise noted.
Title image | © CC BY-SA 2.0 Vera & Jean-Christophe/Wiki, Disney Shirt & Mickey and Minnie | © CC BY 2.0 Poonkaming/wiki, Astronauts | © NASA Oral History, Statehood | Public Domain/wiki