Last week we embarked on our discovery journey – WHY Maui has received the distinction of being rated in the top 25 of the world's best 25 islands, 20 years in a row.
What is it that makes her stand out – be the best – among all the islands in the world?
In last week's blog, we covered a few of the qualities which make Maui one of the very best. Her beaches are perfect in every way, and exquisite sunsets and brightly colored rainbows.
This week, let's talk about Maui's distinctive features from a different angle.
Let's explore waves, waterfalls, and everybody's favorite
–
The Road to Hana
!

And, by Waves, we are talking about some of the best, most consistent waves on Earth!
Hawaiians called the art of surfing he'enalu or "wave sliding." In ancient Hawai'i, the fun-loving, playful Hawaiian people incorporated it into everyday life and culture.
In ancient times top surfers were often from the upper classes, including chiefs and warriors. Back then as well as now, an agile, skillful surfer who had mastered the waves was respected by all.
Everyone has immense respect for someone who can drop in on a 70-foot wave face and ride it to its end! That's why the videos shot on Maui of the Big-Wave surfers flying down the massive waves at Jaws in Pe'ahi are constantly going viral.
Maui is fortunate to have a lot of different waves. On any given day, you can find waves for almost every skill set. Though sometimes there are days you will have to wait for the giant waves to roll in on calm, glassy seas.
You can find the one-foot rollers most days, perfect for longboarding and for beginning surfers all the way up to the 6 to 8-foot advanced waves.
During the winter months, you can find the gargantuan 70 ft. waves at Jaws for big-wave surfers and kite surfers who come from all over the world. It is a magnificent sight to behold.

Dolphins, Whales, and Turtles! Jump in the water with them!
According to the laws in Hawai'i protecting endangered sea life, you cannot actually swim with any of these sea creatures.
But, you can snorkel and swim in the proximity of Green Sea Turtles and Dolphins all year long in Maui. Dolphins are called nai'a in Hawaiian and there are 18 species in Hawai'i. They are island residents and family to Maui.
Many people have said they recognize the same turtle or dolphin year after year when they are in the water.
To be in the water a respectful distance from the whales (or see them), you must come to Maui between November and May, with December through March being the prime time.
Waterfalls and Freshwater Pools!
Few Maui activities are more Classic Hawai'i than hiking to a beautiful waterfall and lounging around a picturesque pool or pond as the birds sing and you go for a dip or three. That, plus a nice picnic and you have a day you will never forget!
Some waterfalls and freshwater ponds are easy to get to, and some will have to put in some hiking time. Either way, waterfalls, and freshwater ponds are a reward once you arrive. Roll out your blanket, take in the pristine setting, and let your cares drift away.
Dipping in the freshwater pond after warming up on a gentle hike through a bamboo forest is one of life's best adventures. You can do this in Hana or even on your way to Hana if you leave early enough!
Of course, some of the waterfalls are so remote you will only be able to experience them from a distance, weather permitting, in a helicopter. Like Honokohau Falls, the 1,100-foot falls featured in the film Jurassic Park.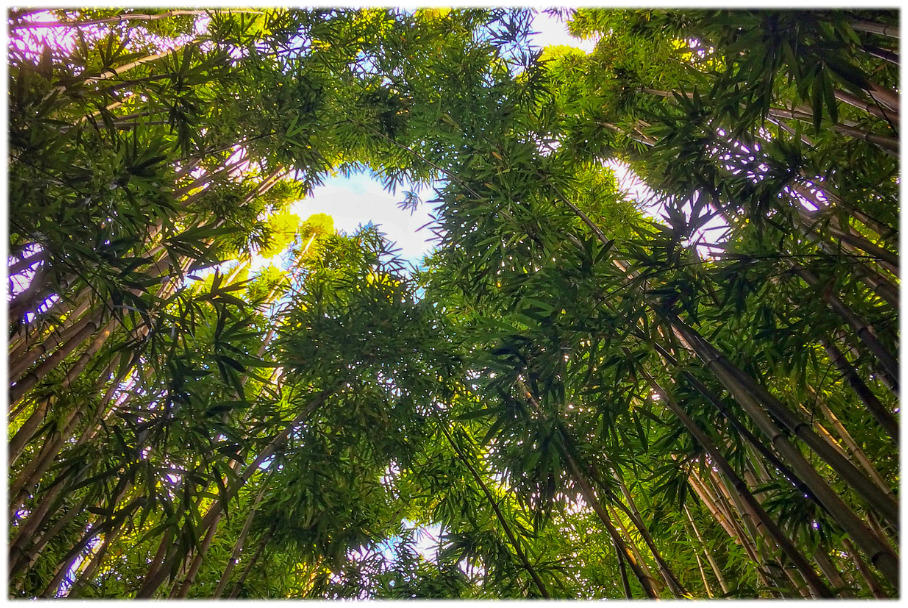 A Bamboo Forest Hike is a Must!
Some scholars say that bamboo was initially brought to Hawai'i by the early Chinese laborers. It is definitely growing near many of the old Chinese Immigrant's camps and settlements.
There is also a bamboo forest on Maui that is said, according to legends, to date back to ancient Hawai'i.
Either way, hiking through a bamboo forest is beautiful and mysterious. The look, feel, and musical sounds of the bamboo in the breeze are mesmerizing. It is an experience that everyone must have at least once. Once you go, you will thank us!
Now, for the most fabulous jewel in Maui's crown!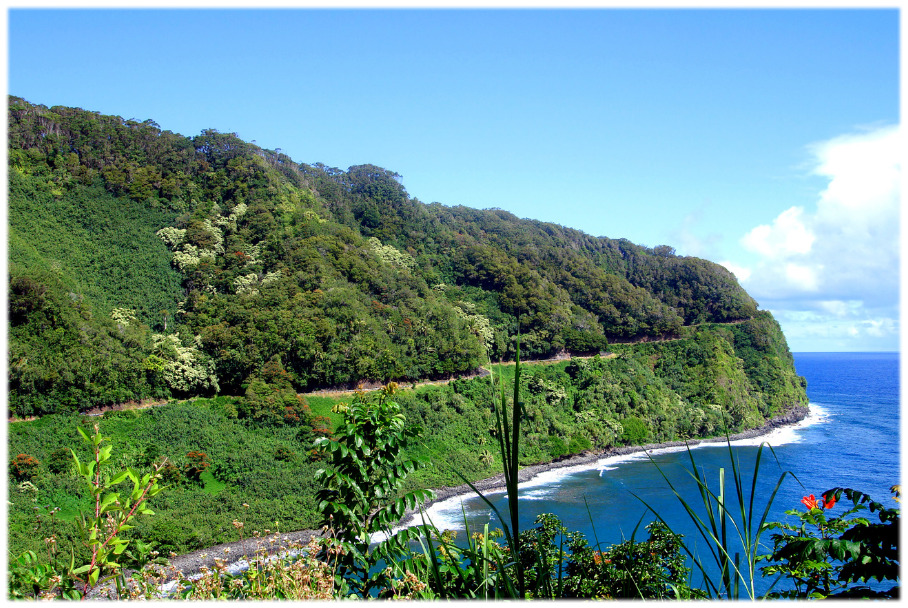 The Road to
Hana
The Road to Hana is an adventure that brings locals and visitors returning again and again. It is a refuge, a sanctuary, and a playground of natural delights, all at once!
The Road to Hana has many secrets to reveal. To just visit once is only a tease. You WILL want more!
This adventure is more than roadside yummy snack stands and waterfalls and pools. There are stunning, one-of-a-kind beaches, bamboo forests, waterfalls, freshwater pools, and all the other delights that bring people to Maui wrapped up in one package.
Have you ever smelled a whole field of white ginger flowers? There are several on the way to Hana.
If you are considering a day trip, we always recommend that you let someone else drive! There are 617 curves and 54 one-lane bridges to maneuver. If you leave that to the professionals, your one-day journey on the Road to Hana will bring great satisfaction. You will arrive rested and ready to hike, swim and get One-on-One with life!
Naturally, we encourage you to check out our Road to Hana options. The trip in our Luxury Limo-Vans, with someone else doing the driving AND cooking, lives up to its name and 5-Star reviews.
Whatever you decide, your day trip to Hana will be filled with memories that will last a lifetime.
We have shared some of the many aspects that make Maui one of the best places in the world to visit.
Of course, we can't cover every nuance that has made Maui one of the top islands worldwide for 20 years. But, this blog gives you a few things to get your imagination working.
Maui is 727 sq miles, close to the size of Vermont. Imagine having so many exciting things to do on this small island WAY out in the middle of the vast Pacific Ocean?
From the things we have been writing about today and last week, now you can see why Maui is one of the top vacation destinations.
You can come for Maui Bliss – relax the days away.
Or, fill your days with excitement and new experiences.
By the way, Maui Bliss IS another of the many reasons our visitors return time and time again.

Writing and Graphic Design by Sugandha Ferro Black

Photos courtesy of paid for or free sources unless otherwise noted.