Everyone loves a parade! We have heard that saying for ages. When it comes to parades, people on Maui are no different. Especially the residents of Makawao town, where local people have gathered for the last 64 years to participate in a four-day event, the colorful July 4th Paniolo* Parade and Rodeo! 
The town spends months preparing for and planning the annual event, highlighting the Paniolo culture of Hawai'i. Particularly Upcountry* Maui. 
A few weeks before July 4th, the local businesses begin draping their storefronts with red, white and blue. Fireworks are collected, horses groomed, and costumes and lei made. 
Cowboys and cowgirls, from ages 7 to 70, are riding and roping to hone their skills that they have worked on since last year's rodeo.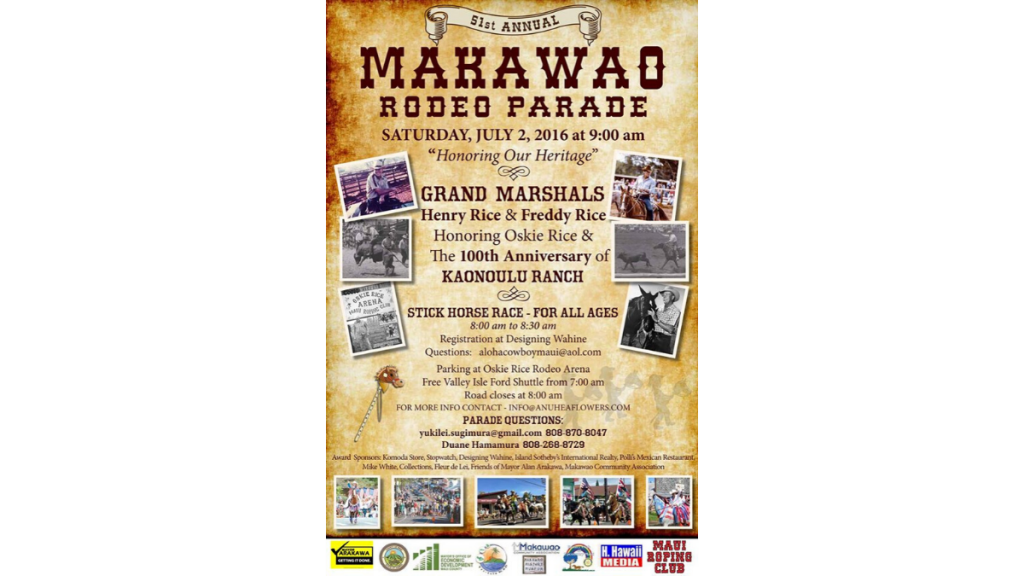 From Country & Western floats with line dancers to the rodeo events like barrel races, steer wrestling and stick horse races for the children, this is THE big event of the year! 
Wait! Hawaiian Cowboys? Rodeo?
Yup pardner, you read it correctly – Makawao has a long heritage as a paniolo town. It is known for its Hawaiian Cowboys. You can still see them ride through town and tie up their horses at the wooden hitching posts that are still there from days gone by. 
Naturally, these days, they are probably just out for a casual ride and come into town for a Plate lunch!
Like many other unique aspects of Hawai'i, the cowboys have a colorful history here. Starting around 1830, when the introduced cattle became out of control.  
Kamehameha III sent a royal request to a few missions in California. He asked for some vaqueros to come to Hawai'i, three per island, to teach the locals how to rope, herd and manage the cattle. 
Apparently, the locals were quick learners. In only 80 years, by 1908, three riders from Hawai'i  went to compete in the biggest rodeo in America and wowed the crowd!
Which rodeo? The Frontier Days in Cheyenne, Wyoming. A world-renowned event. Their abilities, which seemed to come out of nowhere, shocked the massive crowds of spectators at the huge event. Thus began the reputation of the Hawaiian Cowboy as a top-notch rodeo competitor! 
Makawao Rodeo & Paniolo Parade
The celebrated Makawao Rodeo, held each Fourth of July weekend, is the highlight of Makawao's cowboy and cowgirl culture. Every year, it showcases Hawaii's best ropers and riders, young and old, male and female! The cowboys and cowgirls keep the town lively from Thursday morning to Sunday evening, only stopping to groom and primp their horses for the parade Saturday morning.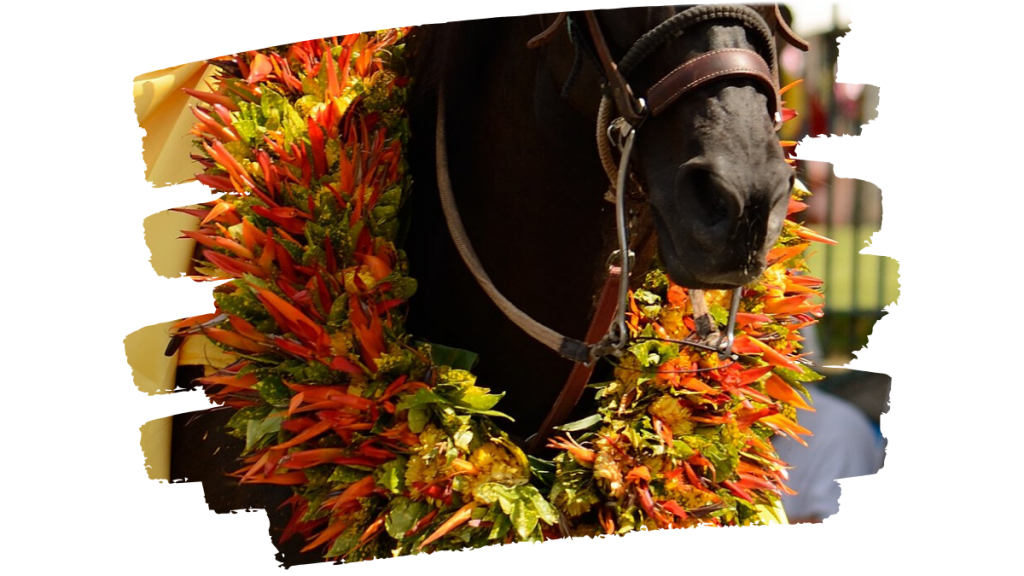 The rodeo features amateur and professional rodeo exhibitions and competitions, including bull riding, steer chasing, calf roping, mugging, bronco riding, and breakaways. There are over 350 participants from Hawai'i and various parts of the world. Yes, it's BIG!
The Parade is a True Hawaiian Experience 
The colorful parade of floats and marchers draws participants island-wide and is generally on the Saturday closest to the 4th of July. The ritual helps to preserve the heritage of the Upcountry Paniolo. It is a staple of the upcountry ranching culture. It also gives our visitors a glimpse into the lives and cultures that shaped Maui's island culture, both yesterday and today.
You will see horses and riders decked out in their most elegant apparel, with beautiful, intricate lei for both horse and rider. Plus, many fancy, hand-tooled saddles, made by local craftspeople.  Gorgeous hats donned with unique and colorful haku lei* – it's a time to be entirely over the top!
Pā'ū Riders with 2 Paniolo
In addition to the paniolo culture, including plenty of Country and Western music, you will find the island melting pot – the Celtic Bagpipe Band, the local businesses with fun, creative floats and displays, the governor and other political greeters.  Everybody is there!
Some yearly participants are:
Maui Classic Cruisers Car Club  
Pā'ū Riders – more about these lovely ladies in our Multicultural Community Blog HERE
Marching Bands – High School, Community or US Pacific Fleet Band
Celtic Bagpipe Band – Yes! Maui has a rather big Celtic Community
Politicians and other greeters – The Governor has been known to make an appearance
Island Business, Local Fire Trucks and of course…
Paniolo riding on their
lio*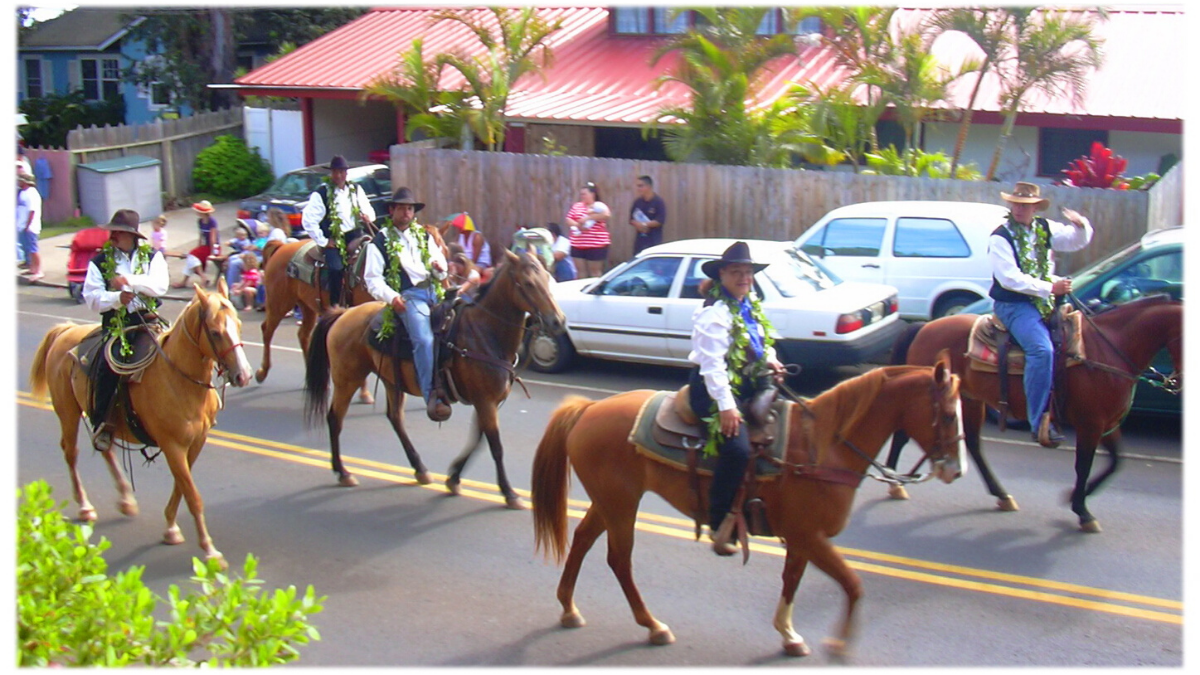 The celebration is still, primarily about Paniolo. It focuses on honoring the past, present and future Paniolo of Hawai'i.  
One of the highest honors for any cowboy is to be asked to be the Grand Marshall of the parade. And of any cowgirl to be the Rodeo Queen. You will see this very beloved pair ride in and get a standing ovation. They represent all the history of upcountry cowboys and cowgirls.  Especially the ones who are no longer with us.
Hawaiian Cowboys and Ranching
The Maui Roping Club was founded in 1955 by George Manoa Sr. and Oskie Rice.  Being from multi-generational ranching families, they wanted to perpetuate their roots.  Infatuated with both cow punching and competition, the families were inspired to help keep the traditions alive. 
Maui Roping Club is composed of elderly and young Hawaiian Paniolo, with roots as far back as Kamehameha I and the Hawaiian Kingdom era. Today it is composed of decorated military-veteran cowboys, lifetime cowboys and their families.  Still a multi-generational sport, hobby and lifestyle.
One year after the inception of The Maui Roping Club, Oskie Rice and his family generously donated a part of their ranch to open The Oskie Rice Arena for the club to have a home and a place to have rodeos. The rest is history!
Upcountry Cowboy Culture – Here since the Late 19th Century
The famed cattle drives of the Wild West were still a generation away when on the pastures of the Hawaiian Islands, Paniolo were already working the cattle. Imagine, there were Hawaiian Cowboys before there was ever such a thing as an American cowboy. 
Cattle were raised for dairy products and beef.  Makawao even had its own, small meatpacking plant once upon a time. 
Ranching would become Maui's third-largest industry after sugar and pineapples from 1893 until 1927.
Much has changed since then, and now, the Maui Cattle Company sells local beef to restaurants and stores island wide.
It is not as big or as popular as the years gone by, but the cowboy culture is still alive. The passion and dedication are the same as those first paniolo who rode into Wyoming and dominated The Frontier Days Rodeo competition.
If you plan to visit Maui in the summer, consider adding in these timeless celebrations to your plans.  For those who have never had a rodeo experience, you will learn a lot and have fun doing it.  
Besides, who can resist the nostalgic Independence Day popular foods? An American hot dog, loaded with grilled onions and spicy mustard. And for dessert, since Komoda's Bakery* is right down the road,  it is a great excuse for deep-fried donuts, or malasadas, doused in chocolate sauce. Eat and enjoy while the crowds cheer on the fearless competitors.

Writing and graphic creation by Sugandha Ferro Black

Announcement: As of today, June 26, 2020, we imagine you can guess our sad news.  For the first time in 64 years, this annual event, like so many others worldwide, has been cancelled.  We are not disheartened, because we know that the Paniolo culture in Hawai'i is strong and we will put on the saddles and boots next year and pick up where we left off.
GLOSSARY* of Hawaiian Words
Haku lei – Wrapped lei for a hat, rather than sewed or strung with string
Komoda's Bakery – Founded in 1916, Komoda Bakery in Makawao is famous for its cream puffs, malasadas and a variety of baked goods
Lio – Horse
Paniolo – Cowboy – a version of the word, Español, from the original Spanish vaqueros who came to teach our Paniolo
Upcountry – for us in Maui, it means, Makawao, Kula and Ha'iku
*Please keep in mind that all Hawaiian Words have many meanings. The meanings we share here are the specific translations for the words as they pertain to this particular blog's subject matter.