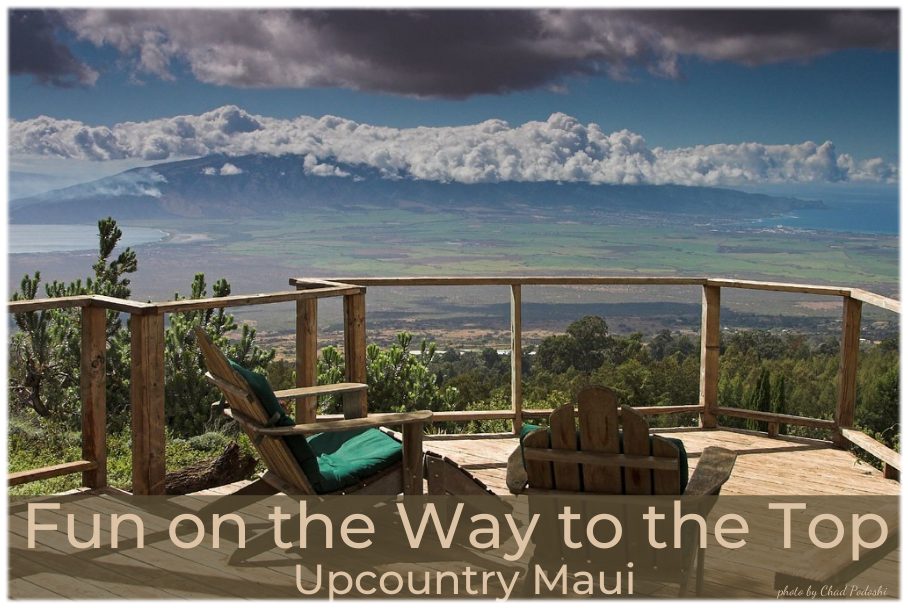 We have chatted often about the remarkable area of Maui known as Upcountry; an area far from town, with a varied and rich history. We told a tale of cowboys, ranching, and an improbable winery, MauiWine located in 'Ulupalakua.
Today, we go off the beaten path, to some more of Maui's unknown gems hidden away in Upcountry Kula. 
When people born and raised on Maui come upcountry to Kula and Keokea, the first thing they acknowledge is that this is God's Country. It's literally that beautiful, peaceful, and serene.
Because Kula temperatures are substantially cooler than the climate at sea level, it is renowned for the incredible flowers which flourish there.
Here are 2 stories of Upcountry jewels which have put Kula on the map:
1st Stop – Ali'i Kula Lavender Farm 
Tranquil Beauty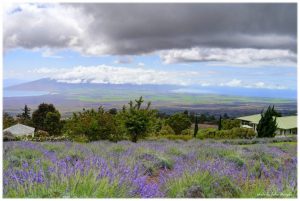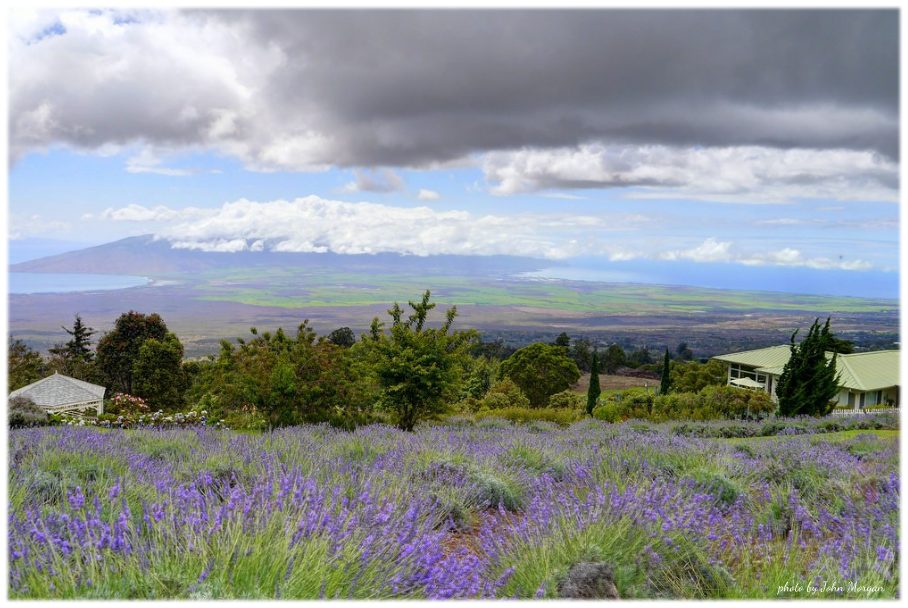 Ali'i Arlington Chang, born on the island Oahu, received his first lavender plant from his dear friend, Emma Veary, the legendary Hawaiian vocalist in 2001.
Since Ali'i was a master gardener & true visionary, it is no surprise that his first lavender seedling grew well on his farm situated around 3,000' on the slopes of Haleakalā. So well, that Ali'i decided to plant more varieties, a whole lot more!  By the time he had planted 25 varieties of lavender, Ali'i Kula Lavender farm was born.
Today there are 31 different varieties of lavender growing on the farm.
They bloom abundantly every summer, while ten of the French and Spanish types bloom year-round.
The lavender plant's family tree originates in the Mediterranean. Nowadays, over 200 varieties are beautifying the planet. 
The plant's history dates back more than 2,500 years ago …
… when the people of Arabia, Egypt, Phoenicia, and Rome appreciated the plant for its beauty, fragrance, and calming properties. 
The flower's name, Lavender, comes from the Latin word lavare, meaning to clean or wash. This is because the ancient Romans used lavender in their baths to cleanse and instill calmness, grace, and serenity. This is only one of the numerous uses for this fragrant herb.
Ali'i Chang's Lavender Farm has more lavender varieties in one place than anywhere else in the world. A testament to what is possible in Kula!
Give yourself the gift of time when you go to Ali'i Kula Lavender Farm. Chill out with a lavender scone, smothered in lavender honey with lavender honey tea. The lavender lemonade is to die for! 
Or, go sit alongside the life-size Buddha and enjoy the vast Pacific Ocean panorama. It is a perfect place to have a relaxing walk around beautiful gardens, take in the epic views, and let the lavender calm your soul. 
2nd Stop – A Plant Lover's Dream – A Stroll Through Kula Botanical Garden
There is something about Kula – the area just makes you want to get outside and grow and propagate plants! The McCords, who started planting the The Kula Botanical Garden in 1968 and who still give a tour upon rare occasions, are another family captivated by gardening upcountry.  
The garden area is open for strolling and covers six acres in a multi-level, hillside terrain off the upper Kula Highway. The McCord's property covers 25 acres, with a Christmas Tree farm and coffee farm above the Botanical Garden.
Varieties of Protea
The garden has easy walking paths, which will let you experience over 2,000 types of indigenous plants plus a varied display of proteas and other fragrant flowers and plants. 
Proteas are one of the leading plants in Maui's floriculture industry.
The garden's diverse landscape includes a stream bed and a large koi pond. There are even a couple of resident Nēnē geese, the state bird of Hawai'i.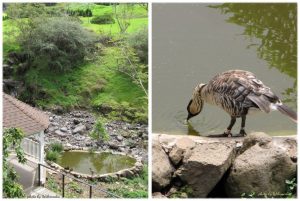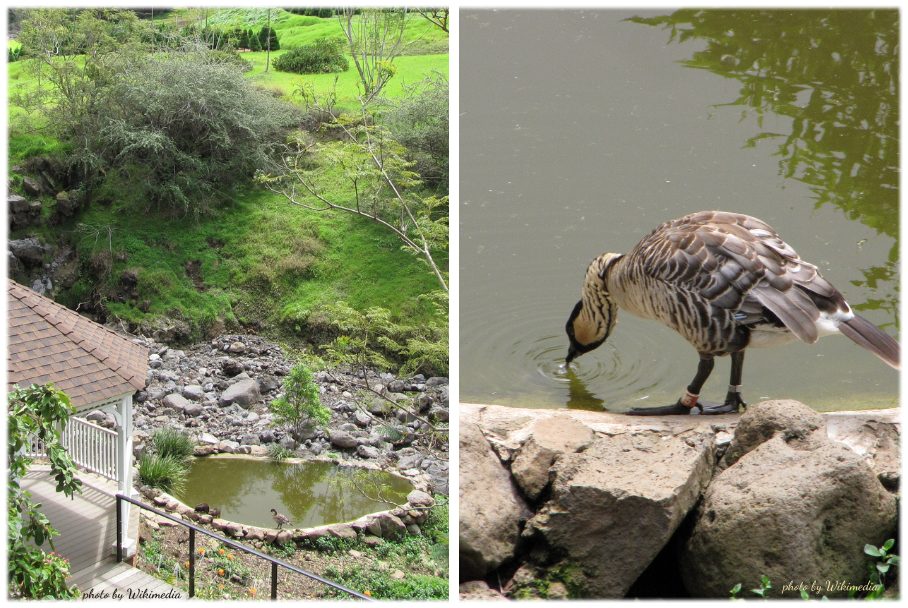 There are Gazebos that grace two lovely sites for weddings. A large and a small one.  Once the wedding vows are given, there is also a  large grassy area for the reception. 
For sky-watchers, the grassy area is a perfect place to watch the August Perseid Meteor Shower or any passing comets, such as NEOwise of 2020. 
We will end our story of The Kula Botanical Gardens with a message from Warren and Helen McCord, the founders:
"Please join us for a stroll through our garden. Each individual plant and tree has a story to tell and we would like to share that with you. Beautiful flowers in a natural setting  are found around each turn. We know you will find peace, contentment, and beauty at Kula Botanical Garden."                  The McCords
Relax at The Kula Lodge and Restaurant
Coming down the mountain after sunrise, or want the ideal spot for a sunset cocktail and pupu's? We have the perfect place for you.
The Kula Lodge was built in the 1940s as a private residence.  Not more than 10 years later, it was converted into a lodge and restaurant, and five chalets or guest cabins.
The idea was to have a place for people to stay upcountry; encourage people to spend time on the slopes of Haleakalā. Something we are still doing today.
Kula Lodge offers great views of the sun setting over the ocean and Kahalwai (the West Maui Mountains – home of ʻĪaoValley).
Enjoy a pizza from the garden terrace's wood-burning pizza oven while you wait for the Green Flash!

The View Outside of Kula Lodge
Join the locals! They know that on a clear day, Kula Lodge, with its spectacular view, is amazing for breakfast, lunch or dinner.
Wait! There's more.
Kula Lodge is also home to Kulala Spa if you are interested in a massage or facial before heading back down to the beach.
Since 1985, Kula Lodge has been the original showplace for the fine art of Curtis Wilson Cost. He is the internationally known upcountry artist that started painting his classic scenes from Maui in 1973.
Since then, he has spent his life, exploring the special, soft, Kula light; the private scenery of hidden upcountry cabins or the stunning beauty of the purple jacarandas in bloom. Things only found in upcountry Maui.  
AND…
The Kula Marketplace is next door to the Kula Lodge, and offers us everything from museum-quality sculptures to designer island clothing. 
And for the foodie, the Marketplace has quite a few Maui-made, special treats, like macadamia, coconut, honey-peanut butter. It's so good, it should be illegal! 
We are not through our grand list of wonderful things to do in Upcountry Maui, but we are sure you are ready to join in the fun by now. 
It would be a sin to miss out on these island experiences.  
Of course, you can't do everything unless you are spending a lengthy time here.  Everyone needs a little downtime. We all need time to hang close to home, sleep in, or go to bed early. 
You can always consider a night or two upcountry, and you will really get the chilled feeling of upcountry living, or being a mountain person for a few days. 
Upcountry, the sunsets are spectacular, the star-gazing of the black night sky is fantastic, and the sense of the old ways is prevalent. Not to mention the tangible feeling of a Hawai'i from the past. 
Upcountry is so good, it should almost come with a label.
WARNING!
You may fall in love with this part of planet earth and end up quitting your job and moving here full time! Proceed with caution! 
Those who make this mistake and end up living here feel grateful every single day. All that is required is to wake up and be here. Yes, it is THAT good!

Writing and Graphic Design by Sugandha Ferro Black

Photos courtesy of paid for or free sources unless otherwise noted.
Title view with chairs | © CC BY-NC-ND 2.0/Chad Podoski/flickr, View from Kula Lodge | © CC BY-NC 2.0/Chad Metagrrl/flickr, View out of Kahalawai | © CC BY-NC 2.0/Marcus Winter/flickr,, Lavender Farm | © CC BY-NC 2.0/John Morgan/flickr,, Protea, Nene, Gazebo | © CC BY 2.0 Forest and Kim Starr/flickr