Remember this

⇓⇓⇓

bumper sticker?
Our destination for this week is Wai'anapanapa*. It is a place many residents and visitors are grateful for. So much so, that they want to declare it to the world with this bumper sticker. Wai'anapanapa is a retreat from the hustle and bustle of everyday life, where things move slowly, where…
If you don't get it done today, there's always tomorrow.
Walking around the land of Glistening Freshwater, called Wai'anapanapa, you immediately recognize from all the ancient, abandoned settlements, that this area was once home to a thriving Hawaiian community.
From the abundance of fresh water, seafood, and fertile land for food crops, Wai'anapanapa has always been a true paradise. 

Wai'anapanapa on a calm day
When it comes to beaches, it may surprise you that one of the most beautiful Black Sand beaches on the island is within the area which is named Honokalani*, an area that today we call Wai'anapanapa State Park. 
This famous Black Sand Beach at Wai'anapanapa State Park, according to history, is called Pa'iloa.
From this beach, you can view the ocean sparkling and glistening in the sunlight, or perhaps shimmering as the moon rises on a bright, cloudless night.
Pa'iloa is nestled in a beautiful cove, surrounded by verdant sea cliffs with indigenous sea birds swirling in the air overhead.
Wai'anapanapa is a small, 122-acre parcel, of what was once an ancient, tropical metropolis. It stretched for miles up and down this flourishing coast. You can still hike the rough shoreline trail, as the Hawaiians once did.  Go east from Honokalani to Hana town or west toward the site of the current Hana airport.

Wai'anapanapa on a breezy, tradewind day 
During your hike, you can find a treasure trove of hidden gems. There are old settlements, Heiau, and the old trail paving stones, which still remain in place. The largest religious site or Heiau* in the State of Hawai'i is also on this trail. 
To whet your appetite for a Wai'anapanapa adventure, here are 6 unique areas that deserve your time during your visit(s) to Hana:
Sea Stacks – Sea Stacks are sizable lava rock pedestals that have risen up from the ocean floor. Over time, the pounding surf has worn away all the softer rock and created many impressive columnar structures. Many stacks along this rugged coastline are covered with vibrant species of plants that produce a comfortable and safe nesting and resting place for the many seabirds you will see.
Blowholes – Also called a marine geyser, it forms as the sea carves out caves that grow towards the land and up into vertical cylinders. The results are compression of the incoming waves, which the ocean releases as a seawater geyser, through the top at the blowhole. If the sun's angle is right, beautiful rainbows appear. It's always a crowd-pleaser! Just don't get too close if you don't want to get wet.
Hawaiian Cemetery and Ancient Homes – Walls, remnants of house structures, Heiau and gravesites are sprinkled all along this coastal area. This area was home to many ancient Hawaiians. This is proven by the over 34* ancient sites found here.
Anchialine Pools – A pool or pond that is a landlocked body of part fresh, part ocean water with a subterranean connection to the ocean. Anchialine means "near the sea" in Greek. The kupuna* tells a story of this cave where these pools are located, from long ago. (story below).
Natural Stone Arches and Caves – You can't miss these phenomena of nature sprinkled along the water's edge.
Seabird Colony –  As you look out, you will see a small island that is the home to Noio or the White Capped Black Noddy Tern.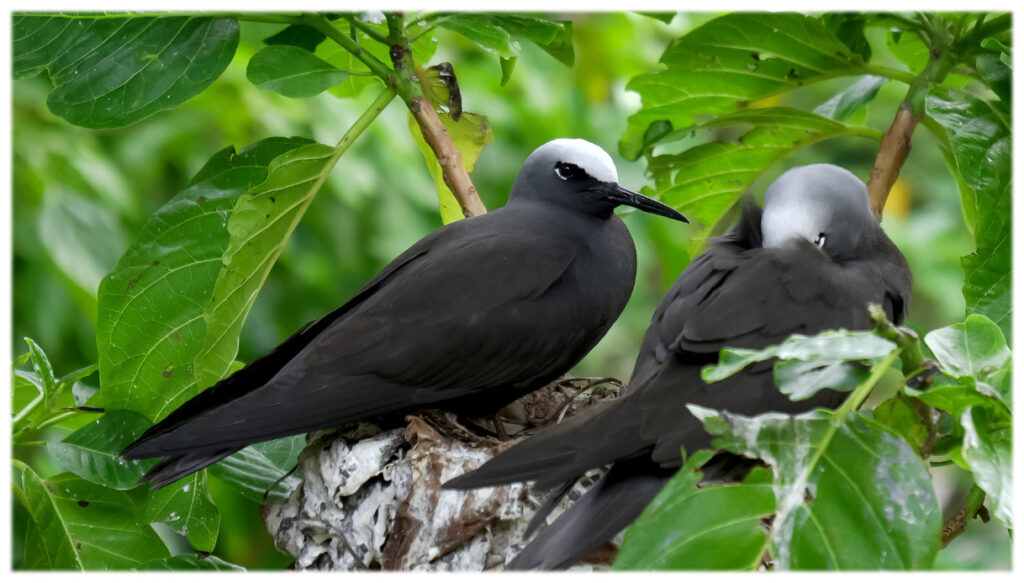 There are a  variety of birds living on these acres among the native hala

*

forests, so bring your binoculars! You will want to look out at the rock formations and watch the mischievous seabirds that
always delight visitors.
These are the phases of Hala, which may result in a beautiful lei*
Bonus! If you are here during Whale Season, binoculars will be very helpful to see the whales up close and frolicking out in the glistening ocean waters near the Wai'anapanapa coastline. 
Hawaiians are deeply connected to the land.  In ancient times, stories and legends of love and life were used to explain naturally occurring events. Here is a story from long ago, as told by Maui's Kupuna*, about the mysterious red color in the freshwater pools at Wai'anapanapa.
The Long-Ago Story of the Freshwater Pools at Wai'anapanapa
Once upon a time, a Hawaiian princess named Popoalaea fled from her cruel husband, the Chief Kakae. She hid on a ledge just inside the underwater entrance to this cave.
A faithful serving maid sat across from her, fanning the princess with a feather kahili, the symbol of royalty.
Noticing the reflection of the kahili in the water, the Chief Kakae discovered Popoalaea's hiding place and killed her. At certain times of the year, tiny red shrimp appear in the pool, turning the water red. Some say it is a reminder of the blood of the slain princess.
Then you will know why so many have called this place their home away from home.

 
Glistening sea and freshwater, kolohe* birds, long cliff strolls, showered with memories (and mist), make a life-time of memories of those who have come here. 
Top off your Road to Hana adventure at Wai'anapanapa.
You will not regret it! No matter how many times you visit, you will always long to come back.
Wai'anapanapa is Hana's jewel.
Hana beckons us again and again and again. 
Join us in the next weeks to discover more about the charms of Hana.

Writing and graphic creation by Sugandha Ferro Black

GLOSSARY* of Hawaiian Words
34 ancient sites (some of the recorded sites) – One heiau, 5 cave shelters, an ancient trail, 1 pictograph, 2 v-shaped shelters, 5 miniature enclosures, 3 shelter walls, 2 house platforms, and several burial sites.
Aloha – hello, good by, love, compassion, beloved, fondness, welcome, grace…to name a few of the many
Hala – a species of Pandanus that is native to Malaysia, eastern Australia, and the Pacific Islands
Heiau – temple
Honokalani – Bay of the Heavens
Kolohe – a rascal or jokester
Kupuna – Elders
Lei – garland made with many varieties of flowers, greens, and plants to wear on your neck, head, wrist or ankle
Wai'anapanapa – glistening fresh water, due to the abundance of freshwater pools and streams
*Please keep in mind that all Hawaiian Words have many meanings. The meanings we share here are the specific translations for the words as they pertain to this particular blog's subject matter.
Photos courtesy of paid-for or free sources unless otherwise noted.