We are always super excited to welcome our friends and fellow adventurers, from afar, to Maui.
These last couple of years, many of us have wondered if we would ever travel again.  Now, as we slowly get back to normal, we want you to know, first and foremost, that we at Temptation Tours will always make your health and safety, along with that of our staff, very seriously. 
As Maui's only true, luxury, small-group tour company, we created for all of our guests the industry's first:
  Safeguard Promise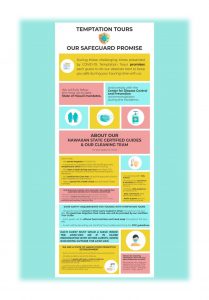 We will always put the health and safety of our guests and our family at Temptation Tours first.
Let's Circle Back to Hana: Why Folks Never Want to Leave
We recently gave you Part 1 and Part 2 of Why You Will Never Want to Leave Hana.
In Part 1, we talked about some beautiful stops along the way. The vistas for Honomanu Bay and Ke'anae Peninsula from Kaumahina are exquisite.  And of course, we went through a bit of history but kept our stories more on the Hana of today. 
We included some special interest stories of a few famous people who have chosen remote and unique Hana to call home.
In Part 2, we talked about more magical spots. We shared some of the magic of Waianapanapa, which translates as Glistening Waters. And is well known for its beautiful black sand beach, cold water pools in the caves,  the long coastline hikes, the wildlife, and more.
To go there is impressive enough, but to know more about the history of this enchanting place dramatically enhances your experience of being there. Also, the memories of this place stay with you long after you leave and return home. 
Here are a few of the exciting sights we covered in Part 2, to help you know what to look for before you head to Hana on your next visit:
What are sea stacks?
What makes a blowhole spray?
What are those birds called out on those small islands?
And, the legend from long ago of the Freshwater Pools at Wai'anapanapa
AND – we let you know why THIS bumper sticker is so popular:
Now We Come to Part 3 of Our Hana Series! 
And the surreal Rainbow Eucalyptus trees, which you must see to believe. 
Plus, a couple of idyllic waterfalls you can explore on your way to Hana. You may even decide to have a quick dip in the refreshing mountain water in the pools near these waterfalls.
Rainbow Eucalyptus Trees
The iconic Road to Hana features an overwhelming abundance of unreal beauty as it winds its way in the middle of the rainforest of East Maui. 
Near the beginning of the trip, which is filled with curves and waterfalls, there's an intriguing spot some folks like to call The Painted Forest.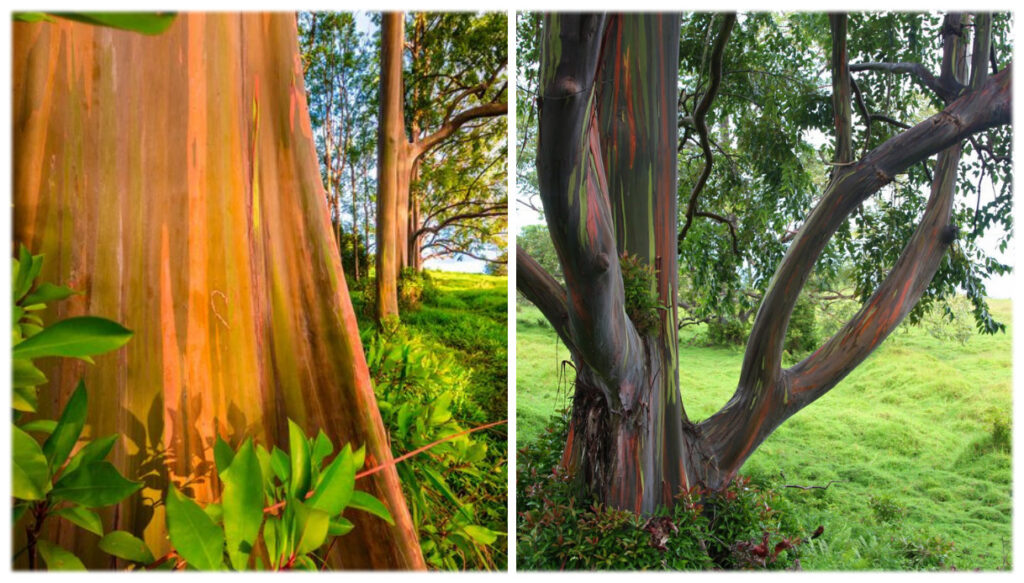 This Painted Forest got its name from the Rainbow eucalyptus trees living there, which are a sight that causes most people to do a quick double take! Grouped together – it really seems like you are in a forest on a different planet. There is no description to convey the phantasmagoria of these dream-like trees!
Take some time to stop and walk among the trees and appreciate this one-of-a-kind beauty. A few photos are in order, as back home, no one will believe that they have not been hand-painted.
Now, Everybody's Favorite – The Waterfalls on The Road to Hana
The waterfalls along The Road to Hana all have names, history, and beauty. Some are thundering cascades of raw power.  Others are sweet, quiet spots with a pristine pool to cool off in. 
Of course, there are too many to describe here, but we must tell you about a couple of extra-special ones so you don't miss them.
Hanawi Falls
One of Maui's most cherished and spectacular spots is Hanawi Falls. It is located just past mile marker 24. The water at the lower falls cascades from 200 feet above. 
Because of the surplus of water at its base, the falls cascade year-round.  It has been called one of the most prodigious waterfalls in Hawai'i. Also, one of the most photographed.
The water source of these falls is one of the most pristine streams on Maui. It continues down the mountainside from the falls and flows down near the village of Nahiku, which is a very remote settlement known by some as the former home of Beatles member George Harrison, to name just one of Nahiku's famous residents. 
As you stand and admire the powerful waterfall, the rainforest glistens and you can hear the waves crash from what seems just a few feet away in the vast Pacific behind you. It is one of those unforgettable Hawai'i Moments, which brings your psyche to deep, primordial wonder. 
These are the moments that will come back to you in dreams and dreamy conversations about where you would rather be. Don't worry, these memories will live on.  
Haipua'ena Falls
Relatively small, but better than any postcard,  picturesque Haipua'ena Fall can't be seen from the road. Consequently, many people pass it by, so you may have it all to yourself. You will find it just past the 11-mile marker. You can also look for the Haipua'ena Bridge.
Nestled among rocky cliffs blanketed with greenery, there is a beautiful pool at its base. Ferns grow on the rock wall behind the waterfall, and wild ginger ushers you in, creating an idyllic atmosphere. You may have a sense that you have found the Garden of Eden. It is so perfect!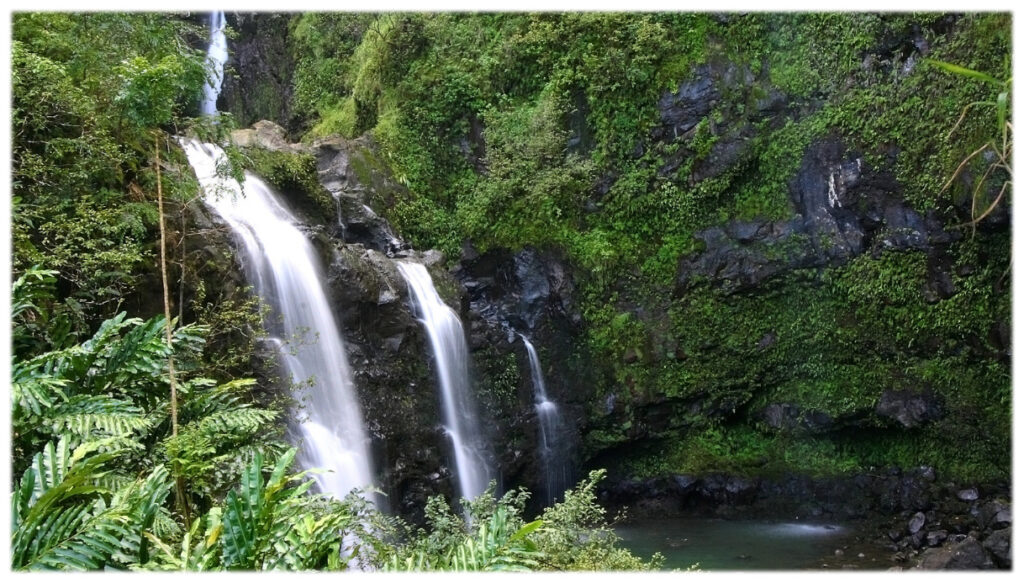 You can swim but do not stand under the waterfall as there is always a risk of falling rocks and other debris. Look around at all the stones lying around. Many of them came from up above!
To come across the Painted Forest, and wonder, "Are the trees moving?" Do they walk around at night?  They are really that wild looking. And then, you come across a vast, thundering waterfall, cascading tons of white water, yet still kind of hidden in the thick rainforest. And then? The sweet, picturesque Haipua'ena Falls and pool, right out of your dreams of Hawai'i? 
Yes, it does sound fantastic, and that's because it is! But don't take our word for it! Hop in our plush captain's chairs and come see for yourself. It's things like this that help us to win awards!

Writing and Graphic Design by Sugandha Ferro Black

TAKE SPECIAL CARE TO STAY SAFE: In the sub-tropical climate of Hawai'i, with no winter to speak of, we must be careful when entering freshwater pools.
As with all freshwater streams and waterfalls in Hawaii, Leptospirosis bacteria may be present in the water.
Do not drink the water and keep water out of all open wounds and eyes. 
Also, if it is raining, flash floods can happen unpredictably. The water can rise several feet in less than a minute. Please take caution and do not go in pools when it is raining or when it is raining higher up the mountain. If rain seems likely, don't hike on a trail that will require you to come back over a waterway that may be rising rapidly or rushing when you need to return home.
Photos courtesy of paid for or free sources unless otherwise noted.