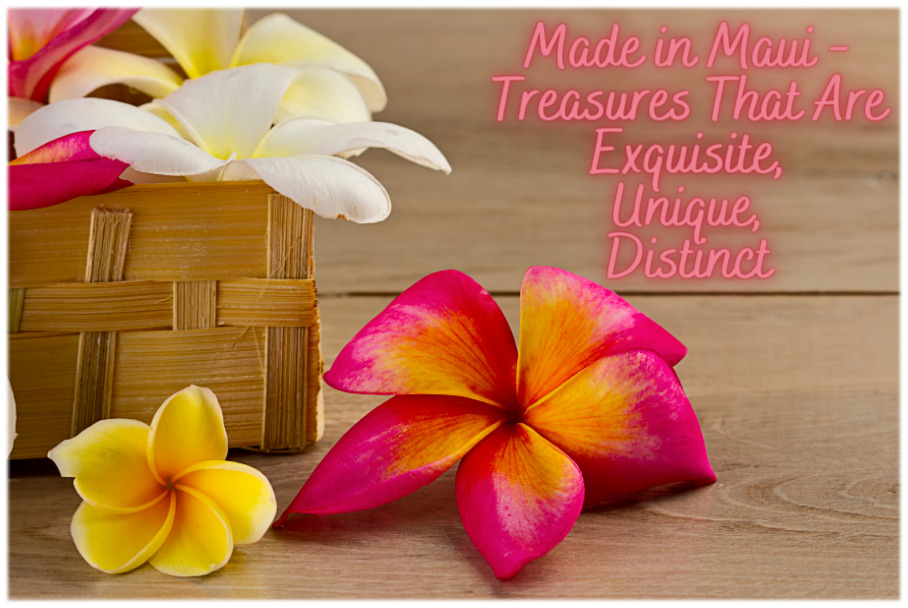 There is so much to love about being on Maui! 
Like walking down a sunny sidewalk in Pa'ia town, window shopping and finding yourself inside a quirky, quaint shop. So many cool things you won't find anywhere else! 
It's easy to have similar experiences Upcountry, in Makawao town or on the West Side, cruising down the seawall in Lahaina. Checking out the super unique shops is very entertaining. Then, there are many wonderful, funky shops hidden away in Kihei, or up in Kula, out in Hana. The list goes on.
The good news is, that all these great shopping victories for lovely things Made in Maui are now possible from the comfort of your own home. Thanks to the greatly expanded online shopping world, you can find what you are looking for and more. 
While we ALL wait for the Return to Normal and see Covid in our rear-view mirror, these creative artisans and artists on Maui are NOT waiting.
They are producing some of their finest work yet!
They can showcase their work to you, thanks to the increase in online events like the Made in Maui County Festival. Don't forget, Maui County includes the islands of Maui, Lanai'i, and Moloka'i.
The Made in Maui festival started back in 2014, and was modeled after the very successful Made in Hawai'i Festival, which began 26 years ago in Honolulu. These festivals were created to bring the many beautiful, diverse, and unique things made in Hawai'i to you.
Now, more than ever before, it is easy to acquire gifts and treasures from Maui from anywhere at any time.
So, even while you dream of your next visit, you can treat yourself to a local tasty treat or a hand-crafted gift for someone special. Or a little something from Maui to brighten up your dark, cold winter days.
Of course, it is always nice to browse a craft fair or one of Maui's laid-back stores. It's fun to meet the artist and touch the treasures.  We will do that again sooner than we think. But until then, here are some very cool places to find precious, useful, and fun items made on Maui. The range of Maui Made products is staggering. That is why we had to write this blog. To update you so you won't miss out!
Besides, shopping at home can be fun too!
Let's look at some of the elegant, unusual, and cool things you can find when you visit Maui or search online.
Ocean Vodka and Kula Rum – It's organic!
When Ocean Vodka® came to market, it made Maui proud.  An 80-acre organic farm and distillery with sustainable practices, it was what everyone was talking about. 
They use a wide variety of organically grown sugar cane plants and desalinated mineral water from 2,300 feet below the ocean surface to create these pristine, state of the art drinkable potions:
Ocean Vodka®
Kula Organic Rum®
Kula Dark Rum® (not 100% organic)
Kula Toasted Coconut Rum® (not 100% organic)
Made in Maui Beer
Since we are on the subject of liquor, it would not be right if we did not mention Maui Brewing Company.  Maui and Hawai'i have been brewing beer for nearly 100 years.  Does Primo Beer ring any bells? It is a Hawaiian icon!
Beer is a thing, right?  And Maui holds its own in the art of crafting beers.  Whether you like an IPA or a blonde,  or a dozen other styles, make sure you taste Maui's age-old process.  It stands right up there with other fine beer breweries everywhere.
Sidebar: Oh yes, and Maui has wine and champagne. Read about Maui's Winery HERE
Made in Maui Paradise – Etsy
Made in Maui has 3500 Etsy shops!  Talk about something for everyone!?  There is everything from artistic, Hawaiian-themed face masks to stationary for under $10. Or, redecorating? You can find a homemade sink for over $1000.
Here is a list we handpicked for you:
Did you know you can have a LIVING anthurium plant?  It comes on its own rock with a video on how to care for it. Living Memories of Maui has many satisfied customers.  Living away from Hawai'i with their tropical blooming plants can be nurturing. Some even purify the air.
Everyone will ask, "Where did you get that beautiful bracelet?", while they are admiring your hand-woven Lauhala bracelet. The leaves are hand-picked from local pandanus plants. Then they are dried, prepared, and woven by hand.  This helps keep this ancient skill and tradition alive. You can special-order if you want a special design or for your specific size.
Let's Go, Kiddo! Eco Travel Activity Kits for Kids- Maui Edition – (Ages 3-5).  How precious it will be, to sit your little one down and explore 50 creative activities that are all about Maui.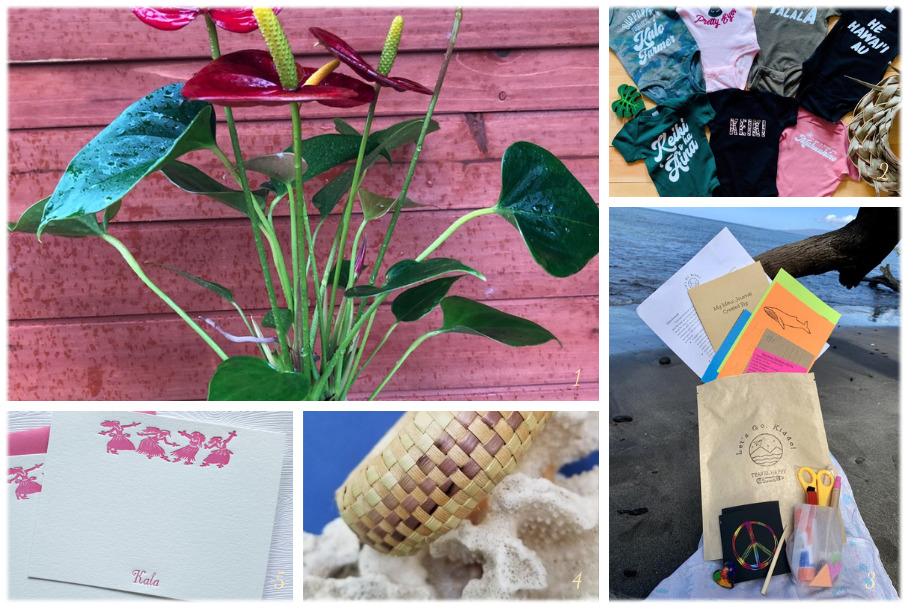 Onesies!!!  These are TOO cute!  No words. Babies are cute – but in the perfect onesie? Oh!! Where's my camera?  
It's unbelievable the myriad of handmade, hand-pressed stationery created in Maui. You will be looking for any excuse to write a beautiful letter or thank you note with this hand made paper!   Your phone texts don't hang around, but a sweet letter on handmade stationary will be treasured for years.
 Even more so, if you order your stationary to be personalized.
Remember, this is a tiny fraction of the 3,500 Etsy stores with Made in Maui goodies!! It's fun to window shop online until you find the perfect thing. It won't replace playing at the beach or feeling the soft trade-winds on your skin, but it will bring a smile to your face and a warm glow to your heart which is almost as good as being here on Maui.
The island's new economy is filled with many resourceful artisans and entrepreneurs. Something created here with the Made in Maui Seal is a cause for celebration and pride as we move into the unknown world of post-covid. People across the islands are forging ahead, rekindling the motto:
"Local people, Local pride!"
Island people have been looking for decades for something to make the economy more resilient, less susceptible to the economic woes and whims of an economy so strongly dependent upon tourism. Covid is just one thing of many which have hit the island economies with devastating blows. But, we are strong and creative. We shall persevere!
Much gratitude goes to you, our friends, and family – those who love Maui – as you make our job of persevering onward so much easier.  We know you love Maui and all things Hawaiian. We see and feel your support. 
Beautiful things will continue to be made right here on Maui for you to treasure and be reminded of the islands we all love and cherish.
We hope to see you on our beautiful island home soon.

Writing and Graphic Design by Sugandha Ferro Black

Photos courtesy of Wiki Commons and other paid for or free sources unless otherwise noted.
1-From LivingMemoriesofMaui Etsy 2-From PeBabyBodySuits Etsy 3-LetsGoKiddo Etsy 4-FromSeaglassmonkeyonMaui Etsy 5-From GoldenFinkgoLetterpressStationeaynoteCards Etsy 6-WikiCommons