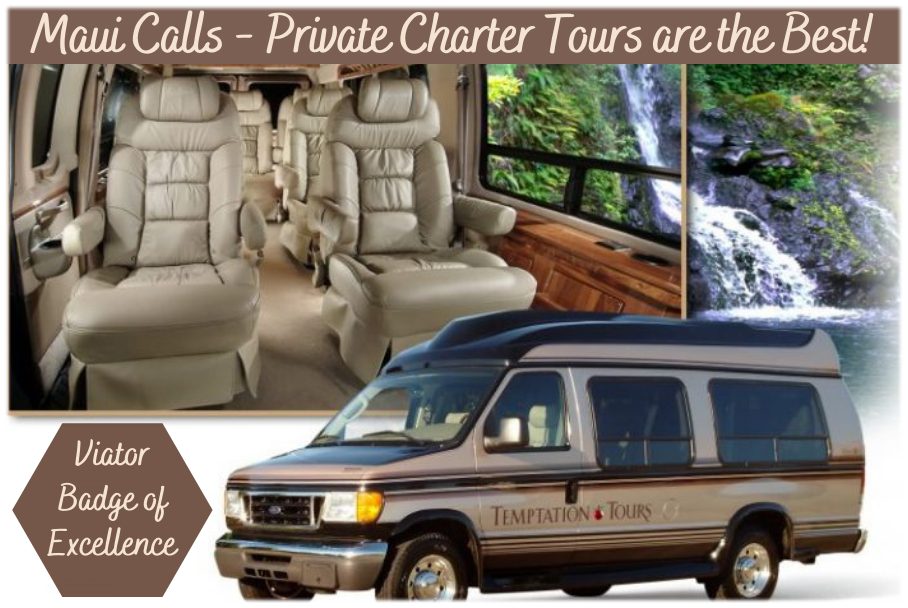 The plan was to continue with the Maui Ocean Activities Blog, Part 2 this week.  But then – this happened!  Some great news came our way and we had to share it with you right away! 
Drumroll, please….
We just found out that we are the recipient of
THE Viator Badge of Excellence. 
Why does this matter, you ask?
Well, first of all, the award helps visitors know which company is tried, true, and tested! It sets us apart, in a helpful way, for those new to the island looking for a genuinely unique, First Class tour experience.  
Here are the standards (below) we have built our award-winning business upon. These are our priorities, which get done, even when we are tired or we are the last staff member working. This list is one of the many reasons we win awards, such as the Badge of Excellence from Viator.
Here we go. Temptation Tours provides:
Accurate and up-to-date information to help you and our guides plan your tour
Best options to experience the destination, the most spectacular, safest, and fun experiences
A seamless tour booking experience, it's a Piece of Cake for you, we do all the heavy lifting 
Excellent customer service from start to finish and through the planning stages
Great experiences inside and outside the Limo-Vans. 
A unique small tour experience 
Supplying information that travelers need to feel comfortable, like what to wear or what we will be doing
Hours of operation and prices always available
Itinerary, pickup, and meeting sites available to fit your location and schedule
Photos and images showing our visitors what to expect
Top-notch safety and ethical standards
We are committed to excellence in all areas of our business. 
At Temptation Tours, we value the safety and health of our visitors and staff, above all else. Our plan is to be be here for the long and healthy haul.
What makes our private charter tour The Best?
Since Maui's Stay Safer at Home Lockdown, which began in March with Covid-19, we have created a new, essential, aspect of our business – the Safeguard Promise. 
Our focus has always been to create a safe and comfortable space for our visitors, staff, and tour guides. The Safeguard Promise simply provides details to what that promise means to your safety and health. 
We want everyone to feel safe as they once again enjoy our island home.
Maui's only true, luxury, small group tour company, Temptation Tours now offers our guests the tour industry's first:   
Safeguard Promise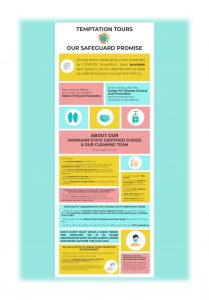 Sustainability – one of our core values
We at Temptation Tours are always committed to taking our business model a step further.  We understand the importance of contributing to the sustainability of our natural and cultural environments on the Island of Maui and in the State of Hawai'i.
Sustainability is not just for tour businesses. It is for the future of our descendants – generations from now. That is the Hawaiian way. This sustainability commitment has led Temptation Tours to even more awards. 
We are a Three-Time Winner of the prestigious Hawai'i Tourism Authority's Keep it Hawai'i Award. Our commitment and dedication to the 'aina (the land), its people, and its history have been recognized numerous times by both industry professionals and you, our valued guests.
All of our tours highlight Maui's natural splendor and rich cultural history.  It is natural for us to take every precaution to protect, nourish, and honor this cherished and delicate balance.
It says it clearly here, in the Hawai'i State Motto:
Ua Mau ke Ea o ka ʻĀina i ka Pono
The life of the land is perpetuated in righteousness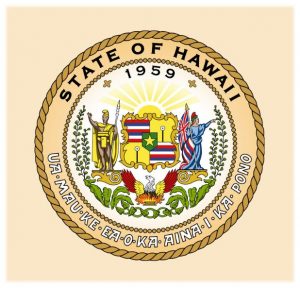 Here are some of our practices in righteousness to malama i ka 'aina (to take care of the land).
When exploring Maui's natural habitats, we leave no trace that we have been there
Our Tour Guides are experts on endemic and indigenous species, fragile ecosystems, and sites of Native Hawaiian cultural significance, which they share with our guests
The Limo-Van engines are turned off whenever possible
Natural light is used as much as possible in our Reservation office and for our Fleet Management Crews maintain our tour vehicles
Temptation Tours family of Hawai'i Certified Tour guides support and study the use of proper Hawaiian language whenever possible
All of our guests leave our tours with a great deal more profound respect and connection with Maui's natural and cultural value to Hawai'i and to the world at large
We're constantly re-evaluating our efforts and improving our abilities and ways of sustaining Maui's ecosystem and the Native Hawaiian presence and legacy
A quote from Hawai'i Tourism Authority and Sustainable Tourism sums it up:
"Pono means to do what is right.  To Travel Pono is to travel consciously and respectfully."
In our quest to be the best small group, luxury tour company on Maui, Temptation Tours has come to realize that there is nothing better than the luxuriousness of a comfortable ride with people you love. 
Friends and family are everything!  Imagine the freedom of you and your family in our 8-person luxury van.  Your own private tour, your home away from home for the day, filled with the memories of a lifetime.

Our Limo-Vans will not be fully booked until we are in control of this pandemic.  Now is the perfect time to book a tour with the people in your Bubble – people you feel 100% safe with; your family and friends. 
Book your Road to Hana adventure before you get on the plane.  
We promise to take excellent care of you
and your loved ones.
We have delighted guests for 35 years, and many of them have graciously shared their beautiful experiences so that you can know what a fabulous experience you are in for. 
Here are some kind words from past guests.
See you next week when we return to Ocean Adventures – Part 2.

Writing and Graphic Design by Sugandha Ferro Black

Photos courtesy of Wiki Commons and other paid for or free sources unless otherwise noted.