May Day is Lei Day in Hawai'i
This is a song composed by Leonard "Red" Hawk in 1928 for the very first Lei Day festival.  
Listen to it HERE
That's right! Although giving and receiving Lei is an ancient tradition, Lei Day is only 93 years old.
The tradition of Lei giving dates back to before Polynesians settled in Hawai'i. It is said that the Lei custom was introduced to the Hawaiian Islands by early Polynesian voyagers during the settlement time of 750 AD to 1300. They brought this tradition with them, and with these early settlers, the Lei tradition in Hawai'i was born.
1928, Lei Day is Born
Having a holiday dedicated to the Hawaiian practice of Lei giving was suggested by the writer and poet Don Blanding in 1927.
Blanding wrote an article in the Honolulu Star-Bulletin suggesting the concept of a holiday called Lei Day. He thought this beautiful Hawaiian custom of making and wearing Lei should be celebrated.
Fellow writer Grace Tower Warren added the idea of having the Lei Day holiday on May 1 in conjunction with May Day.  She also coined the phrase:
May Day is Lei Day in Hawai'i
The first Lei Day Festival was held on May 1, 1928. Indeed, keeping with Hawaiian tradition, the festivities included hula, music, Lei making demos, Lei contests, and exhibits. The only addition was everyone was encouraged to wear a Lei.
Ship to Shore
Lei Day began during the 1920s, which was the era of steamship travel to Hawai'i. The sidewalks near the docks were lined with Lei sellers. Matson Navigation made sure every guest coming to shore was greeted with a Lei.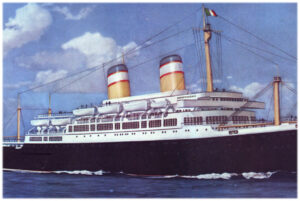 It was Don Blanding, originally from Oklahoma, who is also responsible for inventing the custom of tossing your Lei overboard as you sailed away from Honolulu. If the Lei came back to shore, it would guarantee your return.
Lei Day in the Schools
Island-wide, all schools celebrate Lei Day. The day is filled with songs, hula, and the procession of the Royal Lei Day Court. The students choose a Prince and Princess to represent each of the eight main islands and a king and queen to fulfill the role of Hawaii's monarchs from the days of the Hawaiian Kingdom.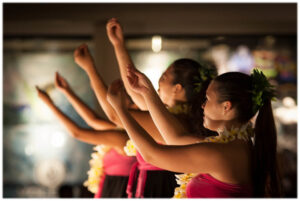 The celebration concludes with a hula performance by each class. The "Prince and Princesses" of the islands participate in the customs of Lei Day by wearing the flower and color distinct to each island they represent. 
We have shared with you about the flower and color specific to each island.
Read about this wonderful custom HERE.
How Making and Wearing Lei Evolved and Changed
In ancient times, Hawaiians wore Lei to represent their rank, wealth, and royal bloodline. The optimum plants and flowers of the area, the religious ceremony being performed, and the different hula traditions were all associated with which Lei was worn.
Up to the 1300s…
…the first Polynesians brought to the islands their traditions of adorning themselves with local vines and flowers.
After the 1300s…
…when the settlers were established, they sought different plant and flower materials from their new land to weave into their Lei making.
As the Hawaiian culture and traditions evolved over many generations, there developed different influences on creating a Lei. The sense of exploration and adventure which brought the Polynesian people to Hawai'i transferred over into every aspect of daily life. A variety of never-before-utilized plants, flowers, and non-perishable items were considered fair play for making Lei. 
Fusing their island lifestyle with the ancient sacred rituals and the beautiful, pristine, and influential nature around them, something new was born.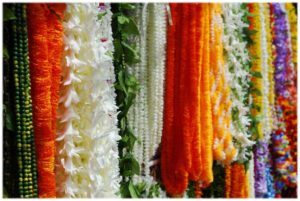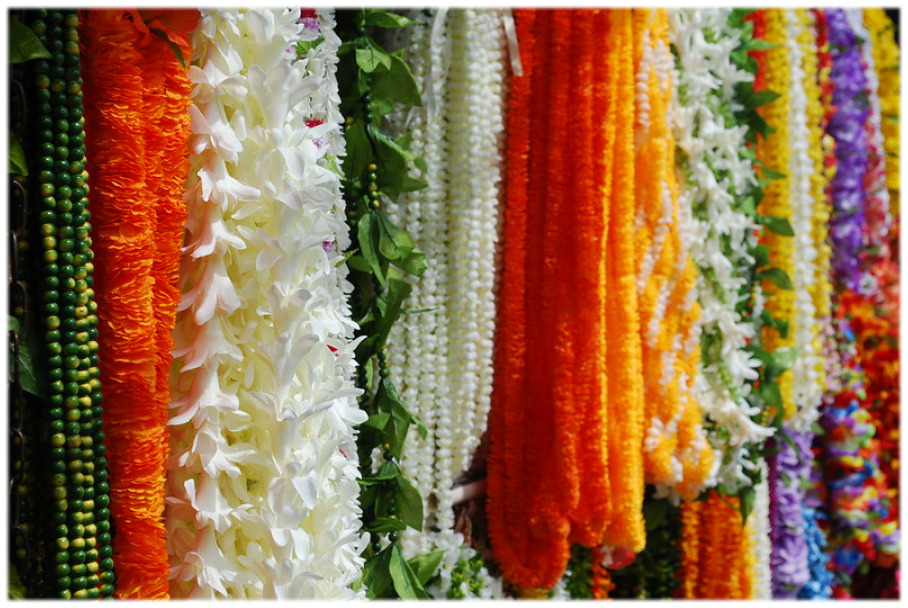 Lei were created that could be worn for any and every occasion. And there were Lei for everyday tasks AND celebrations.
The most significant change from earlier times was that now, commoners were allowed to wear Lei.
This was significant because, since the inception of the adornment of wearing Lei, only royalty, chiefs, and people of wealth wore Lei in ancient times. Now, anyone could wear a Lei!
Yes, there is a bit of Lei Etiquette.
Importantly, there are some general guidelines but not many rules when it comes to wearing a Lei in Hawai'i. You can wear one just about any time you feel like it. It is not unusual for someone to purchase or make a Lei for themselves.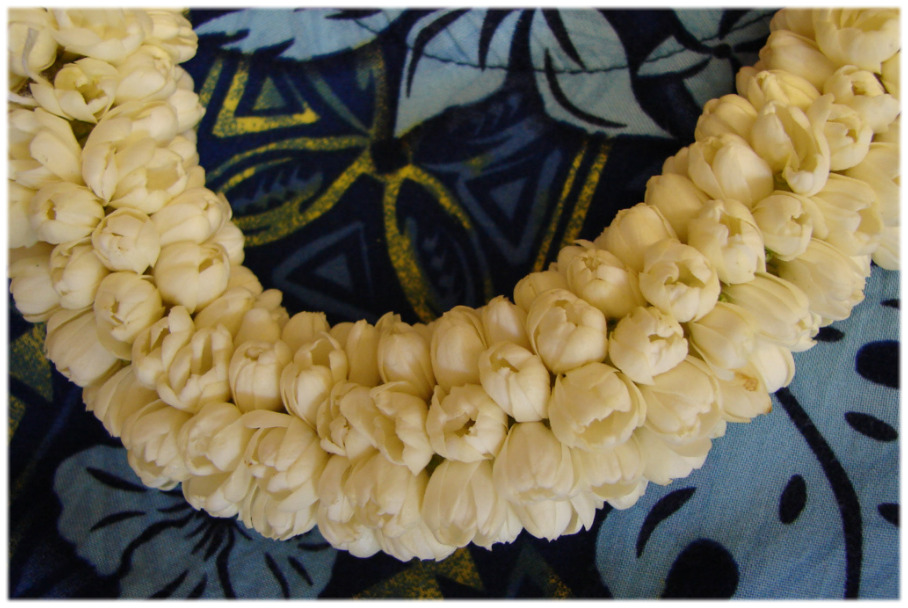 Often, most locals have a nut, seed, or shell Lei on hand to wear on special occasions. Also, hats are adorned with flowers, ferns, or feather leis.
There is some unspoken protocol one should know when receiving a Lei for the first time: 
A Lei should be a welcomed celebration of one person's caring and affection for another
When a Lei is being offered should always be accepted from the person(s) draping it around your neck
The proper way to wear a lei is gently draped over the shoulders, hanging down both in front and back 
It is considered rude to remove a lei from your neck in the presence of the person who gave it to you, so if you must, be discreet
A pregnant woman should wear an open-ended lei
Since a Lei is a gift of aloha, it seems only fitting that one should wear a Lei given to you in the presence of that person.  
This year if you want to celebrate Lei Day on May Day, you can give the gift of Lei to anyone you want, where ever you are. You can purchase a lei made from synthetic flowers or pick your own and string them yourself.
A Lei is always an excellent way to express your love or appreciation to someone.
  Click HERE to see: How to Make a Lei in 3 easy steps!
In addition, Graduation Day will often see Lei made out of folded dollar bills, or small children may receive a lei made of lollipops or hard candy on their birthdays. A different style of Lei can be made to fit around the head or the wrists or ankles. 
Be creative! Share your joy with as many as you want, and make May Day into Lei Day for your family and community! It will soon become a tradition for you and your loved ones as well!

Writing and Graphic Design by Sugandha Ferro Black

Photos courtesy of Free or other paid for or free sources unless otherwise noted.
Hula dancers | © CC BY-NC-ND 2.0 Mitchell Shapiro Photography/Flickr, Lei Pikake | © CC BY-SA 3.0 Sanba38/Wiki, Vertical Multi Color Lei | © CC BY-NC 2.0 NekaPearl/Flickr,
Lei Makers | © CC BY-NC-SA 2.0 Ryo Yamaguchi/Flickr, Title Lei | © CC BY-ND 2.0 Joel/Flickr, Wristlet | © CC BY-NC-ND 2.0 A Sun/Flicker,  Haku Lei on Lauhala | © CC BY 2.0 David Eickoff/Flicker,
SS Independence 1951| © Public Domain,