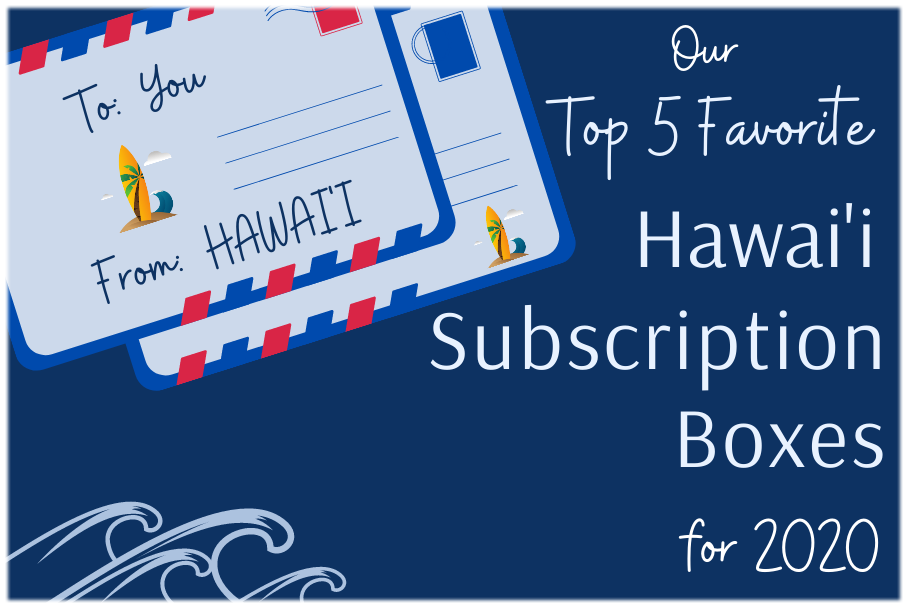 Subscription Box Companies began in 2004. One of the earliest examples of these companies was called The Sampler. It offered samples of products from independent web-based artists, crafters, zines, and specialty shops.
The early subscription box business model worked like this:
The company sent you a package every month or 3 (depending on your subscription) 
In the box were specialty items they had picked out for you  
The principal attraction of this concept was that you got more for your money.  You might pay $35, but you would receive $60 worth of goodies.
According to Forbes, by April of 2017, web-based subscription box companies had 37 million annual visitors and had grown over 800% since 3 years earlier.
WOW!!
Hawaiian entrepreneurs noticed this subscription concept and realized it was a perfect way to fulfill many different customer needs in one convenient package!
For those who want to feel connected to Hawai'i, whether they grew up here and are away from home, or perhaps the frequent visitor, this little taste of Hawai'i is always a great way to re-establish that connection. And that's what happens when the Care Package from home arrives…
…full of great stuff from Hawai'i.
There is no better way to feel close to these islands we all love than to get a package filled with lovely island-grown treasures. Every month or every 3 months, receiving gifts of ALOHA delivered to your front door is magical.
Especially in the middle of a freezing, snowy winter, and the cache of Hawaiian vibes and fragrances arrive.  It is the best balm there is for the home-sick soul missing the warm, soothing spirit of Hawai'i.
Here are 5 of our favorite Subscription Boxes from Hawai'i for 2020
1. The Hawaiian Box – Made in Hawai'i products + free membership, travel discounts & more!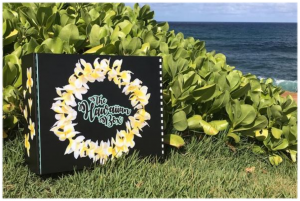 Hawaiian Box lets you experience the islands by featuring Hawaiian inspired or made in Hawai'i products. A variety of bath and body products, home accessories, jewelry, and food, all handpicked with Love & Aloha for you! AND, each box will include a donation to a non-profit organization to help save Hawaii's ecosystems.
Side note: Hawaiian Box now offers a Mini Edition. It is quite popular and may be out-of-stock for a bit.  It does not include the travel discounts, but, for a lower rate and flat rate shipping of $5, it is a great way to get a little taste of Hawai'i in your mailbox every month.
2.  Hawaii's Coffee Box – A Hawaiian Coffee Tour in a Box
Take a journey to a new Hawaiian coffee farm or coffee roaster every month.  Hawaii's Coffee Box will take you on a Hawaiian Coffee Tour monthly by delivering their best freshly roasted beans and goodies to your home.  
We know you will discover new favorites.  The fragrance of the beans and brewing coffee will rekindle the memories of your last visit and begin the joy of anticipation of your next stay in Hawai'i.
One or two freshly roasted varieties will arrive at your Hale* every month, coming from Maui, O'ahu, Kaua'i, or the Big Island.   
3. Tastes of Aloha – Tastes of Aloha brings the gift of snacking 
Hawaiian Style!
Hawaiian food has many unique flavors due to the many cultures that have come together to inhabit these islands. Tastes of Aloha has perfectly utilized the abundance of flavors arising from our unique and blended cultures. 
This company has developed many indescribable tasty treats from this cultural heritage. From Hawaiian Honey infused macadamia butter to the Island Breakfast Box, you are bound to eagerly anticipate the arrival of your Tastes of Aloha box every month.
Special Happening Now:  20% OFF USE CODE: SPREADJOY
Side Note:  See our blog about Multicultural and Unique Communities of the islands to learn more about how foods, flavors and styles blend in Hawai'i.
4. My Aloha Post  – My Aloha Post is a care package which brings Hawaiian experiences straight to your doorstep.
Each package is inspired by the many shared experiences we have in Hawaii.  My Aloha Post strives to send you a true adventure, through the items you will receive.  You can choose from boxes that are pre-curated, or there is an option to select items to create your own box.
Started by 2 friends who spent time away from Hawai'i, longing for things from Hawai'i, their goal has been to share the cultural and lifestyle experiences unique to Hawaii while helping to promote upcoming, Hawai'i based businesses.  The products of these budding businesses are featured in their boxes.
5. She Lives Aloha – A recipe for a good time – Fall, 2020
This season's kit is inspired by the Hawaiian word, huipu*, meaning to mix or come together.
It includes everything you will need to know and the ingredients required to mix together and create authentic tastes of Hawai'i from home. 
Because we've found ourselves in a situation of isolation over these past months, this quarter's kit also includes a way to connect virtually starting in August.
She Lives Aloha box contains some of the best products found on the Hawaiian Islands. 
When you receive a box:
take an afternoon off
relive your vacation through the fragrances of the tropics
Each box contains five items that have been crafted with aloha. Each box will support a non-profit  Hawaiian charity.
So — What's inside:
SoHa Living Pineapple Glasses (Blue and Green): Enjoy all the feeling of aloha with these pineapple glasses from SoHa Living, founded by two sisters from Hawai'i. One for you and one for your (co-quarantined) 'ohana. Hand wash only.
SoHa Living Cocktail Mix (Mai Tai or Hawaiian Hurricane): Mix up Hawaii's quintessential cocktail: the fruity Mai Tai. Not too sweet or overly flashy, this mix hits all the right marks with flavors of pineapple, lime, and orange. Enjoy it on Mai Tai Monday or Aloha Friday or every day in between. Or cool off with a Hawaiian Hurricane. Pineapple, passion fruit and lime give tropical sweetness to this delicious cocktail. Just add water and your favorite liquor.
Kaj's Products Li Hing Mui Powder: A staple in our pantry. We invite you to try a sprinkle of the li hing powder from this Oahu-based snack shop on virtually everything – candy, donuts, fruit (dried and fresh), shave ice, drinks (alcoholic and nonalcoholic) – rim your glass with it or sprinkle it right on top. With a salty plum flavor, it complements a variety of sweets. A little goes a long way.
Banana & Coconut Candy: Handmade on Maui with locally grown coconuts and Hawaiian cane sugar. With such fine ingredients, you'll be able to taste the difference!
Recipe Card: For mixing up good times.
Virtual Happy Hour Invitation
We will update our Subscription Boxes info and tips every year to keep you informed of how you can have a little Aloha arrive at your home.
We know once you have returned home and Hawai'i becomes more of a distant memory, you will be glad you made a choice to have Hawai'i visit you.
These boxes will bring back the balmy trade winds and soft, fragrant breezes from your memories until the day comes that you can return.
We hope to see you soon.

Writing and Graphic Design by Sugandha Ferro Black

GLOSSARY* of Hawaiian Words
Hale – home or dwelling
Huipu – to mix or come together
*Please keep in mind that all Hawaiian Words have many meanings. The meanings we share here are the specific translations for the words as they pertain to this particular blog's subject matter.
Photos courtesy of Wiki Commons and other paid for or free sources unless otherwise noted.