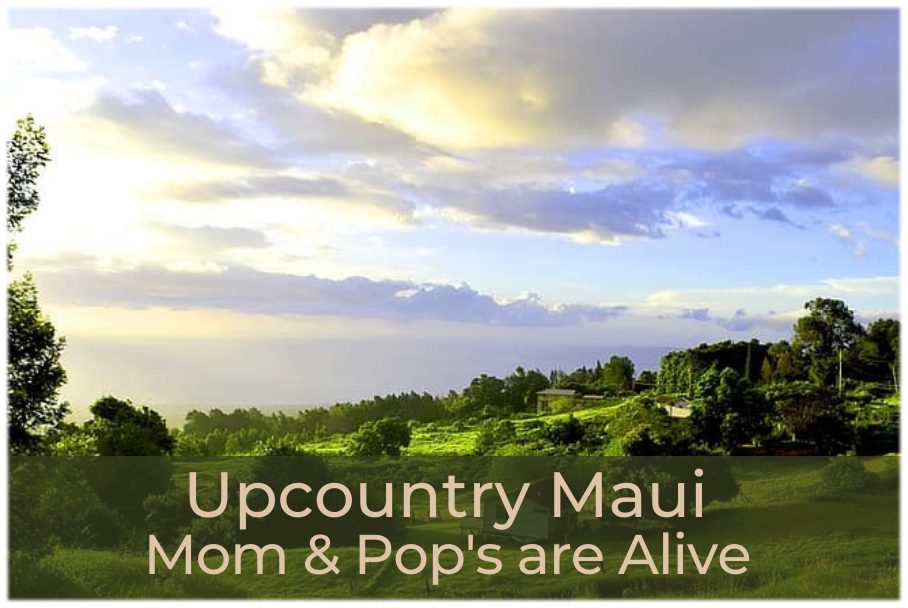 We definitely cannot leave our upcountry adventures without talking story* about a few Mom and Pop enterprises still thriving today. 
Some have been here for over 100 years.
As Hawai'i became less of a subsistence, agrarian-based society and more westernized, small stores began to pop up.  This was long before anything like the "big box" stores of today.
These were the old-style General Store type establishments. Places where you could get everything from a bottle of milk to sewing needles. 
Of course, life was more basic back then. One spool of thread would sew everything. Not like today where a drawer can be filled with 20 different spools of thread colors.
But even a hundred years ago, the upcountry cowboys and crews working the fields needed their daily saimin and sandwiches. For that, they would stop by this landmark store:
Komoda Store & Bakery – Delighting Maui Since 1916. Oh, & what a special place it is.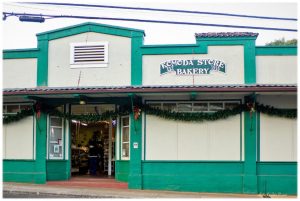 I know as I write about upcountry's favorite bakery, my mouth will be watering. This renowned store and bakery in Makawao has been a Maui establishment for 104 years.
For the last few decades, they have been known best for their amazingly delicious cream puffs and stick donuts coveted throughout the island chain.
When our vistors from outer islands come, you can count on them ordering these delectable treats ahead to bring back home.
Komoda store was started by Takezo Komoda. He and his wife, Shigeri, opened the business as his restaurant in 1916.
The Komoda family restaurant started by serving sandwiches on their homemade bread, saimin noodles, and donuts to all the local cowboys and plantation workers.
Since the area was primarily ranch and farmland, there were many  patrons during agriculture's heyday, before statehood and tourism. 
After the bombing of Pearl Harbor in 1941, Takezo passed the restaurant to his oldest son, Takeo. He did not want his Japanese citizenship to force him to turn his restaurant over to the government. Takeo is now 92 and lives with his wife Kiyuko, 87, in Takezo's home.
In 1947, Takezo's brother, Ikuo, returned to Maui from baking school. This is the evolution that took Komoda's from a restaurant to a bakery and general store. The now-famous stick donuts and malasadas still have as their foundation the dough from the original bread recipe used back in 1916. 
We had a long wait until the early 1960s before Ikuo unveiled the celebrated and iconic Komoda Creampuffs. They were well worth waiting for! 
Ikuo, now 78, still puts in 8 hours a day with his younger brother Dan. It is still not clear if the next generation will want to take over. It is not an easy life to bake all night long as the past generations have done.
These days, during normal times, Komoda's thrives through the business of tourists and kama'aina* alike.  Make sure you get there by 10am, otherwise, you may find the bakery shelves empty, and the favoities sold out.
Three generations later, the Komoda family still bakes from 11:30pm until 4am.
See for yourself: HERE
We introduced a couple of Hawaiian slang words about food – do you remember?
Well, we can attest that the cream puffs from Komoda's are one of the places these slang terms got their start! They are so good they broke da mouth! This bakery is a must for the foodie fond of history and old-style recipes. 
A Mom & Pop with Overflowing Heart – And Local Style Favorites! Pukalani Superette!
The original store, called Tanizaki Store, was located in Wailuku. It burned down in 1927.
After the fire, Takeo and Kome Tanizaki chose to rebuild the store at its present landmark location in Pukalani.
They are the maternal grandparents of the current owners, Aric and Myles Nakashima.
The name change from Tanizaki Store happened in 1955, and is fondly nick-named "Puk Sup" (pronounced "Pook Soup"), short for PUKalani SUPerette. 
Puk Sup is the Go-To store for so many things – great, prepared, local-style food, catering, groceries, locally made desserts, and so much more.
Besides serving the community with their huge array of goodies, they regularly put their money and time in service to the community they are part of.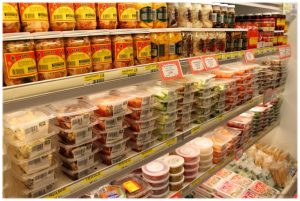 Why we say, Overflowing Heart:
Let's start with 2020 and go backward.
During the time of COVID-19, starting in March of 2020,  they continuously handed out bags of FREE produce to residents along with the help of Sysco Hawai'i (food distribution company) and Maui County.
Several times during that first March, they did drive-by face-mask give-aways, especially during the early days of the pandemic, when face masks were impossible to come by.  
They were the first market upcountry to station someone outside the entrance to ensure that the store would not be over-crowded and that they would be able to keep up on sanitation and disinfecting. 
The Pukalani Superette Change for Education Program:
A canister for leaving your change is at the checkout counter for customers to drop their spare change into. This program has raised $9000 to be split by the 6 Upcountry Elementary Schools, supporting Maui's keiki*.
Of course, Jerry Masaki, the store's general manager, gives credit to his customers when he says…
…"We are so appreciative of our great customers who support and donate to this worthy cause. Always looking forward to raising more money from our Coin Canister Collection Program in the future and giving even more back to our schools. We encourage our customers to drop loose change, or make a donation, in the canisters found at each checkout counter in the store."
Puk Sup has Everything you Need
To keep the memory of Takeo and Kome alive, there is a small area of the store where you can find fishing supplies. Although this is a throwback from earlier times, you can still see young and old folks who enjoy fishing, checking them out.
Fresh locally grown and organic vegetables and fruits.
We ordered ono home-made Thanksgiving Dinner last year and are planning on ordering this year too.
Every day at lunchtime, the store is hopping from 11:00AM until 1:30PM or until most prepared food is gone.  What's left, which is close to nothing, is put on sale at 6:30PM for a quick stop on the way home to pick up for dinner.
Pet food, chicken food, fresh lei, and greeting cards round out the variety of shopping needs.
By keeping up with the times Puk Sup has held on to its friendly, neighborhood feel it has survived and thrived.  I am sure that Takeo and Kome Tanizaki must be smiling and proud of their grandsons.  Especially in this time of Big Box stores and corporate prepared foods in a box.
Two Honorable Mentions
First, Kitada Kau Kau Korner – Takeshi and Suteko Kitada
Kitada's was one of Makawao's most beloved restaurants, which served a steady stream of shopkeepers, county workers, mechanics, cowboys, and plantation workers for breakfast, lunch, and dinner from 1947 until 2007 when they closed.
In the shop's early days, Kitada's also sold fishing gear and groceries. But, it was their classic dinner dishes that kept people coming back.  The most popular items are still missed by many of us today. Things like local-style hamburger steak, beef hekka*, and Kitada saimin.  Oh, what I would do for some Kitada saimin right now! 
The late 1990s, I was privileged to be Mrs. Kitada's hairdresser. I got to see her every week into her 90s when she would brag about how the other girls didn't stand a chance now that her hair was so gorgeous!
To this day …
… we are still entertained by the time we had with her.  She was a kick and enjoyed chatting with everyone, even after she stopped working.  You could find her sitting on her chair in the restaurant, ready for a conversation at any time.
Kitada's reminded us how important this little restaurant was to the community by the photos of friends, fans, family, and community members pinned up on the wall behind the counter.
Unruly and spontaneously placed thank you notes from the children and schools who received support from the Kitada family contributed to the homey clutter and small-town restaurant feel. It was a community gathering spot for everyone, whether hungry or not. 
It is places like Kitada's that remind us of those heartwarming days gone by and, I would like to think, remind us of what is essential everyday – family, friends, and community.
Last but not least, Grandma's Coffee House in Keokea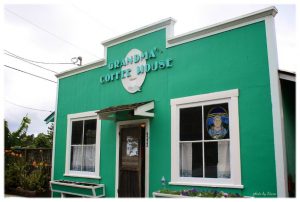 The story goes that in 1918 Grandma (Minnie Franco), who lived in Makawao, began growing and roasting her own coffee from a newly introduced delicious strain that was being introduced to Maui. She was 16 years old.
As time went on … 
… word soon got around about Minnie's delicious coffee, and it wasn't long before her house became THE place for a cup of coffee and a good talk-story.
The details leading up to the present day Grandma's covers four generations leading up to the proprietor of today, grandson Alfred Franco. It includes lovely details like when Minnie finally saved enough money to buy a wood-fired roaster from the Burpee Catalog in 1885.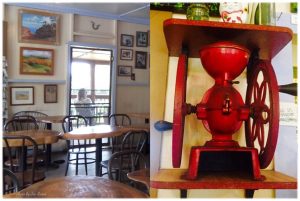 Their dedication to purity and quality is unmatched! The coffee is grown locally, pesticide and chemical-free and every single step, from picking to brewing, is done by the family. You can't get much more authentic than that.
As we come to the end of our stories of thriving Mom and Pop's which you can visit when you're upcountry, we leave you with this: 
DO NOT SKIP Grandma's Coffee House.
The coffee cake alone is worth it.  Did I mention the coconut french toast made with locally baked sweet bread?  The food tastes like love and comfort with added island calm. The coffee tastes so good in the crisp mountain air of Keokea!
Their motto is:
"Enjoy A Cup From The End Of The Rainbow"
We say, add some yummy treat to go along with the great coffee. Take a piece of coffee cake to go, or you will find yourself, the following morning, longing for a piece as you stare at your lonely cup of coffee, sitting all alone with no coffee cake beside it.

Writing and Graphic Design by Sugandha Ferro Black

GLOSSARY* of Hawaiian Words
Beef Hekka – one pot version of Japanese sukiyaki
Kama'aina – describes a child of the land, residents of Hawai'i
Keiki – child
Talking Story –  just how it sounds, sitting around telling stories
*Please keep in mind that all Hawaiian Words have many meanings. The meanings we share here are the specific translations for the words as they pertain to this particular blog's subject matter.
Photos courtesy of paid for or free sources unless otherwise noted.