For 20 consecutive years, Maui has been voted among the top 25 islands.
In.The.World!
The island of Maui is but a tiny speck in the middle of the Pacific Ocean. She resides in the middle of the Hawaiian island chain along with O'ahu and the smaller islands. She is comfortably nestled between the newest island and the oldest islands, which help's to give her the sublime environment she is known for.
This is just one of many reasons she is recognized as one of the world's best islands. She is a jewel set in a golden band of unforgettable beauty.
We imagine there are at least 20 or more reasons why Maui has been honored with the prestigious acknowledgment of being one of the 25 best islands in the world – for the last 20 years.  
Now seems like a great time to explore some of these 20 or more reasons. Because this is a time when you and loads of others are looking for spring, summer, and fall vacation spots that will sincerely fulfill and inspire you. 
Maui has so many reasons for her perpetual award of being in the top 25 worldwide.
Here are just a few:
Everybody's favorite – the stunning beaches of Maui!
One of the main things which continue to bring Maui her #1 ratings are her gorgeous beaches! Thick, soft sand, crystal clear water, and perfect waves. Say no more!
Maui has a variety of beaches. You can walk or run for miles on Makena Beach or get cozy in the secluded intimacy of Palauea. You can find any number of Secret Beaches or funny named beaches. Each one has its own specialty, from body-surfing to big wave surfing. And, you will find baby beaches where there are no waves at all.
So many beaches and so many types of sand. How about black sand, red sand, or soft white sand? These colors and textures make exploring Maui beaches unique. Each beach has its own variety of sand, from coarse and granular to light and fluffy.
Did we mention you can explore a different beach every day of your vacation? Well, along Maui's 130-mile coastline, we have over 30 miles of beaches! Yes, there is no shortage of beaches to explore and enjoy!
Whether you are a swimmer, walker, people watcher, or just want to chill out and watch the sunset, Maui beaches will serve all your desires.
Speaking of Sunsets – Maui's Sunsets are the Best!
Maui sunsets are spectacular and romantic! After 30 plus years of living here, they never disappoint, and I am always thrilled by their grandeur.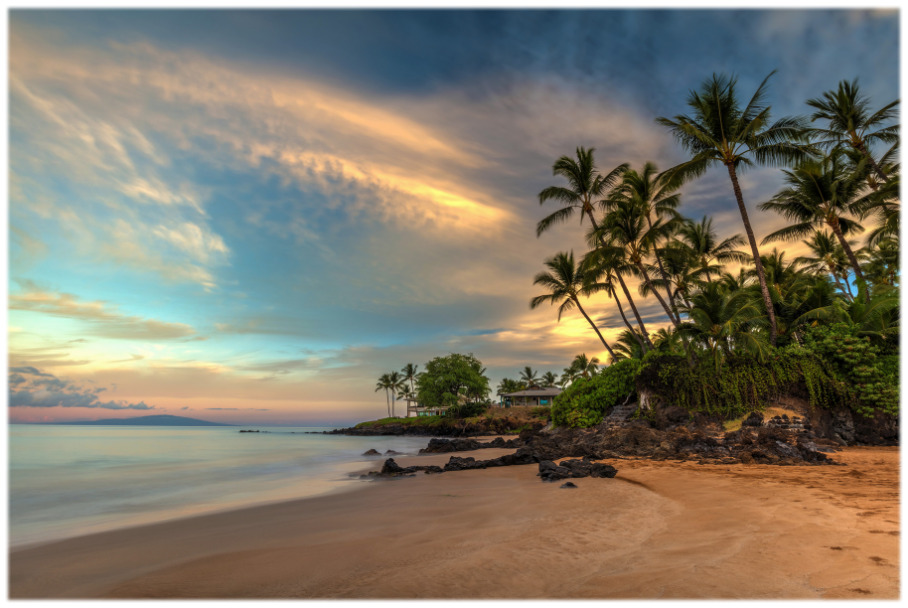 As the sunset travels from south to southwest between December and June, the sunsets change their display of technicolor and beauty. Sunset at the beach is fantastic, but don't discount sunsets from up-country. They have their own unique beauty and distinction.
Maui's sunsets alone can be enough reason to be drawn to Maui for a visit. What better way to end your day? Or start your night of dinner and dancing!
Haleakalā – A Sunset or Sunrise awaits!
A Pacific Island with a 10,000-foot high mountain is unusual! And is just one more reason for Maui's immense popularity. 
Many visitors get up super early in the morning and trek up Haleakalā (aka The Crater) to watch the sunrise. 
Once you have seen the sunrise, go back for the sunset on your next trip up to The Crater. It is every bit as spectacular. Sunset on the night of a full moon is particularly exquisite!! The sun going down in the west, and the Full Moon rising from the east! 
On the top of Haleakalā is where you can see a sunset or sunrise above the clouds. It is also a place where clouds are spellbinding.
Haleakalā's beauty draws everyone in. Time up there, hiking, camping, birding, or just a comfortable walk, is soothing to the soul and spiritually uplifting and nurturing. 
And then, Rainbows are everywhere on Maui!
Who doesn't love Rainbows? They are such a miracle, a blessing, a source of pots of gold, and many other legendary treasures!
To have rainbows, of course, you need rain. In our blog about the many types of rains in Hawai'i, we talked about the fact that there are nearly 300 names for Hawaii's rains. No wonder they say that Hawai'i is a place you will most likely see a rainbow on any day of the year.
As the weather and moisture move around and across Maui, the possibility of seeing rainbows increases. You can see cars on the side of the road with visitors and locals alike, taking photographs of rainbows all year long. 
The best sighting times are morning and late afternoon, but a rainbow can magically appear any time of the day.
Read more about rainbows Here – it will remind you to look for Moonbows – actual rainbows at Night!
Let's end this tale of the wonders of Maui's with her beautiful skies and her gorgeous clouds! 
Against the backdrop of the impossibly blue skies of Maui, you will find a sea of clouds of all shapes, sizes, and colors. From the whitest of white marching across the sky like cars of the sugar cane train to the darkest, almost black.
Clouds reflect light and colors. They are vibrant with life. They invite you to sit and watch them as they shift into different shapes and textures. You may find yourself watching them for hours. Especially if you start a bit before sunset as the finale.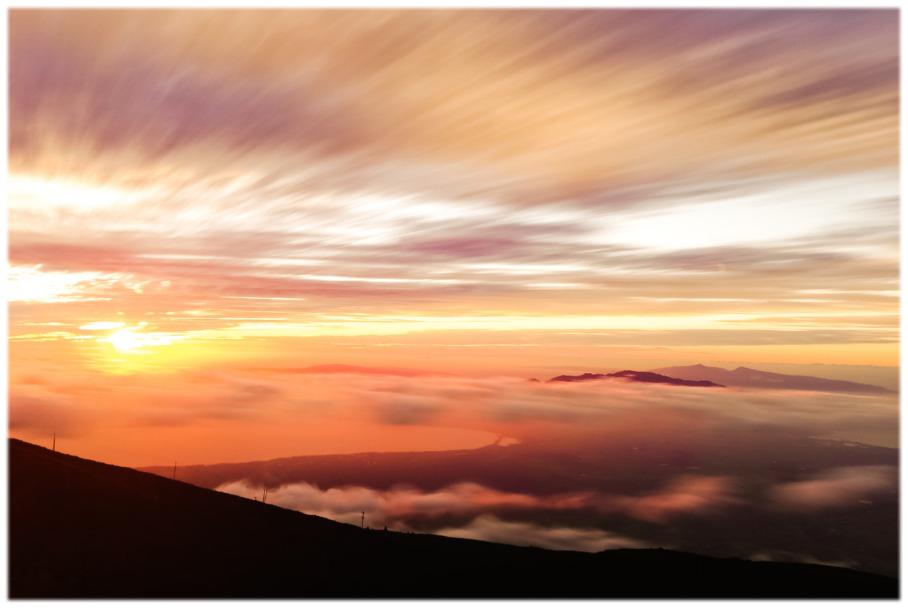 You can see them take on different shapes –  a whale or a submarine  – you are only limited by your imagination. You may see animals that exist in fairy tales, the shapes of landmasses from other planets, and anything else your mind can imagine.
Time to start planning your next visit to Maui!
We are just beginning to establish some of the reasons why Maui has been at the top of the popularity list for 20 years.
We will cover some other reasons next week. In the meantime, start planning your next vacation by creating your list of activities only Maui provides. You will be glad you did.
Next week, we will go over more of these 20 reasons – Including magical areas along The Road to Hana.

Writing and Graphic Design by Sugandha Ferro Black

Photos courtesy paid for or free sources unless otherwise noted.
Double Rainbow | © CC BY-SA 3.0Jameslperry/wiki