The world-famous Road to Hana is known for its breathtaking landscapes, magnificent views, beautiful nature, unmatched waterfalls, and too many hidden gems to count.
These are the primary reasons that the Road to Hana is regarded as one of the world's best road trips. It is a pristine environment that we all want to immerse ourselves in. Even with its 617 curves and 54 one-lane bridges, it is on most people's To-Do bucket list. 
Maui is proud that very little has changed in this remote and unique area of the island that we call Hana.
Every year, significant measures are taken to preserve Hana's unspoiled and sacred beauty.
Born-and-raised Hawaiians know the foundational importance of keeping Hana pure. Since the land and environment are such a critical part of Hawaiian culture, any loss or ruin of this area is devastating. Shortsighted overdevelopment equals loss of Hawaiian culture.
We have all heard the old saying that Life is a Journey, Not a Destination. The same truth can be applied to a big part of the Hana experience; the journey there is a big part of the experience.
However, the big bonus with Hana is that the Destination is also spectacular!
Every three months, we went to Hana for a long, 4-day weekend for five years. We would spend three nights in the serene surroundings of exotic beaches, historic sites, and cascading waterfalls. The crashing surf would be the lullaby that sang us to sleep.
We loved every minute of the jungle hiking trails, lava tubes, and tropical gardens.
And over time, we found that Hana is just so much more than these classic attractions.
For most people visiting Maui for the first time, the legendary journey known as the Road to Hana is a Must-Do item on their itinerary. To do it in a day is feasible and an excellent way to scout out things for your next trip. On your next longer trip, you will want to spend a night or even two to experience Hana on a much deeper level.
To maximize your enjoyment of this classic road trip, we recommend that you do not drive yourself there and back in a day. It is a road trip that can wear out the ordinary driver. Moreover, as the driver, you won't see much due to the concentration you need to drive this road. And, you most likely will not be able to stop in the places that we, in our small Luxury Limo-Vans, are allowed to stop.
When you come with Temptation Tours on the Road to Hana, we will make sure that you see and experience things that will assure you of a fulfilling day.  You will see and feel the immense potential for a more extended stay later. Of course, you will be way more comfortable in the oversized captain chairs and will be able to swivel around and look out the large picture windows. And, as our family of Hawai'i Certified Tour guides shares history, culture, and great stories about Hana, your understanding will increase. You will know immediately why a more extended visit would be so worthwhile.
One hidden benefit of letting us do the driving is you will feel safe and secure with their excellent driving skills on the curvy, unpredictable road! 
We have already written at length about which beaches , waterfalls and special areas you should visit, when you finally get your long weekend in Hana. Today, we will talk about some fun things off the beaten track. The things we would fill our days with on OUR long weekends in Hana. Here are a few of the benefits of the Hana Overnighter:
Shopping to cook at home.
We did a lot of our own home cooking, listening to the crashing surf 100 yards away. We always had one night when we would bar-be-que. Of course, we brought out some ingredients from home. We also looked forward to shopping at Hasegawa General Store, Hana Fresh Farmers Market, and the Hana Ranch Store. That's how you really get in the flow and local flavor of the place. It's also how you get to have Ice Cream! It is a vacation, after all!
We enjoyed talking story, and asking about unusual things we had seen with the local folks in the shops. It was a highlight of our shopping experiences to chat with our island neighbors and buy our favorite ice cream.
Visiting the older, preserved buildings.
Visiting and walking around old churches or buildings brings a feeling of what life could have been like for regular people like us in the years long before we were born. 
The well-known Palapala Ho'omau Church was built in 1864. By 1940, 80-plus years later, many Hana residents had begun moving to the other side of the island for work in the pineapple and sugarcane industries. Unfortunately, the years of wind and rain had worn down the church's structure, and the building began to be engulfed with plants and filled with insects, leaving it to ruin.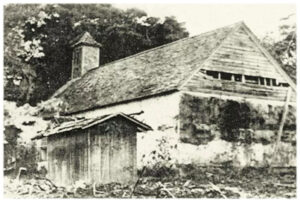 In 1964, Sam Pryor took on restoring this piece of history. People of Hana had kept the original pews and organ safe in their homes, and they were returned along with replicas of the original candle-lit chandeliers and brass church bell.  
Sam added a stained glass window interpreting a Hawaiian Christ draped in a red and yellow cape as the highest-ranking chiefs had worn. 
The first service in 76 years was held on Thanksgiving Day in 1965. Those people and their ancestors are still living in the area. You may be talking to one at the Hana store!
The famous cross on Pu'u O Kahala hill in Hana.
Erected in the early 1960s, Fagan's Cross is the most visible landmark in Hana. It is a tribute to Paul Irving Fagan, Sr., from his wife. He helped to save the rural community of Hana in 1944 by introducing ranching as a viable industry. Later, in 1946, he created Hana's hospitality industry and Hana as a destination by opening the first hotel in Hana. It was a six-room hotel that had a fantastic view of the bay. He named it Kau'iki Hotel after Kau'iki Hill, a landmark on Hana Bay where Queen Ka'ahumanu was born.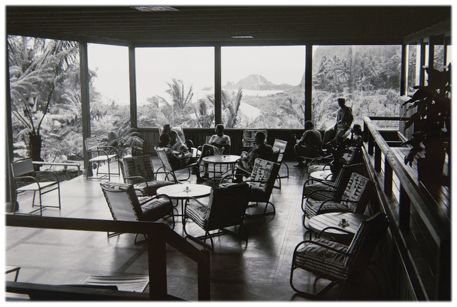 Over the years, we have often recommended to friends and visitors that the best way to experience the magical area of Maui we call Hana is to spend some substantive time there. In other words, by spending a night or two or more. That way, you get to wake up and go to the world-famous pools at Oheo Gulch, the Kipahulu section of Haleakalā National Park, and be the only ones in the pools!! Just you and the campers!
If relaxation is one of your goals, we don't think you will find too many other places where the lifestyle is so laid back. You will finally understand that iconic bumper sticker you see all over the cars on Maui –
Writing and Graphic Design by Sugandha Ferro Black
Photos courtesy of paid-for or free sources unless otherwise noted.
 Old Church | © Public Domain, Kau'iki Hotel | © Courtesy of Hawaiian State Archives Public Domain