The first time I heard someone use the word Spelunking, I thought they were making up a word, trying to be funny. Then, I thought my friend, who said she went spelunking on her honeymoon, was telling a variation of the classic honeymoon joke.
But, it turns out that her husband had planned a surprise, and they went Cave Exploring which is also know as spelunking.
Today we are going to share some of the beautiful Spelunking or caving you can do on your next visit to Hawai'i, or in particular, to Maui.
In one of our latest blogs, we talked about Volcanoes. That is where we learned that the Hawaiian Islands are at the southeast end of a long chain of undersea volcanoes that began to form more than 82 million years ago. This means that there are numerous old caves and lava tubes Hawai'i.
Many of these caves can be explored.
If you are into Spelunking or you want to check out some caves, lava tubes, or blowholes, you are in for a treat when you come to Hawai'i. You can find many sizes of lava tubes and sea caves on every island waiting to be discovered.
Exploring these caves will be a completely different experience from your usual island activities. It is exciting and fun in a whole new way. Plus, you can learn a bit about the island chain's fascinating and diverse geological history.
Even though there are many sea and lava caves in Hawai'i, Maui boasts the best caves on all the islands.
Before we describe Maui's remarkable caves and lava tubes, let's make sure we all know what Spelunking is. Spelunking is from the Greek word spēlynks. It means Cave (Surprise!), and it is believed to be the first time this word has been used in the Americas.
For some longtime spelunking enthusiasts, it is sometimes categorized as an extreme sport.
My friend, who went Spelunking on her honeymoon (unfortunately, not in Hawai'i), did not know what the word Spelunking meant either. She was a little surprised at the difficulty level and how deep they were in the earth. She said she had to do the splits to get up and over one of the large boulders that lay on the trail.
This is way beyond the difficulty level you will find in regular caving on Maui.
If you find yourself getting into caving or Spelunking and want to pursue it more, you may be interested in knowing about some of the different types of caves you will find.
There Are Four Primary Types of Caves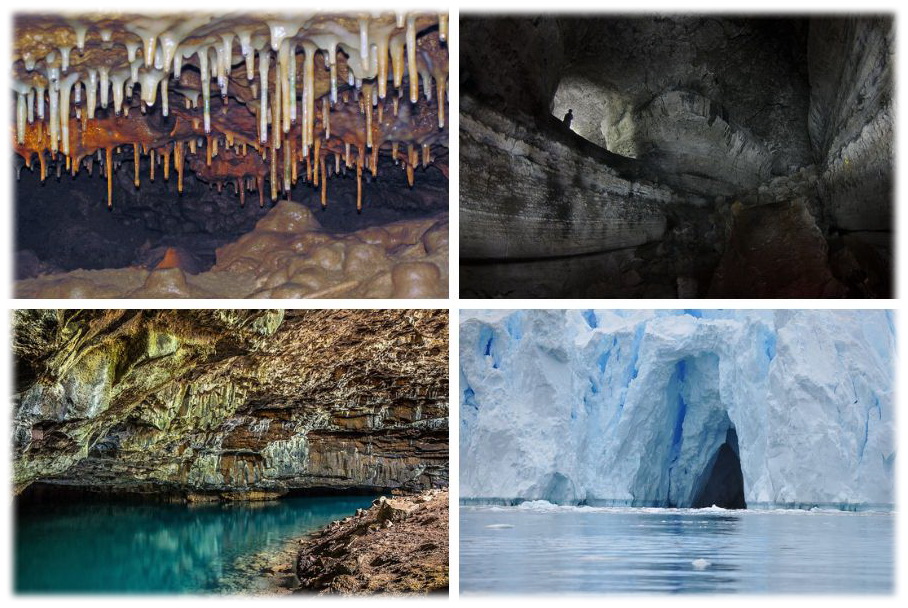 These are the 4 main types of caves to explore. Unfortunately, two of them are not found in Hawai'i. (For those of you who are not geeky archeologists or geologists, you can skip this part.)
Solutional Caves (upper left) – generally formed in limestone, gypsum, or dolomite. They form when acidic water dissolves the rock and seeps through the bedding. Not found in Hawai'i.
Lava Caves (upper right) – also known as primary caves as they form at the same time the surrounding rock forms. A cave can, at times, be created by a lava flow that makes a hollow tube.
Sea Caves (lower left) – formed by the sea with constant wave activity. They can be underwater or above sea level.
Glacier Caves (lower right) – formed by glaciers. None of these are in Hawai'i.
Now let's focus on some of what Maui has to offer.
First, the Sea Geysers (also called Blowholes) in Hawai'i.
There are so many Blowholes in Hawai'i that we can't begin to name them all. Every island has a couple of large-sized sea geysers. There are a total of nearly 20 that are pretty large and accessible in the Hawaiian Islands.
A blowhole or sea geyser can also be considered a sea cave. Even though it is a cave, it is NOT for exploration since it is unpredictable and dangerous. But, we encourage you to visit them from the surface and see the tremendous power of the sea at work, blasting seawater high into the air!
The two most popular blowholes in Maui most people love to see are:
Nakalele Blowhole – waves crashing into ancient lava tubes created this phenomenon. Nakalele Blowhole can often be seen from the road due to the height of its spray. It can get up to 100 feet high. In addition, it has geyser-like elements depending on the tide. So when you feel like a bit of a walk, you can go closer to experience its power. Just not too close, please.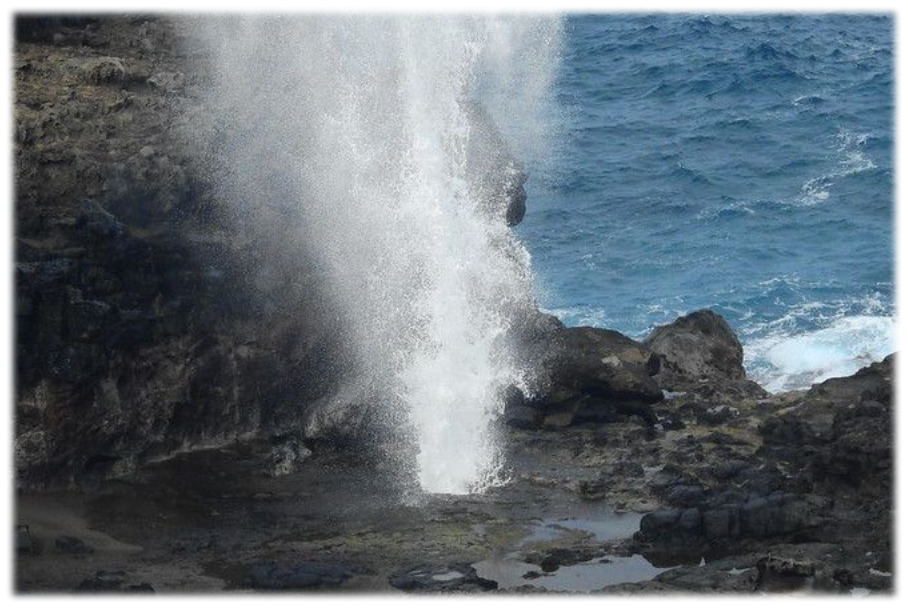 Wai'anapanapa Blowhole – just before you get to Hana, you will want to stop at Wai'anapanpa State Park. After you visit the black sand beach, it is a quick stroll to this powerful and mesmerizing blowhole. Please remember that it can be dangerous if you get too close, so take care. It is enjoyable to listen to and watch because occasionally, it will be mellow and it has a sweet and different type of ocean melody.
Now Let's Explore Maui's Lava Tubes and Caves
While you are visiting the blowhole at Wai'anapanapa, you will definitely want to check out the caves and lava tubes that are there.

When you walk on the Black Sand Beach (called Pa'iloa) you will see these beautiful caves.
There's more! If you have some time, you must explore and find the freshwater caves. The water is cold and refreshing and a great way to wash off the salt OR cool down on a hot day. This is many people's favorite part of Wai'anapanapa.

Wai'anapanapa translates to GLISTENING WATERS, and these stunning caves are a testament to this name.
Ka'eleku Caverns – Hana's epic lava tube!
Lastly, when in Hana, you must visit Ka'eleku Caverns. This is Hana's most popular Lava Tube to visit and explore. It is the 18th largest lava tube in the world.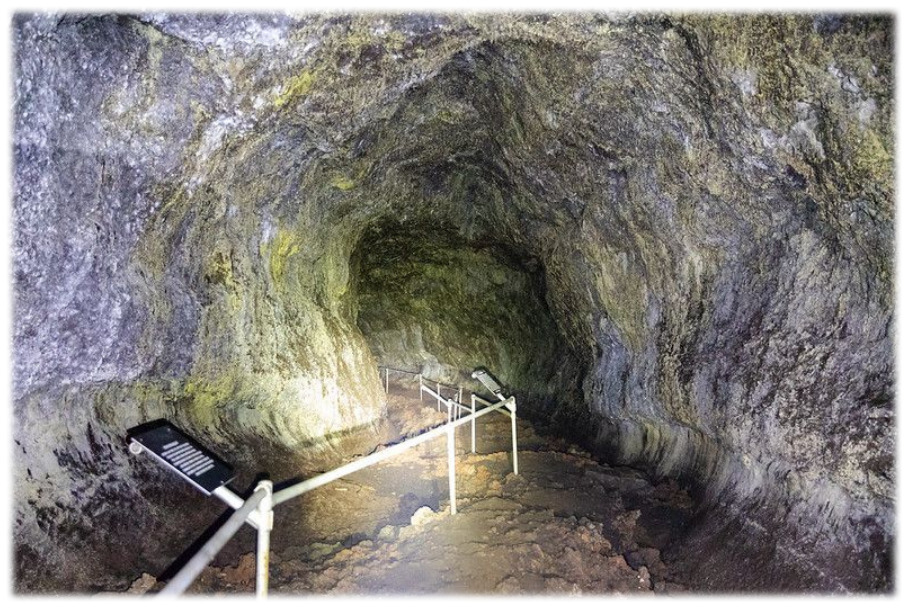 Although 1000s of years ago, lava was flowing through this cavern, it is now a peaceful place where you can visit the once active volcano up close and personal. It is considered Maui's wonder of the world. You can go 50 feet below the ground and experience some of Maui's primordial past. It is a self-guided tour that takes about 45 minutes and is great for kids.
One of the bonuses of visiting the many different caves, lava tubes, and blowholes is that they are always in spectacular places. Often the terrain is quite rugged as you have to hike across some ancient lava flows to get to the Cave or blowhole. But once you are there, you have a front-row seat to the raw power and pristine beauty of the wilderness of Hawai'i.
Of course, Temptation Tours can take you to a few of these magical spots on one of their popular, 5 Star Hana tours. You might find that cooling down in the freshwater caves at Wai'anapanapa is your favorite part of the trip. The water is coming from high up the mountain and is always very cool and refreshing. The perfect counterpoint to the luscious ocean water at Black Sand Beach.
Once again, these are experiences you will never forget. The profound dark mystery of standing in a cool lava tube where molten lava once flowed!
And then, cooling down in a freshwater cave a short walk away!
The Magic of Hana.
Writing and Graphic Design by Sugandha Ferro Black
Photos courtesy of paid for or free sources unless otherwise noted.
Title | ©CC BY 2.0 John Loo/Flickr, Wai'anapanapa Cave | ©CC BY-NC-ND 2.0 Sean Munson/Flickr, Nakahele | © CC BY-NC-ND 2.0 Jim Mulhaupt/Flickr,
Ka'eleku | © CC BY 2.0) dronepic/Flickr, Lava Cave in Cave Array | ©CC BY 2.0 Thomas Shahan/Flickr