During your visit to Hawai'i, there can be days when you prefer to find fun things to do indoors.
Perhaps you were overly enthusiastic and got a bit too sunburned the first couple of days of your vacation. Or, maybe, a few too many passing tropical rain showers chased you off the beach and off the golf course. 
Whatever the case, there are plenty of fun, memorable – even exciting – things to do out of the elements on Maui. Because, as you know,  our usually perfect weather can sometimes turn damp and cloudy.
When it comes to fun things to do indoors, we often recommend to our visitors and guests to visit the excellent historical museums you will find on Maui. There are many unique museums island-wide. People always enjoy and even rave about how wonderful and enjoyable they are. 
And, there's more! There are also many modern museums. Some are beautiful venues where one can enjoy the works of many different kinds of local artists.
There are many memorable places to visit in Maui's Great Indoors. So, we will focus today's blog on a few of the incredible Historical Museums. We will share some of our favorite modern museums in a later blog. 
Maui's Historical Museums – Get ready to be delighted!
There is an intense drive to preserve and re-create key aspects of Hawaii's culture and history.
Hawaii's entrance into the modern world of Western ideas, ships, religion, and weapons practically happened overnight. The sudden collision with the powerful world of Westerners stirred up forces that quickly served to overpower and overwhelm the centuries-old culture of the Hawaiian Islands.
Everything sacred was up for grabs, which led to an almost wholesale eradication of the ancient culture beginning as early as the time of Kamehameha the Great, who died in 1819.
We talk more about this in our Ali'i Series Blog about Kamehameha The Great
An immense number of cultural and historical treasures were lost during that time of chaos. Since then, many people have spent their lives working to bring back and preserve all things uniquely Hawaiian. Things like Hawaiian Values, culture, language, dance, and ancient traditions.
The Good News  –  Much of this history is diligently preserved in museums all across the islands. 
When it comes to preserving Hawaii's former glory, the 'Iolani Palace on O'ahu is a unique Historical Monument that is by far the most essential centerpiece of all that has been saved. The Palace represents the Hawaiian Kingdom and the home of the Royal Monarchy in its later years. The building is in a state of continuous growth towards reclaiming history, making sure that future generations in Hawai'i will know where they have come from.
To protect and inspire future generations to know where they come from, where they are, and where they are going is the mission of these three museums on Maui.

First, Bailey House
Bailey House is located in the town of Wailuku on Maui. In the mid-1700s, Wailuku was a population center and a seat of political power. It was a magnet for commerce due to its agricultural richness, location, and climate. By 1920 it had become a dynamic center for the government and a center of finance and trade.
Many of the buildings and homes in Wailuku date back to the early 1800s. These historical structures that date back to this era allow us to glimpse deeply into the days gone by.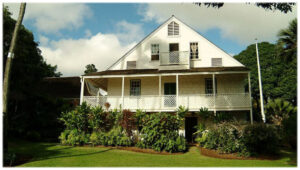 Bailey House, built in 1833, is one of the oldest houses in Wailuku.  
With hard work and a lot of support, Bailey House has become the most essential repository and resource for discovering and learning about Maui's history – from pre-contact times to the present. The displays and archives tell how important Maui was, and still is, to the state and the global community.  
The archives are filled with letters, books, photos, and images, plus so much more. It helps us put together all the pieces of early Hawai'i so we can have a complete picture. 
The caretakers of this precious history are committed to ensuring that future generations of Maui know where they come from and who they are today. Thus enabling these generations to move into their future with no disconnection from their past.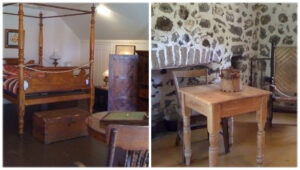 The grounds are peaceful and inviting, and the people who work there greet you with open arms. They want you to feel at home and return whenever you want.
There's even more! There are captivating events and workshops scheduled regularly and a lovely gift shop. Make sure you get all the treasures you need to take home from Maui at this unique gift shop. 
Next, Hale Pa'i – House of Printing

**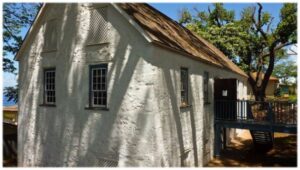 Hale Pa'i housed the first printing press to arrive on Maui in 1834. It was shipped over from O'ahu and weighed 600 pounds! Until 1837, it was sheltered and used in a thatched hut at Lahainaluna Seminary School.
Here, the students learned to set type, operate the press, create copper engravings, and bind books. The first Hawaiian Newspaper was published on February 14, 1834.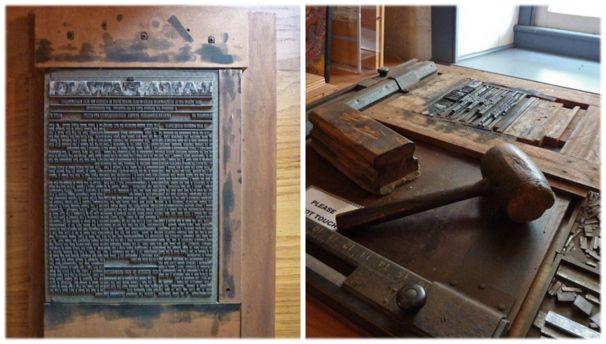 It was called Ka Lama Hawai'i – The Light of Hawai'i.  
It was the first newspaper published west of the Rocky Mountains.
In 1837, the new and permanent home, Hale Pa'i, was built for the printing press. As a museum, it displays the original printing press, movable type, 19th-century furniture, and numerous photos and books well preserved from the era.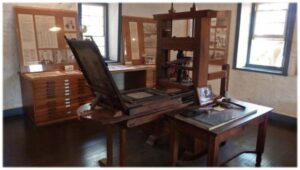 Lahainaluna, also was the first High School West of the Rockies and is still Lahaina's public school, although Hale Pa'i remains a museum on the campus.
**Fortunately, Lahainaluna High School only had smoke damage from the fires in August, 2023, but it is undeteremined when the school will open for students or visitors. The rest of this blog contains history – much of what has been burned or badly damaged beyond repair. We leave it here so we can remember what we lost and the history that went up in flames. To be able to share with other the rich and important past of Lahaina.
Finally, The Lahaina Heritage Museum
Located on the second floor of the Old Lahaina Courthouse, you can take a walk back in time during the rich and flamboyant history of Lahaina.
Look face-to-face into the time from pre-contact Hawai'i through the time of the Monarchy. Visit the era before western contact with the ancient Hawaiians. You will also explore the age of missionaries and whaling ships.  The Plantation era and early tourism reveal the beginning of modernization. The changes are fascinating.
The city of Lahaina has seen it all.
Lahaina has grown from a picturesque village that played an essential role in the development of the Kingdom of Hawai'i into a thriving city in Hawai'i as the islands became the 50th state. However, from the beginning, the town and area of Lahaina have always been a substantial force to be reckoned with.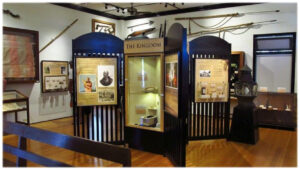 The Heritage Museum has Lahaina's entire history told in one place. Here you can have an exceptional experience of how this well-located and beautiful town grew. Once a Hawaiian Village and now, a number one vacation destination and everything in between. You can clearly understand why they built a courthouse and a jail simultaneously. 
Hint, rowdy whaling sailors vs. missionaries. 
Interesting Fact: this is where you will find one of the final Hawaiian flags lowered on the day the United States annexed Hawaii in 1898.
A favorite part of almost any vacation taken far from home is meeting the people who live and work in the towns which are different from the town where you live. Moving into their way of life for a few days or weeks is exciting. We all learn so much about life and people that way.
And one of the best ways to get to know the people of the places we travel to is to meet their ancestors.  It is intriguing to see what their day-to-day lives were like back then. How clever, innovative, and creative they were hundreds of years ago.
If you like to dive deep, like learning things, and like connecting with people you meet on your travels, then going to historic houses and museums can thoroughly enrich your life experience! They could become the experience you remember the most from the enjoyable days of your vacation. 
Ready? Let's GO!
Writing and Graphic Design by Sugandha Ferro Black
Photos courtesy of paid or other paid free sources unless otherwise noted.
Bailey House Outside |© CC BY-SA 2.0 Destination B/flickr,    Hale Pa'i  All | ©CC BY-NC-ND 2.0 Brian Jeung/flickr    
Inside Bailey House | © CC BY-NC 2,0,Alvin Smith/flickr,