If you have been to Maui, you have been to Lāhainā.
Lāhainā has been rich, colorful, and vibrant since it was called Lele in ancient times. The town was chosen as the royal capital in 1820 by King Kamehameha the Great. It remained the capital until 1845. 
People came from all the islands to do their business with the kings and the royal court. 
Lāhainā started as the royal capital for the monarchy and court, then a historic whaling village, and presently, Maui hot spot. Lāhainā offers a smorgasbord of things that visitors to Hawai'i are looking for.
Lā hainā translates as cruel sun, which Lāhainā can live up to during the deep part of the summer. Especially during mid-day. So plan your afternoon siesta during this time if you are a summer traveler.
FUN FACT:
Lāhainā's Front Street has been ranked one of the Top Ten Greatest Streets by the American Planning Association.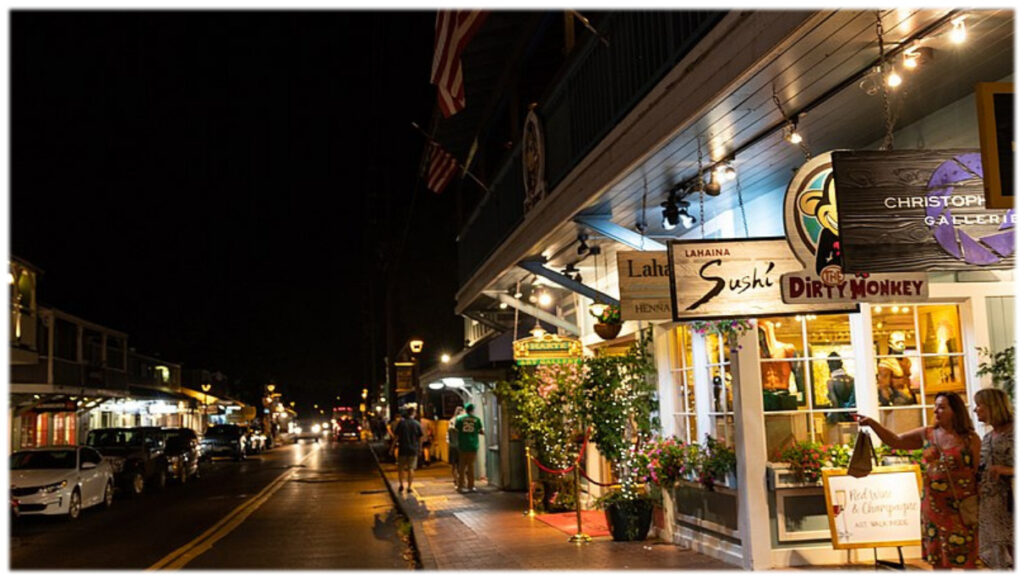 It is also in the National Registry of Historic Places. You can still walk through town and feel and see the history. Read more about the history of Lāhainā in Part 1.
80% of Maui's visitors go to Lāhainā every year. That is 80% of 3 million visitors!
Let's discover some things that bring so many people to this part of the island of Maui.
The West Maui mountains are a gorgeous backdrop. They have beautiful peaks and valleys that you can see from the historic Lāhainā walk. 
The 5 o'clock rainbow happens almost every day in those same beautiful valleys.
Lāhainā Harbor is an attraction in itself. Vessels of all shapes and sizes arrive and depart daily. You may even see a large naval ship or a REAL Navy submarine if you have good timing.
Hawaiians have raised celebrating to an art form, AKA, the lūʻau. There are at least 5 awesome lūʻau in Lāhainā that are family-friendly and culturally authentic.
Halloween in Lāhainā has been a celebration since 2005 and is a party that hosts 20,000 people or more.
Whales, of course, are at the top of the list from November through March.
Golf anyone? The Plantation Course at Kapalua hosts the PGA Tour's Sentry Tournament of Champions every year in January.
Here come the basketball fans! Maui Invitational College Basketball tournament since 1984, in Lāhainā.
The culmination of the Victoria to Maui Yacht Race has ended in Lāhainā since 1960.
Lāhainā Noon – 2 times a year during the summer and the winter, the sun is straight overhead, and no shadows are seen.
Carthaginian II (a former whaling ship) was a museum ship moored in Lāhainā's harbor. After 30 years, it was sunk in 95 feet of water about 1⁄2-mile offshore. It now creates an artificial reef that attracts divers.   
Jodo Mission – built in 1912 and still has a serene Japanese atmosphere.
Wo Hing Chinese cultural center started in 1912 by and for Chinese immigrants to Hawai'i.
Warm and dry climate with epic sunsets almost every night.
Many Art Galleries where you can meet different artists almost every night.
Maui Theatre can host Broadway-caliber events during certain seasons.
Food for everyone. If you want fresh fish or an ice cream cone – it is only a few steps away.    
And, of course, as we talked about in Part 1, 60 historic spots are preserved for a self-guided tour to look back in time.    
If you are not staying in Lāhainā, plan on a full-day trip to Lāhainā, and leave early to miss the traffic. It is a 45-minute drive from the Kahului airport in normal circumstances.
You will want to have plenty of time for exploring and extra time on top of that to relax.
Maybe sit by the sea and watch the waves, the boats coming and going, the turtles, or the surfers. 
In an old historic town like Lāhainā, it is worth spending time absorbing the mana (spiritual energy of power and strength) of the rich, long history of this beautiful place.    
Lāhainā has an alluring charm that might not be apparent if you just walk down Front Street, window shop, and then leave. So it's essential to get off the beaten track a bit, see the Lāhainā that once was such an important town it was chosen as the capital of the Kingdom of Hawai'i. 
Once upon a time, before the precious water resources were captured and sent to grow pineapples and sugar cane in Maui's central valley, this small town was a lush paradise. Huge juicy mangoes hung in the trees alongside giant buttery avocados, all growing around many simple beach shack homes.
Perhaps you will have time to participate in the Hawaiian celebration known as a lūʻau.
First, you can see the crew dig the roast pig from the imu (stone pit ground oven). It has been cooking all day in the pit in the same way the lūʻau has been for centuries! Then there will be all kinds of delicacies, world-class hula, Hawaiian music, and more. 
One of the hidden charms of this delightful little town is the people who live and work here. The ones who love Lāhainā and would live nowhere else! They provide the heartbeat of this town and welcome friendly smiles and Aloha. They will be all around you. All you have to do to connect is smile and softly say, Aloha.

Writing and Graphic Design by Sugandha Ferro Black

Photos courtesy of free and other paid for sources unless otherwise noted.
 5pm Rainbow | © CC BY-SA 4.0 ebbandflowlit /WikiCommons, Downtown at Night  | © CC BY 2.0 drownpicr/WikiCommons
Carthaginian  ship museum | © CC BY 2.0 Yury Velikanau /WikiCommons, Carthaginian  Ship| © CC By 2.0 Brian Snelson /WikiCommons