In many of our blogs, we talk about the preservation of all things Hawaiian. If the preservation work had not begun decades ago, we would not know all the beautiful things about Hawai'i that we know now. So much would have been lost forever.
Beginning in the late 1940s, a small group came together in the U.S. to lobby for an organization geared towards preserving priceless pieces of history and culture at the grassroots level. This group worked tirelessly to set up the National Trust for Historic Preservation. President Truman signed the resulting legislation into law on October 26, 1949.
The National Trust was born!
The work of preserving our historic heritage started off slowly. It wasn't until 1951 that the first historic site gained preservation status. Then, things began to move more rapidly. By 1973, so many sites had been designated as historic preservation sites that National Preservation Week was created. This encouraged grassroots preservation efforts to continue. 
The success of National Preservation Week was overwhelming, and by 2005, the National Trust expanded the celebration week to the entire month of May. As a result, a whole month of celebration and learning began through events such as architectural and historic tours, award ceremonies, fundraising events, educational programs, and heritage travel opportunities.
The goal was to encourage and enable more Americans to become involved in the growing preservation movement and to celebrate the unique and diverse heritage of cities and counties all across the United States.
"As the pace of change moves quickly in the world around us, Americans, more than ever, need a lively awareness of our roots and origins in the past on which to base our sense of identity in the present and our directions for the future." –  Catherine "Pat" Ryan Nixon – former First Lady.
Calling out for an awareness of our roots and origins on which we can base our identity in the present, and our direction for the future sounds incredibly similar to the stated goals of the preservation movement here in Hawai'i. Hawaiian people have been calling out for this exact same thing, as shown in the preservation and renaissance of the Hawaiian Language, the Ancient Arts of Hawai'i, and 'Iolani Palace, just to name a few ongoing projects.
These yearly events and activities are essential because they:
Instill national and community pride to build stronger communities
Promote heritage tourism
Provide social and economic benefits
Keep sacred and historical places alive and available for future generations
Inspire people to participate in preserving things for their future generations
Tell the Full American Story
Invest in Preservation's Future
This year, in 2022, Preservation Month has the theme of PEOPLE SAVING PLACES.
This theme was suggested to spotlight regular people like you and me who pour our time, energy, and resources into protecting places we care about, expecting no recognition. Historic places need ordinary, everyday people to get involved if they are to be saved for the future. 
It does not matter whether you are interested in touring historical sites or helping to preserve the history in your community or state. All participation is helpful. Buying the entrance fee or volunteering has equal value. Better yet, do both!
There is more to discover everywhere you look. You can hear a story from an elder or find a box of treasures in an attic. Peeling back layers of time helps us to understand the past. We can help provide a rich and lively history of the people who lived before us. We can understand more about what they overcame and the difficult decisions they made that affected us today!
Preservation Month In Hawai'i  
Here in Hawai'i, we are uniquely rooted in the native Hawaiian culture, which has a strong relationship with the land. Preserving our state's diverse history, land, and cultural resources is a kuleana (responsibility) shared by many individuals, groups, and public and private entities. 
Throughout May, the Historic Hawai'i Foundation invites people on a journey of discovery. During the pandemic, many people joined video lectures online from other islands and the mainland. Often, over 200 people would attend online. Whereas, the hall where the in-person lectures were held could only hold about 85. Another example of the benefit of inspiring people to participate.
Our journey of discovery today cannot cover all of the many historic sites on Maui. From The Hana Highway and Historic Residential Homes to the Naniloa Overpass in Wailuku, Maui has a abundance of interesting preserved places. 
 Instead, let's visit a few of Maui's jewels, her historically preserved churches.
These places can whet our appetite to visit other sites on Maui. 
Holy Ghost Church – AKA: The Holy Ghost Mission
The Holy Ghost Catholic Church is a white octagonal-shaped building you can see up on the side of the mountain from Kihei. Sitting at 2,700 feet above sea level and being approximately sixty feet in diameter, it is easy to see, plus it reflects the light at sunset. 
This is the only octagonal-shaped building in Hawaii from the nineteenth century, making it significant architecturally for its unique design.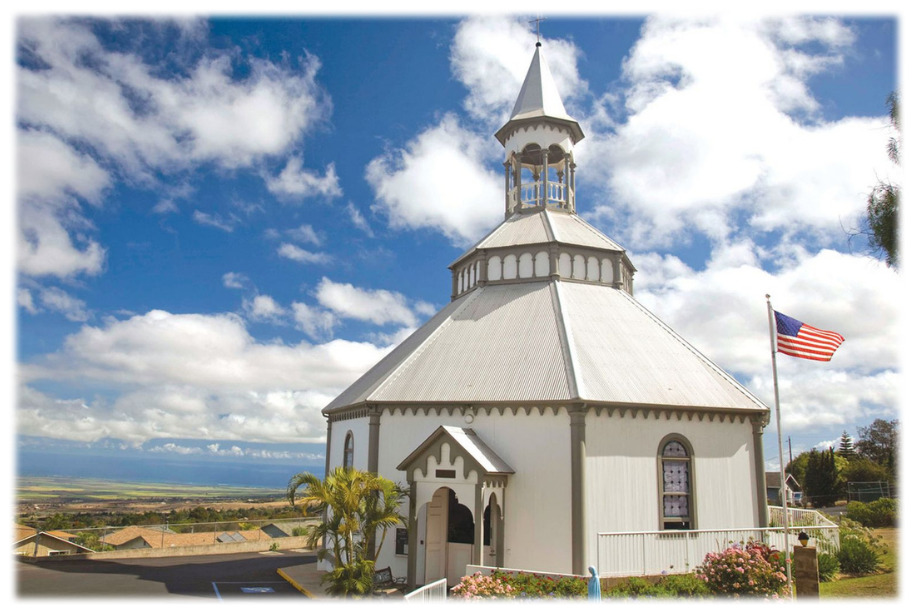 It was constructed between 1894 and 1897.
Tuscan colums serve as corner posts for the 18-foot high, tongue and groove walls. The hand-carved altar was shipped from AUstria in 1897.
With a beautiful bi-coastal ocean view, the church sits on the northwest slope of Haleakalā. It is known island-wide for its Annual 2-Day Holy Ghost Feast. Anyone who comes is fed a delicious Hawaiian meal.
Fun Fact: It is also known as the Wedding Cake Church
Ka'ahumanu Church
In the early days of the missionaries, religious services were held outside. In 1832, Queen Ka'ahumanu requested a better structure be built and a church be named after her. For a time, grass hale (huts) served this purpose. Finally, 44 years after her request, in 1876, Ka'ahumanu church was built and named after the Queen.
It is a large blue-stone structure with walls more than two-feet thick. The Ka'ahumanu Church is an excellent example of New England style simple Gothic architecture.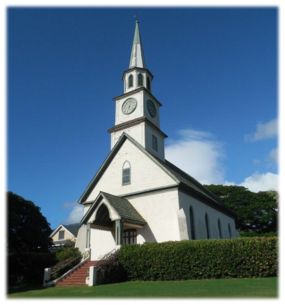 The bell and three clock faces were brought from Cape Horn, Africa in 1884.
Fun Fact: There was live Hawaiian music and hula once a month under the giant banyan tree in front of the church for many years. I wouldn't be surprised if it commences again soon.
Makawao Union Church
The Makawao Union Church was also known as the Baldwin Memorial Church. It is a single-story, Gothic Revival style building constructed of reinforced concrete with a lichen-covered lava rock veneer. Erected in 1917, a sizable Norman-style tower dominates the facade. 
The church is architecturally and historically compelling. Architecturally, it has a high level of craftsmanship. Its primary significance is that it is the most splendid church of its period built in Hawai'i. 
Perhaps cruising around Maui and taking in the beautifully preserved or restored churches and buildings will inspire you to take a look.
Many of these places can be walked through if a staff person is around. 
Once you hear some of the stories of these Historic Preservation places and what they represent to future generations, you will be inspired to look around at sites and buildings in your hometown. Then, when you return, you may consider what you can do there to preserve important history and culture. 
We want our grandchildren, and all generations forward, to know who they are. Preservation of these sites can let them know where they come from by looking, seeing, and touching their history.
Learning has to involve all of our senses. 
Our future generations deserve to know more than just strip malls and smartphones. It's up to us who know better to ensure they have that opportunity.
Writing and Graphic Design by Sugandha Ferro Black
Photos courtesy of Wiki Commons and other paid for or free sources unless otherwise noted.
Holy Ghost Church | © Portuguese Museum, Ka'ahumanu Church | © Jimmy Emerson dvm/flickr, Makawao Church | © Terry Feuerborn/flickr, Makawao Church Historic Sign | © Terry Feuerborn/flickr, Naniloa Overpass | © Historic Hawai'i/PD, Truman Signing | © flickr/PD